Travel the Alaska Wilderness: Chicken Gold Camp & Outpost
Travel the Alaska Wilderness: Chicken Gold Camp & Outpost
A DESTINATION IN THE ALASKA WILDERNESS – CHICKEN GOLD CAMP & OUTPOST IN CHICKEN, ALASKA
By Karen and Riley Caton
HISTORIC PTARMIGAN, ER, CHICKEN
This is one of those out-of-the-way places. No, it's WAY-out-of-the-way. This is real wilderness and everyday amenities are not found here. No phones, no electricity, no city services, and the roads leading here are, well, challenging. Don't let that stop you – there are many reasons to make the journey to the Chicken Gold Camp & Outpost in Chicken, Alaska.
A community has existed here since the late 1800's when gold was discovered. In 1902, the government recognized the community by establishing a post office. However, local inhabitants had to come up with a name for their community. They wanted to call the town Ptarmigan, but no one could agree on how to spell it. So they settled on Chicken, which is short for tundra chicken, a nick name for ptarmigan. The name stuck and according to the online encyclopedia, Wikipedia, Chicken is the only settlement in the world named "Chicken".
AT HOME WITH CHICKENS
Chicken Gold Camp & Outpost is the perfect base of operations for exploring the area. Owners, Mike and Lou Busby, along with their daughter Josea and her fiancé Anthony, have created a very appealing destination. While it's not 5 Star, it is a comfortable, warm environment that entices people to return year after year.
The Busby's have been working mining claims in the Chicken area since 1989. In 1990, they began leasing and working the Chicken Creek Mine, purchasing the 50 acre property in 1998. They had a vision – mining, reclamation, and tourism. They moved forward with their plan, gold mining, reclaiming the land, caring for an abandon gold dredge situated on their property, and developing the Chicken Gold Camp & Outpost. Now their focus has shifted from mining to tourism. Mike Busby says "gold mining is more lucrative, but running the Camp is a lot more fun".
The former Chicken Creek Mine has become a showcase of what can be done with a little forethought and planning. Their efforts have been recognized with the 2001 Alaska Governor's Award for Mine Reclamation and the U.S. Department of the Interior 2006 Reclamation and Sustainable Mineral Development Award.
THE CHICKEN WHO LAID THE GOLDEN EGG
So, what do you do in Chicken? Well, recreational gold mining and gold panning is what the majority of visitors are interested in. However, you can also go kayaking, hiking, drive ATV trails, view wildlife, or take a drive to nearby Eagle, another historic gold mining community. You can also arrange for a tour of the Pedro Dredge, a National Historic Landmark. If you are in the area on Fathers' Day Weekend, you won't want to miss the Chickenstock Music Festival.
After 100 years of mining, one would think that all of the gold would be gone. It's not and gold panning is a very popular activity. Gold panning takes place near the café/gift shop and is offered for a 4 hour or 24 hour time period. A gold pan, a tube to hold your findings, and instruction by a professional miner are included. A large dirt mound (yes, from their claim) is piled near the gold panning troughs and, if you use proper panning techniques, nearly every pan yields some flakes of gold. If you are lucky, you'll find a nugget or two!
If you want a more realistic mining experience, you can arrange to do recreational mining on a portion of the Busby's 1,000 acres of mining claims. Recently, an engaged couple from Switzerland spent several days mining to acquire enough gold for their wedding rings. They didn't find quite enough and have returned for more, finding lots of flakes and a 6.3 gram nugget. A word of warning – gold mining can be addicting….
DON'T BE A CHICKEN TO STAY HERE
Most wouldn't call Chicken Gold Camp a resort; there are no resort-like amenities. There are, however, authentic gold mining experiences at a unique, wilderness site.
Their facilities start with a gift shop, café, and outdoor seating deck which is a perfect spot to share your gold panning experience with fellow panners. The large gift shop features high quality Alaskan souvenirs and collectables, apparel, and gold, silver and ivory jewelry. Many items are handmade and one-of-a-kind pieces made by locals that have mined the gold themselves.
The café is open for breakfast and lunch and offers homemade soups and grilled deli sandwiches. The café also serves hand-dipped ice cream, beer, wine, and espresso drinks. Snacks and cold drinks are also available.
The Gold Camp has 20 and 30 amp electric RV sites that will accommodate all sizes of rigs (power is provided by generator). There is room for tents in a secluded, wooded area. The potable water filling station is free with camping. Waste water has to be hauled 77 miles to Tok, so there is a fee for dumping. Other facilities include outhouses and coin operated showers. While there is no phone service, Gold Camp does provide limited internet service by satellite.
There are also a small number of rustic but modern cabins that can accommodate one to six people. The cabins have propane heat and linens are provided. There are no en-suite accommodations in the cabins; outhouses are strategically located around the property. The Gold Camp also offers two cabins with a common outdoor kitchenette and rooms with en-suite shower and toilet.
HOW DOES THE CHICKEN CROSS THE ROAD
You can get to Chicken by airplane or car. Regularly scheduled air service to Chicken is provided by 40 Mile Air out of Tok, Alaska. The airstrip has a 2,500 foot gravel runway, but there are no other services. The airstrip is about ½ mile from Chicken Gold Camp.
Chicken is located on the Taylor and Top of the World Highways between Tok, Alaska and Dawson City, Yukon. The road is snowed in and closed in winter and can be very rough in places during the summer. The 102 mile section between Chicken and Dawson City is mostly dirt and gravel and the 77 mile section from Tok to Chicken is mostly seal coated.
IF YOU GO:
Note: Karen and Riley Caton were hosted by Chicken Gold Camp for two nights, but their article reflects their own opinions and experiences.
FOLLOW KAREN AND RILEY'S ALASKAN RV ROAD TRIP:
READ MORE ARTICLES FROM KAREN AND RILEY CATON:
BIO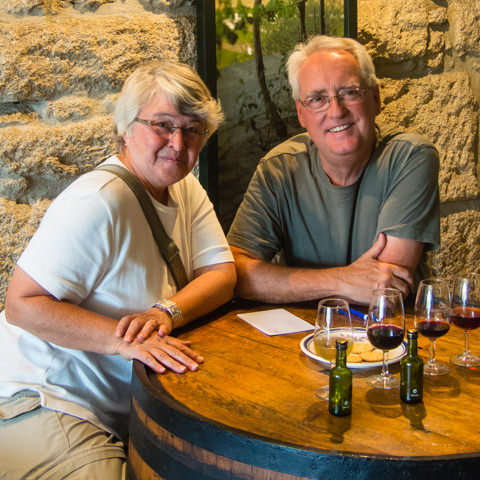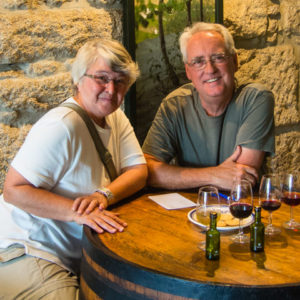 Karen and Riley Caton are retired and having a grand time exploring North America, with a few side trips across oceans for some added fun. As full-time RVrs, they live and travel in "The Dip", a 40' Monaco Diplomat motorhome. Karen and Riley travel where the road leads, writing about and photographing the journey. You'll never know where the two of them will show up next, but you can keep up with their adventures on their blog – On the Road with RK Caton!