Wish You Were Here – Postcard From Sikanni Chief Falls
Wish You Were Here – Postcard From Sikanni Chief Falls
Karen and Riley Caton's 2014 RV Road Trip to Alaska
We're Karen and Riley Caton, full-time RVrs on a three month, 7,500 mile round-trip journey from Washington to Alaska. Join us as we travel up the famous Alaska Highway (formerly the AlCan), visit towns and villages, photograph wildlife, and explore the tundra above the Arctic Circle.
POSTCARD #4 G SIKANNI CHIEF FALLS, BRITISH COLUMBIA
We are geocachers and during this trip through Northern British Columbia, Yukon and Northwest Territories, and Alaska, we're looking for geocaches along the journey. There aren't very many caches in these wild areas but we can usually fine one where we stop for the night or at a rest stop along the road. Using the Milepost® guide to Alaska, we look for out-of-the-way and off the beaten path roads where we can combine sight-seeing with geocaching. Hopefully, we'll see wildlife or something not everyone will take the time to go see.
Such is the case with Sikanni Chief Falls Provincial Protective Area. Following the Milepost®, we drove 10 miles to the trailhead for a 0.9-mile hike to an overlook. To top it off, there's a geocache out there, that hasn't been visited since the fall of 2012. Perfect!
It took us about an hour to hike in and out, so worth the effort of climbing down and back up the trail – over a 500 ft. change in elevation. The falls drop a total of 98 feet; nature's power at its finest. And, yes, we found the cache, signed the log book, and replaced it in its hiding place.
Chalk up another good experience on this journey!
READ MORE:
BIO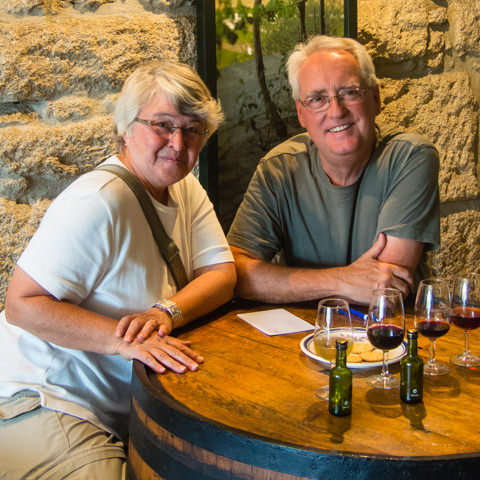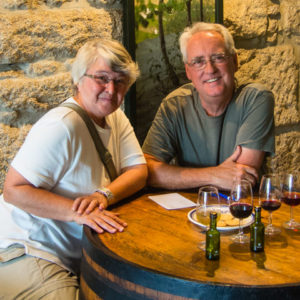 Karen and Riley Caton are retired and having a grand time exploring North America, with a few side trips across oceans for some added fun. As full-time RVrs, they live and travel in "The Dip", a 40' Monaco Diplomat motorhome. Karen and Riley travel where the road leads, writing about and photographing the journey. You'll never know where the two of them will show up next, but you can keep up with their adventures on their blog – On the Road with RK Caton!