Travel British Columbia – Four Hidden Gems in the Okanagan Valley
Travel British Columbia – Four Hidden Gems in the Okanagan Valley
By Karen and Riley Caton
It's not on a main highway, and you wonder where it is. There are many hidden gems the locals know about that should be visited while staying in the Okanagan Valley along Highway 97 in Southwestern British Columbia, Canada.
These are our top picks for four hidden gems in the Okanagan Valley:
1. BURGER 55
The first hidden gem is Burger 55. Yep, hamburgers. This isn't just any hamburger joint. You start by picking up a clipboard with a menu and build the burger the way you like it. There is a choice of meats, buns, toppings, and condiments. In fact, the options are extensive. You also get to choose various sides, drinks, and other treats. Or, you can choose one of the "55 Built" burgers from the right side of the menu. The meat and the buns are grilled and the fresh cut fries and onion rings cooked to perfection. Choose the chocolate shake to create a classic diner meal.
Burger 55 is located at #84 52 Front Street, Penticton. The address is on Front Street, but the restaurant is actually located down an alley on the back side of the building. They are open daily from 11:00 am and as late as 10:00pm on Friday and Saturday.
2. ELEPHANT ISLAND ORCHARD WINES
It is said that there are 215 wineries along the 179 kilometers (112 Mi.) between the border and Vernon, BC. Most wineries have tasting rooms and offer some wonderful award-winning wines. For something different, stop at the second hidden gem, Elephant Island Orchard Wines.
Elephant Island specializes in wines made from fruits other than grapes. While fruit wines usually conjures up thoughts of sickly sweet, cough syrup like desert wines, these wines are anything but. This 6,000 case winery has mastered the art of producing wines for any pallet and table. They even produce a sparkling wine that would go well with any celebration.
Elephant Island Orchard Wines is one of the few wineries in the Okanagan Valley that offers free tastings of selected bottles. Enjoy tasting indoors at the bar, or sit at bistro tables in their comfortable, tree shaded patio. They are located at 2730 Aikins Loop in Naramata.
3. KETTLE VALLEY RAIL TRAIL
The third gem requires a little physical effort. After all, a little exercise is needed after all that food and wine. The Kettle Valley Rail Trail is a bike and walking path that follows an abandoned rail grade for 455 kilometers (282 miles) through the Okanagan Valley. It is a well-known and popular trail that can be accessed from many locations. More information can be found in most Okanagan Valley tourist bureaus or on the internet.
4. BENCH ARTISAN FOOD MARKET
A beautiful section of the trail can be accessed near the Bench Artisan Food Market restaurant at 368 Vancouver Ave, Penticton, BC. The trail is 350 meters (.2 mile) east of the restaurant. Once you find the trail, proceed north through a nice neighborhood until you emerge along cliffs overlooking Okanagan Lake and the north end of Penticton. The uphill grade is very easy and takes in panoramic views of the lake and Penticton.
If you can arrange a shuttle or taxi, consider leaving your car at The Bench Market and be dropped off at the car park at Poplar Grove Road and Naramata Road. This section of the trail offers a gentle downhill walk or ride along 4.5 kilometers (2.8 miles) of wineries and orchards. Return to The Bench Market for some truly fantastic food. This brings us to the fourth gem.
The Bench Artisan Food Market is a top food destination for Penticton locals. Open 7 days a week, their offerings include light or full breakfast and gourmet lunches, food to-go, bakery items, and numerous gourmet market items. They claim to have the best coffee in town made from organic coffee beans.
Place your order at the counter, choose a drink, and settle up. Find a table inside or out to sip your drinks and cool down after your hike/bike. Weekends are very busy at Bench Market, so you might encounter a short wait. With friendly staff, chatty locals, and great food, it is well worth your time.
Digging around just a little, you will find many hidden gems in the Okanagan Valley.
READ MORE POSTCARDS FROM KAREN & RILEY'S RV TRIP TO ALASKA:
READ MORE ARTICLES BY KAREN & RILEY:
BIO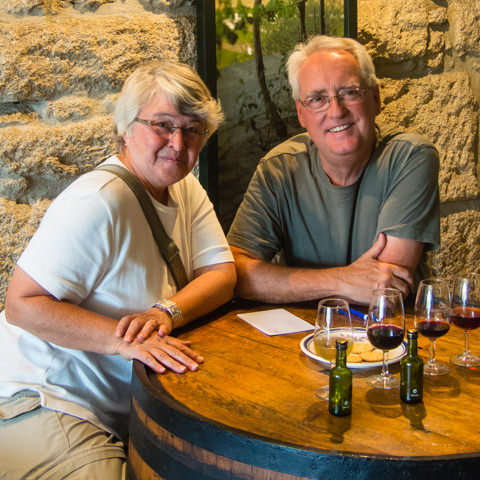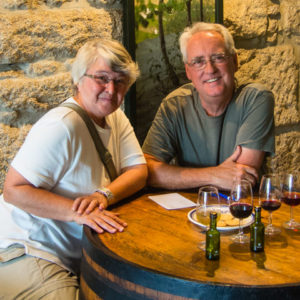 Karen and Riley Caton are retired and having a grand time exploring North America, with a few side trips across oceans for some added fun. As full-time RVrs, they live and travel in "The Dip", a 40' Monaco Diplomat motorhome. Karen and Riley travel where the road leads, writing about and photographing the journey. You'll never know where the two of them will show up next, but you can keep up with their adventures on their blog – On the Road with RK Caton!