WJ Tested: Scottish Highlander Hotel Barge Review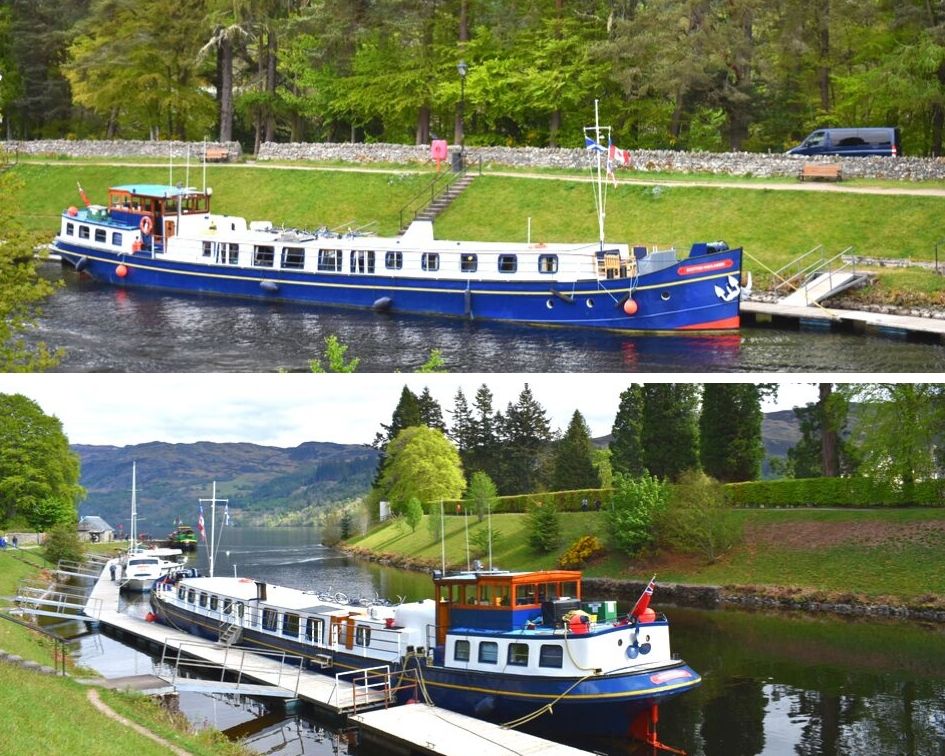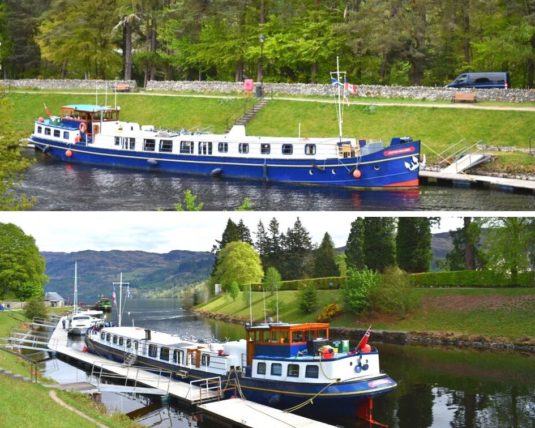 WJ Tested: Scottish Highlander Hotel Barge Review
By WAVEJourney
Scotland! Other than possibly seeing Nessie, what do you immediately think of when Scotland comes to mind? For us, it's the rugged scenery of the Highlands, an exciting and colorful history, fascinating culture, and the extensive selection of whisky. And let's not forget bagpipes! We love the sound of bagpipes. During a European Waterways barge cruise on the Caledonian Canal and through Loch Ness these elements were all part of our six-night journey that took us to areas around Inverness and Fort William. 
Scottish Highlander was our eight-passenger luxury hotel barge where we leisurely and comfortably cruised at a snail's pace (maximum speed 6km/hour), where we enjoyed the majority of meals (one dinner was included at a nearby restaurant), and home away from home while being thoroughly spoiled by the amazing crew that included the Captain, Deckhand, Chef, Hostess and Guide.
For anyone wanting an upscale, intimate and slow-paced tour in one of Scotland's most spectacular and interesting areas, European Waterways has the ideal vacation experience with their barge cruises.
EUROPEAN WATERWAYS
With more than 35 years of experience, European Waterways is the leading luxury hotel barge vacation company in Europe. They represent a professional fleet of barges (some company owned, others privately owned but operated in compliance with the high standards of EW) that carry from 8 to 20 passengers.
Barges operate in the England, Scotland, Ireland, Holland, Italy and various regions of France. Vacationers can charter a full barge for their group of friends and family (an excellent option for those that want to customize their cruise experience to suit interests), or join one of the regularily scheduled cruises and make new friends aboard the vessel.
LOCATION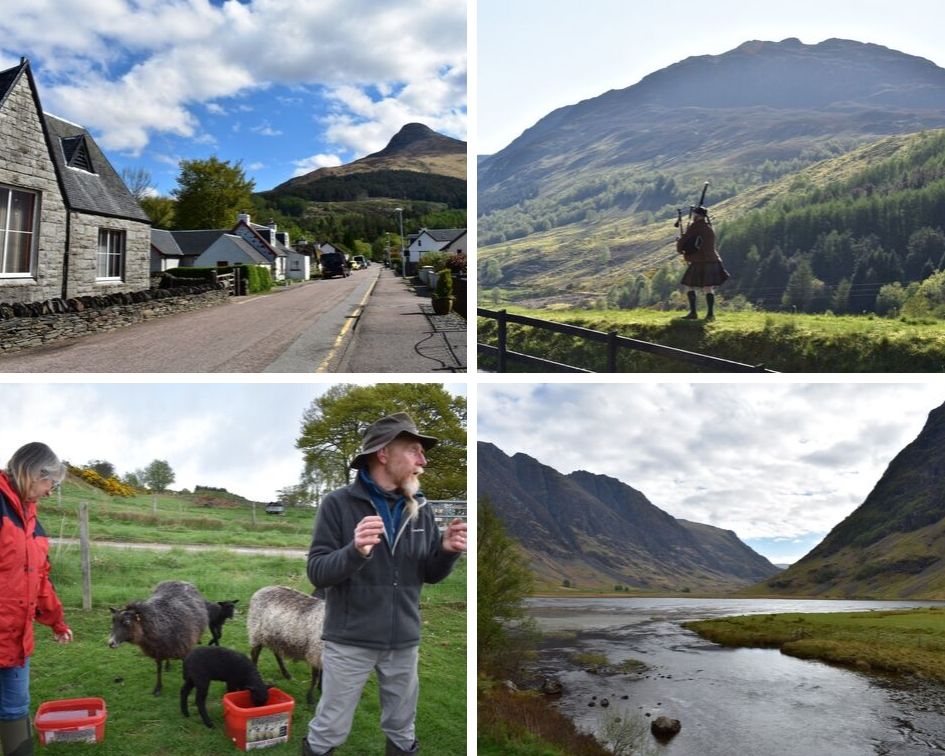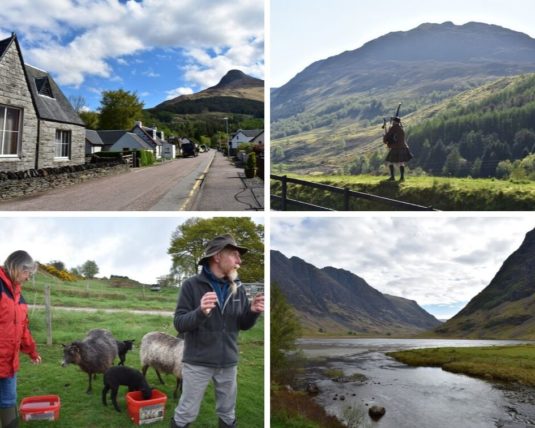 European Waterways' barge cruises start and finish in Inverness, Scotland. The meeting point was a centrally-located hotel, which is also a convenient drop-off point at the conclusion of the cruise.
Our journey started at Banavie and cruised back to Muirtown (just outside of Inverness). The guide/driver took us in a private minibus to meet the barge in near Fort William, and over the course of the trip we explored the towns, villages and countryside along the way. Cruises ply the Caledonian Canal, Loch Lochy, Loch Oich, and Loch Ness, mooring overnight in quiet locations along the canal. 

EXCURSIONS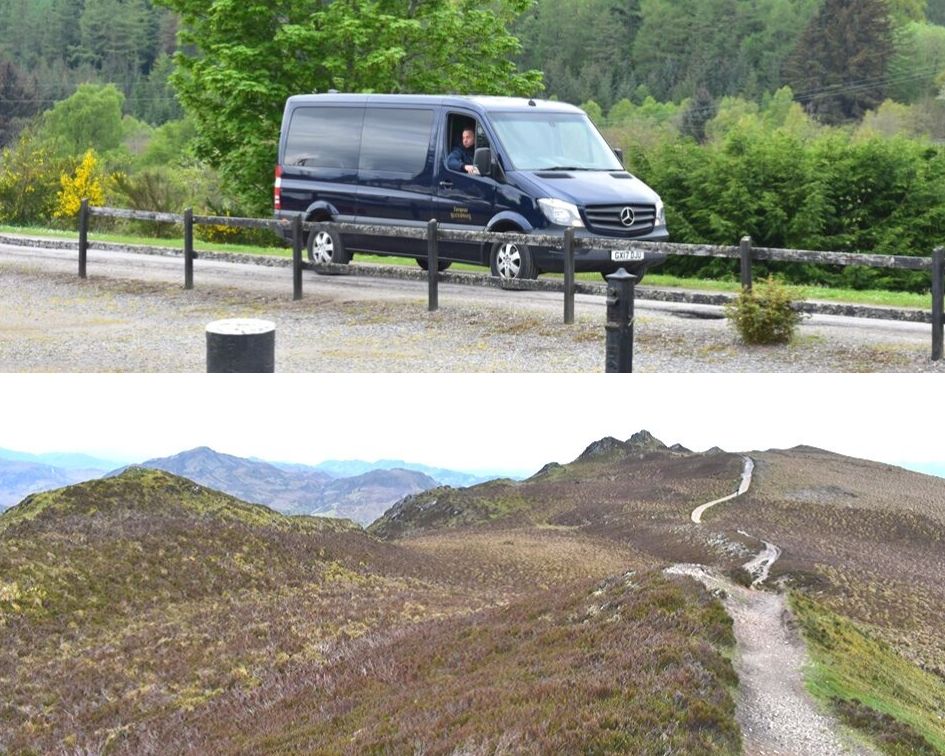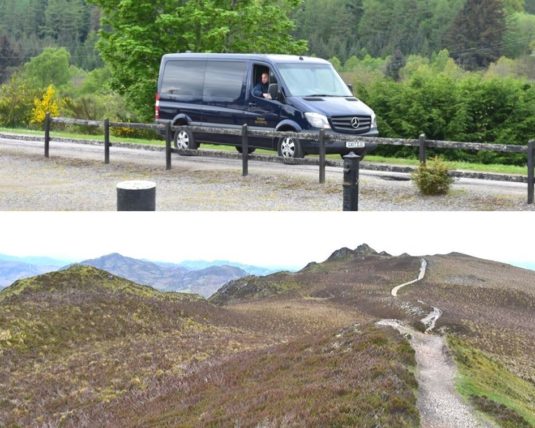 Venturing out into the countryside of Scotland's Highlands, with a maximum of eight passengers and a knowledgeable guide/driver, in the comfort of a Mercedes luxury minibus with large windows, makes for enjoyable sightseeing. 

Daily included excursions took us hiking in the mountains near Fort Augustus, sightseeing in the scenic Glencoe Valley, wandering through the town of Fort William, touring castles such as Eileen Donan and Cawdor, a birds of prey and falconry demonstration at the grounds of a former Benedictine Monastery, cruising through Loch Ness past the ruins of the 13th Century Urquhart Castle, and visiting sheep farmers up in the hills to learn about their lives and what they produce.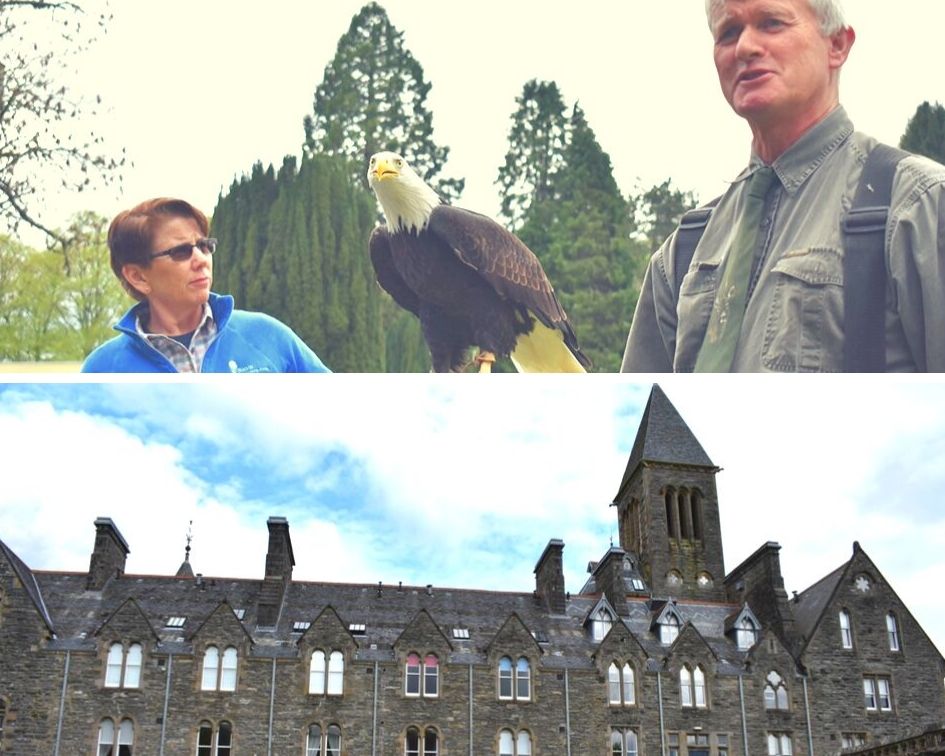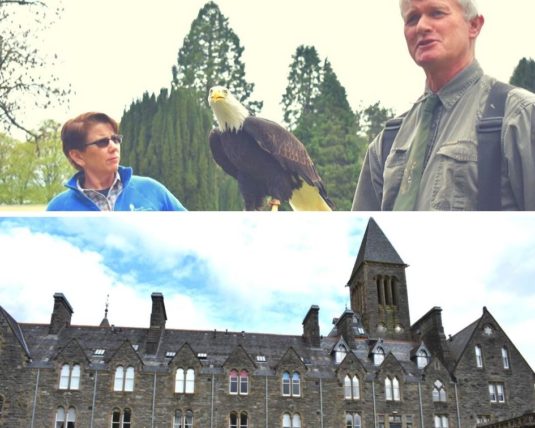 A tour of a whisky distillery is also included and part of the itinerary for those interested in learning about this ancient tradition.

SCOTTISH HIGHLANDER BARGE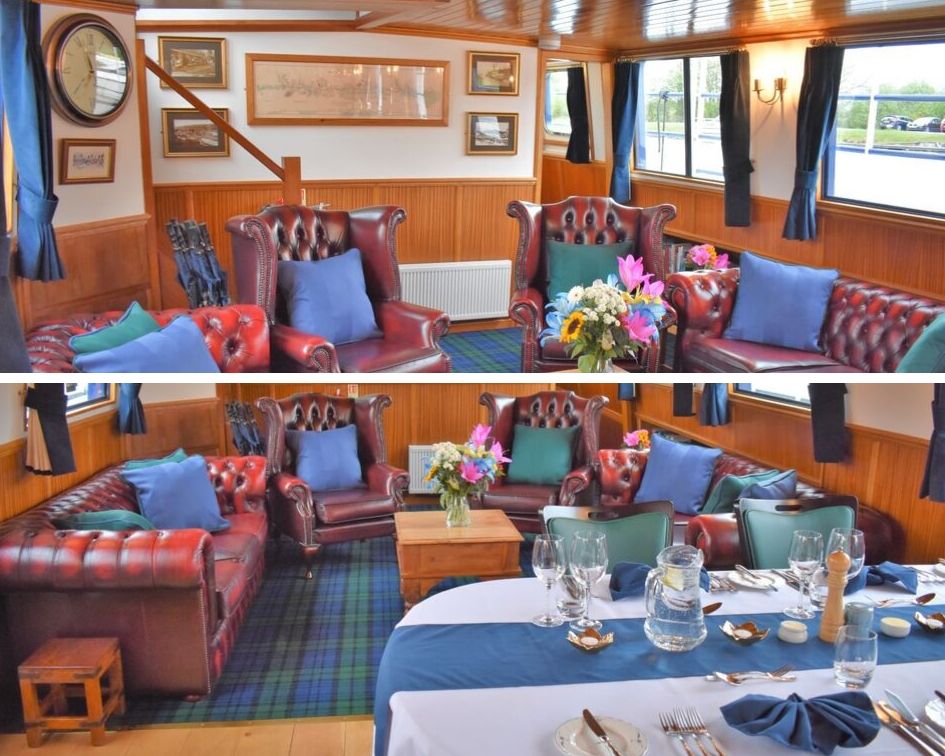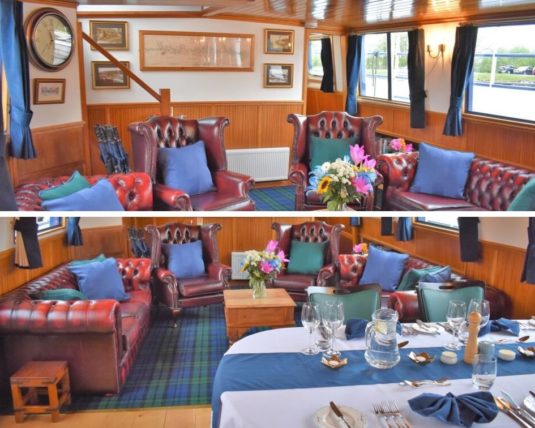 With an eight-passenger capacity in four cabins, Scottish Highlander is a pleasure to vacation on. The barge features beautiful traditional Scottish tartan, oversized leather couches and chairs, rich wood furniture and fixtures. 
At almost 90 years old, this barge started off making grain delivery. In 2000 she was converted to a hotel barge. Her length of 117 feet and 16.5 feet width makes for a spacious vessel with the saloon being the main focus of the space – this is where meals are served, the fully-stocked bar is located, and seating for relaxing and enjoying evening entertainment occurs. Forward on the outside deck is a sitting area for passengers to enjoy the views.

CABINS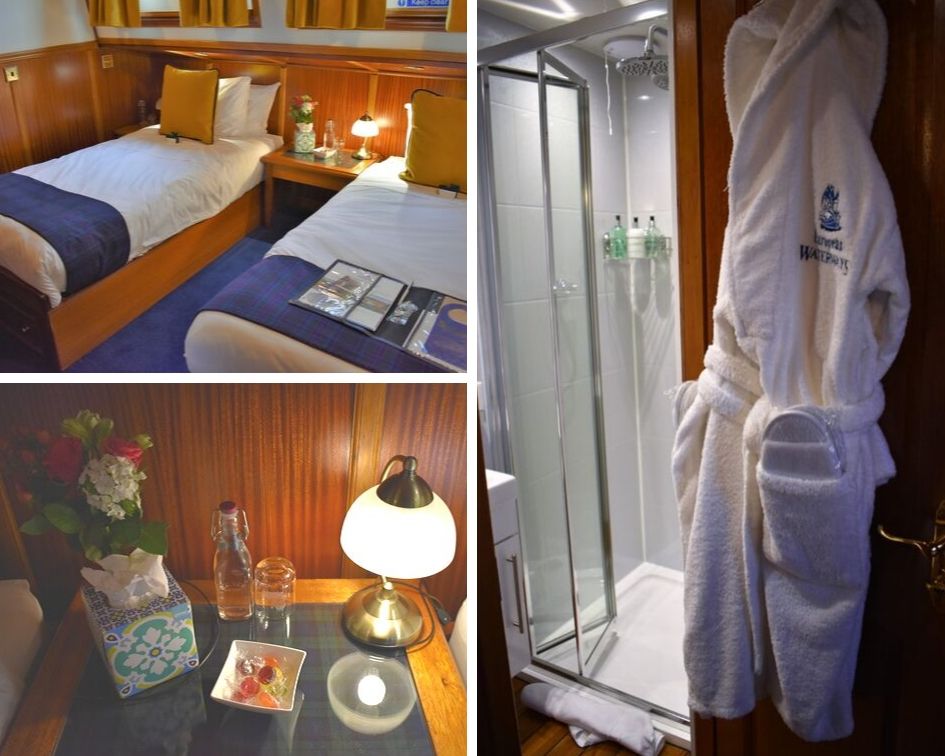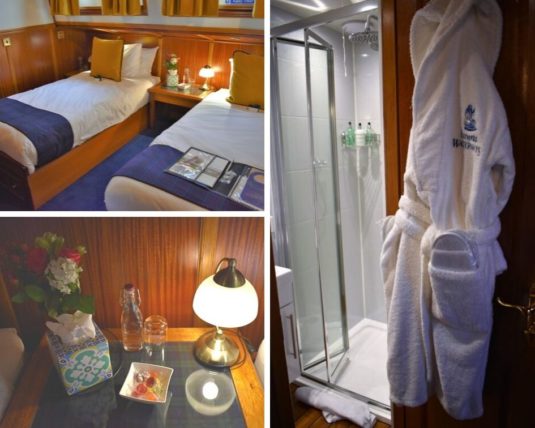 Scottish Highlander has four guest cabins equipped with central heating, on the same level as the saloon. Three of the cabins are a compact and cozy standard size while there is one larger suite that has a desk and much more space. If you prefer to spend time in your cabin or need the use of a desk, book the suite and enjoy the extra room. All cabins have windows/portholes that open for fresh air. Central heating is in each cabin which is a nice option on chilly days.

The closet has wooden hangers and holds the hairdryer, plus a safe – which was perfectly adequate for holding passports and other valuables. 

Beds are super comfortable and can be configured as two twins or a queen. A USB adaptor made it easy for us to charge our phones overnight. Lighting over each bed was very good. Morning cleaning service took place while we were at breakfast, and turndown during dinner.

Each cabin has an ensuite bathroom with toilet, sink, shower (great pressure and plenty of hot water from the rainfall shower head) and heated towel rack (also very handy for drying underwear and socks during the trip). Plush robes and slippers were provided for each guest, and upscale shower products included Sea Kelp shower gel, shampoo, and conditioner. Bar soap, liquid hand soap, cotton buds and pads as well as lovely towels and face cloths were provided. 
DINING & BEVERAGES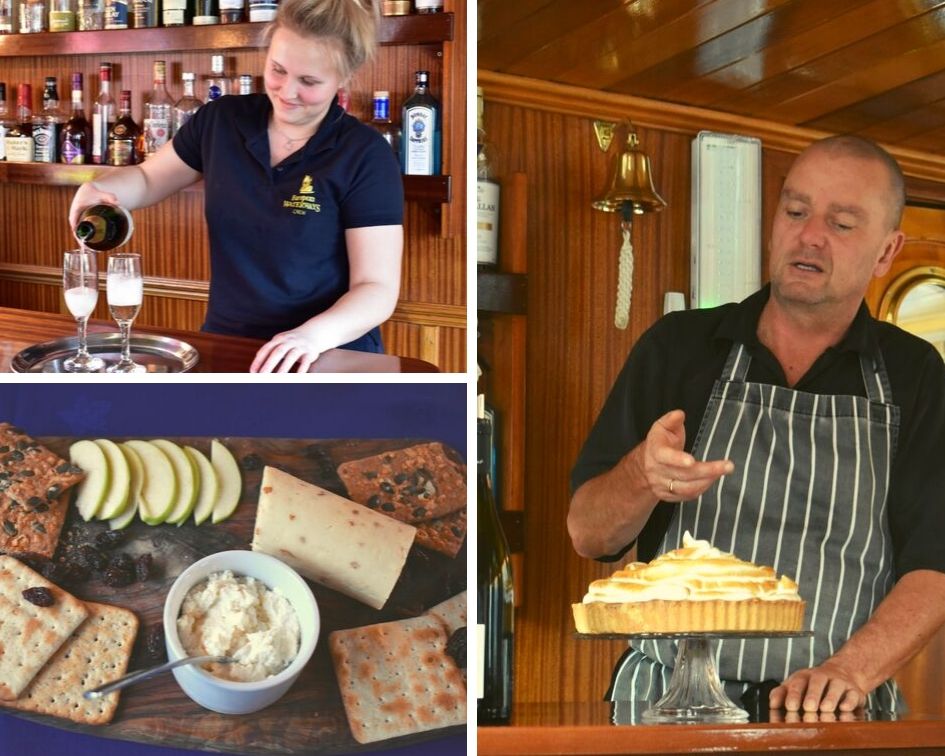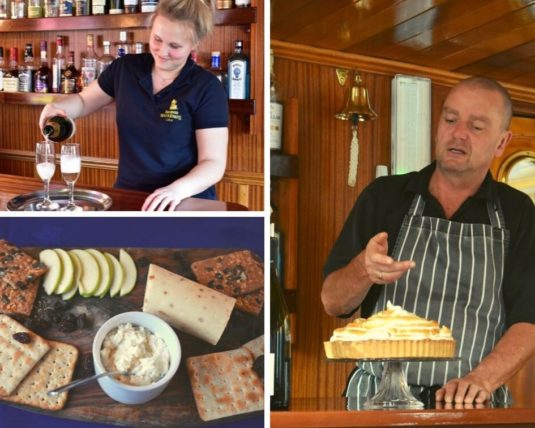 Passengers most definitely won't go hungry on Scottish Highlander. Meals are served in the saloon by the hostess, with lunch and dinner accompanied with wine. Breakfast, lunch, dinner and snacks are all included in the cruise fare, as is a full and extensively stocked bar.

Need to start your day with more than a lovely continental breakfast of fresh fruit, yogurt, granola, cereals, meats and cheeses, pastries, juice, tea and coffee? No problem. Would a cooked (Full Scottish) breakfast of eggs, bacon, sausage and black pudding with toast to keep you going until lunch? Also included.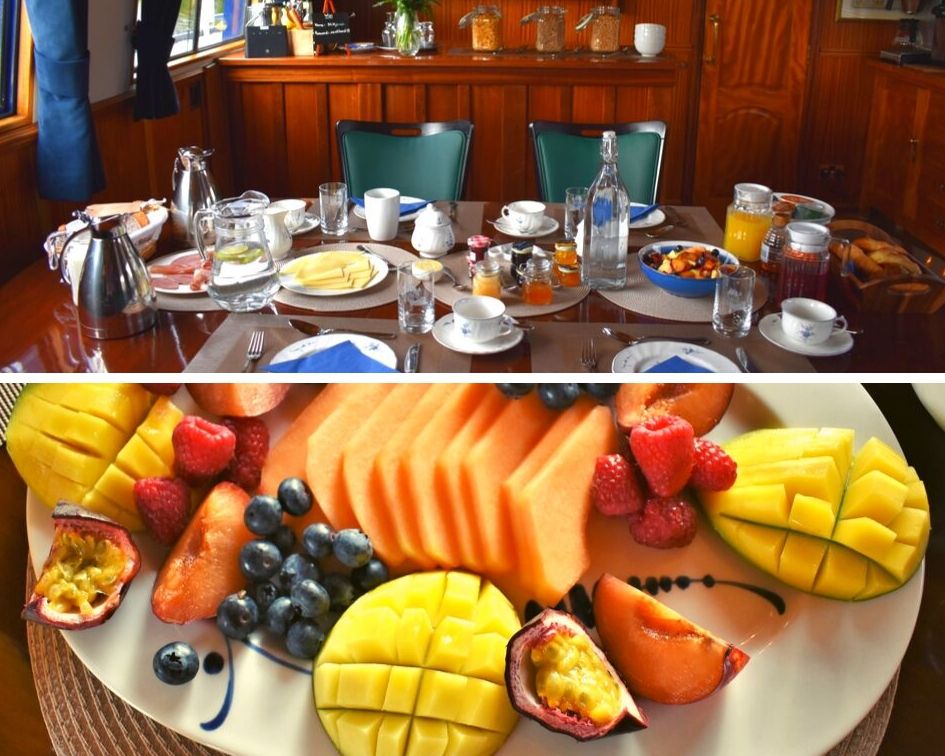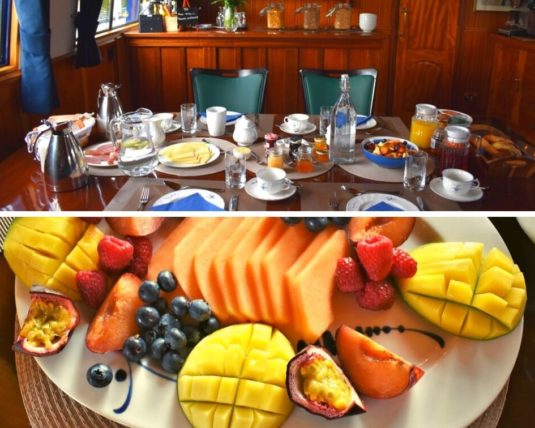 Two-course lunches would feature either a salad, soup or starter with a main course or main course and light dessert. Red and white wines were served at lunch.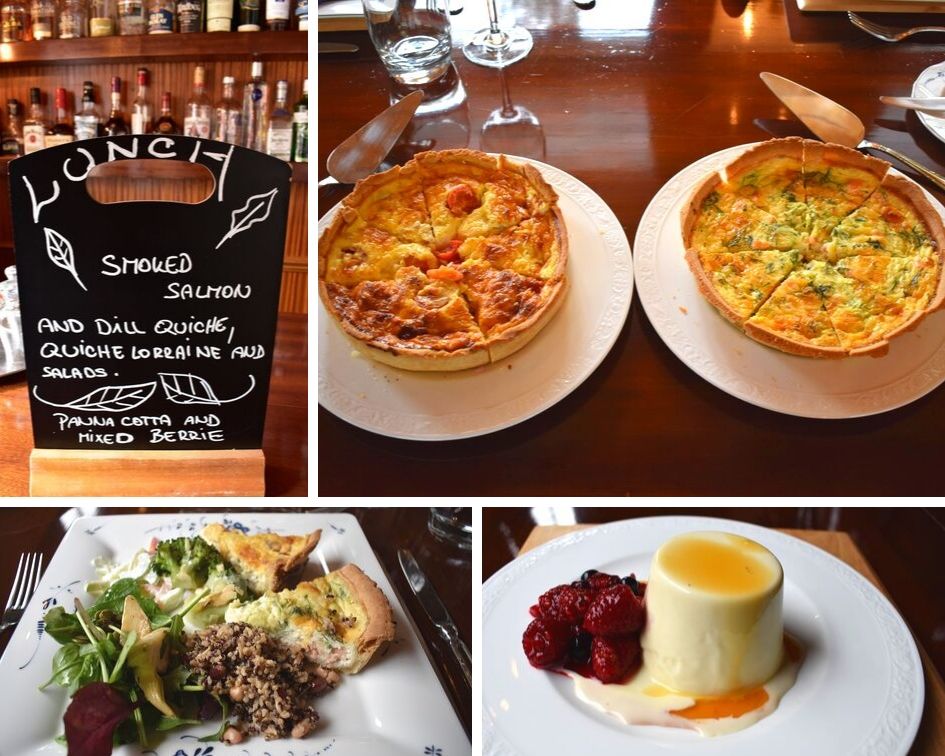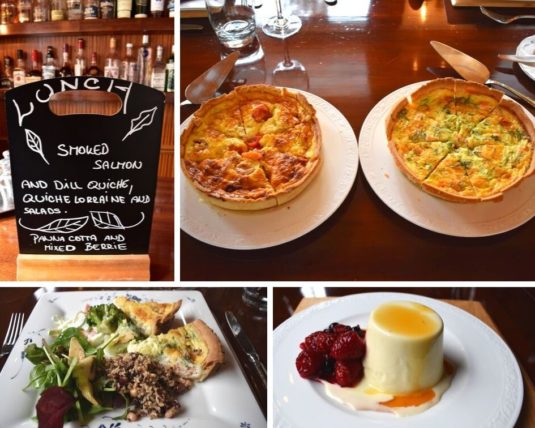 A variety of afternoon snacks ranged from mixed nuts to scones with jam and clotted cream to hors d'oeuvres with cocktails before dinner. 

Wonderful four-course dinners started with starter, main course, dessert and cheese board, all paired with red and white wines.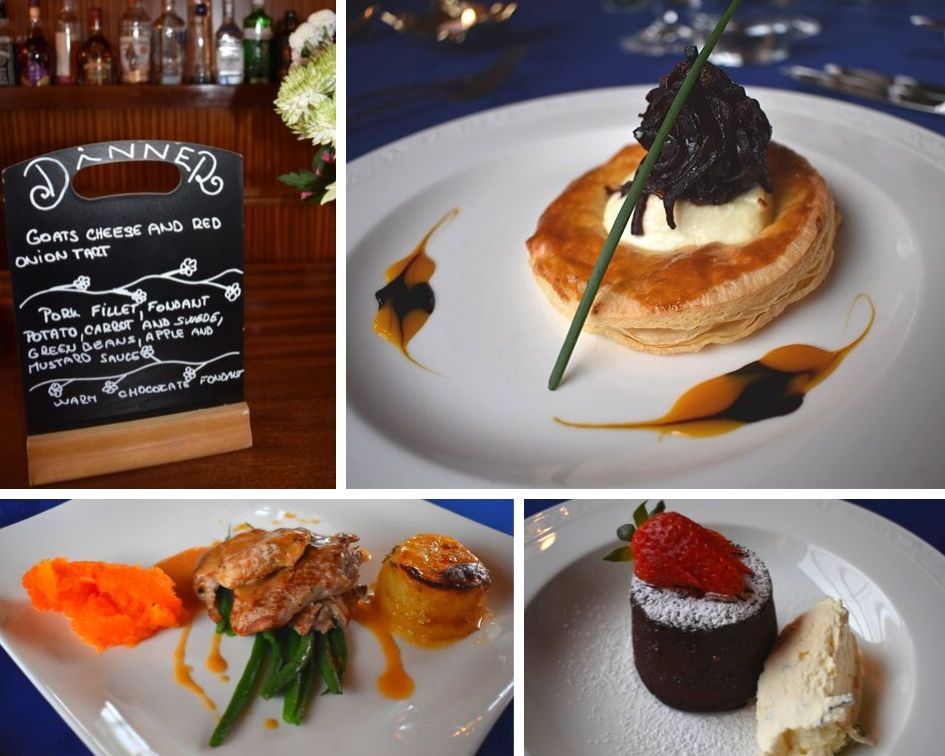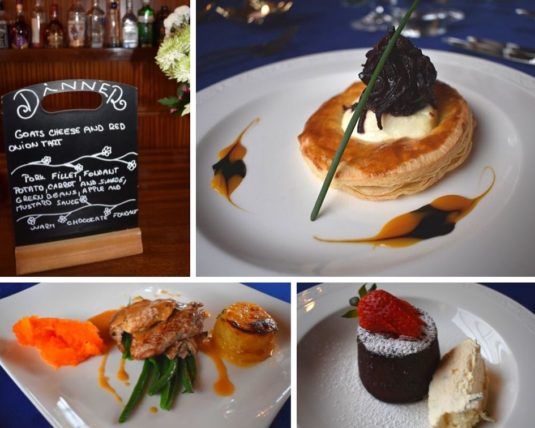 One evening's dinner was ashore with the guide at a local restaurant. All passengers were able to choose whatever they wanted from the extensive menu along with beverages. We found this to be a welcome part of the cruise experience to be dining out in a local venue (plus they had our favorite beer from Scotland on tap!).

Fancy a glass of bubbles while you cruise along the canal? Included.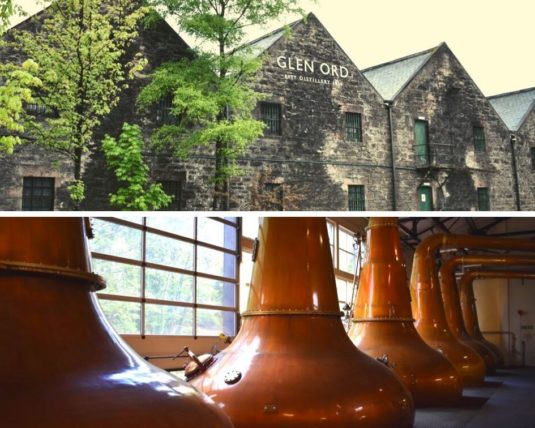 The extensive selection of whiskies (20+) from all regions of Scotland ranged from mild, mellow and smooth to smoky, peaty and extremely complex flavors, with some of the finest single malts included. Although we regularly enjoy drinking Scottish whisky (Glenlivet, Glenmorangie, Laphroaig, Macallan), there were a number of brands we were not familiar with (Old Pulteney, Ardberg, Jura, Bowmore), so we made a point of doing a serious tasting of each of the bottles on display over the course of the week to narrow down our favorites based on flavor and aroma profiles. 
PACKING
Overpacking is easy to do, but sensible packing can enhance any trip experience. The weather changes often and sometimes dramatically in Scotland, so layers are the best way to pack. A raincoat is definitely a necessity at anytime of year – even if it doesn't rain, the windbreaker factor is very useful when cruising across the lochs or off on excursions.

TRIP TIPS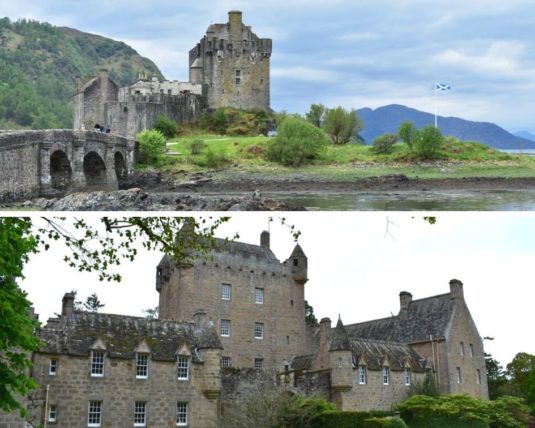 – Packing: With limited storage space in the cabin it's important to pack as light as possible – you won't need dressy evening wear as the dress code is casual and comfortable. The final evening was the Captain's Dinner and passengers did wear nicer shirts and sweaters for this. Non-slip soles on footwear is also recommended. We found low-hiking shoes ideal for all day wear during excursions and around the barge.

– Dining: Make sure to inform European Waterways when you make your booking if you have any dietary restrictions or do not consume anything with alcohol. (This makes the chef's life much easier when they're doing meal planning and preparation and you won't consume something unwillingly that you don't want to!)

– WiFi: Scottish Highlander's WiFi is included, and worked well most of the time depending on the barge's location. If you know you need to access WiFi during your trip, you'll have reasonable speeds most of the time – but not all the time. 

– Exercise: Bikes are carried on the barge and passengers are able to ride them at various points during the trip. The guide and deckhand will inform guests of those opportunities, but make sure they know you're keen to do some biking and they will set you up with a bike and helmet as often as possible. Walking in the towns and along the canal tow path is often an option between excursions and before/after cruising.

– Stairs: A few stairs lead from the outside deck to the main floor with the saloon and cabins. They're a bit steep for some, so take it slow if you're unsteady on stairs.

– Electricity: The electric currency is 220-240 volts and the standard UK plugs. You need an adaptor, and possibly a convertor depending on what you're charging or plugging in. Check with the Captain and crew if you're unsure.  
– Gratuities: Tipping is not included in the cruise fare. The suggested amount is starting at 5% of the cruise fare for each passenger. The crew definitely earn every pound they receive from gratuities, as they work above and beyond to exceed guest expectations.

VALUE
European Waterways hotel barge cruises offer exceptional value. These all-inclusive small passenger count vacations, that provide a professional and attentive crew on a luxury vessel, provide a unique travel experience that is a great way to get away from the tourism masses. It's a wonderful mix of relaxing scenic cruising, fascinating excursions to historic places, with a large dash of Scottish culture thrown in.

BOTTOM LINE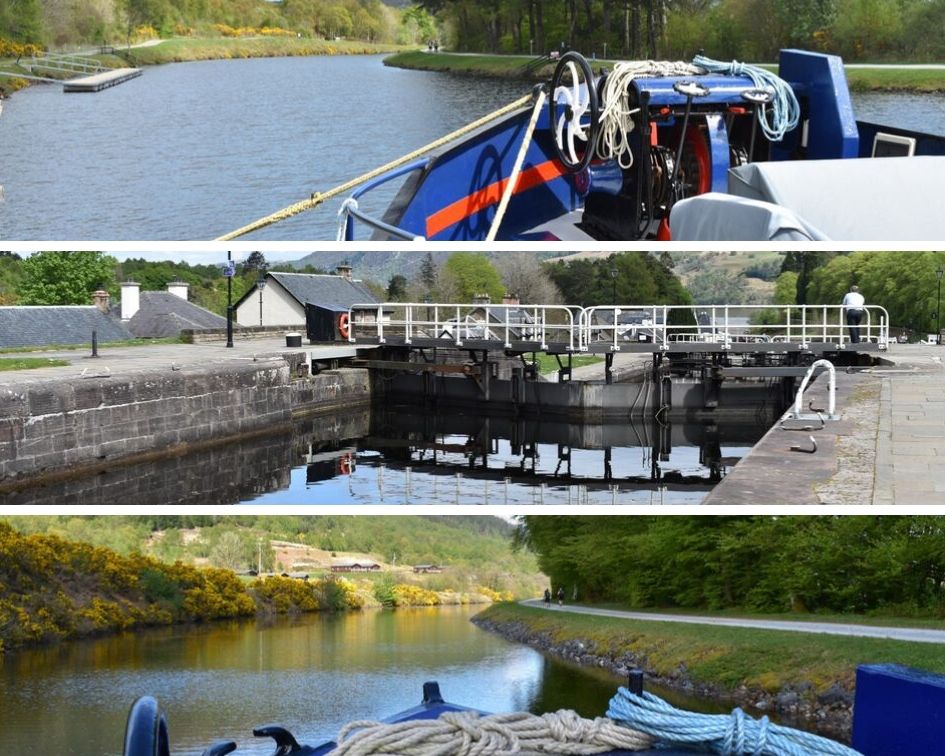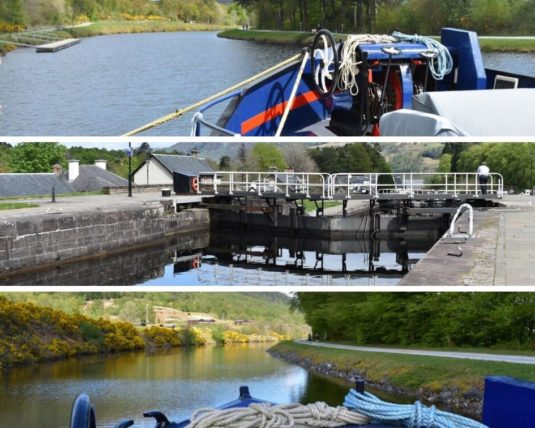 If the thought of spending a week exploring Scotland's Highlands at an unhurried pace, with an expert guide showing you the sights and sharing the region's history sounds appealing, this trip is for you. If you enjoy a single seating set menu of delicious local fare and dining for each meal with a small group of fellow travellers, this trip is for you. If you want to experience an intimate vessel with excellent service from friendly crew, this trip is for you.
Note: WAVEJourney were guests of European Waterways for their Scottish Highlander cruise in May 2019. Read our review full disclosure statement – all opinions and findings are ours at the time of travel.