WJ Tested: Costa Mediterranea Norway Cruise Review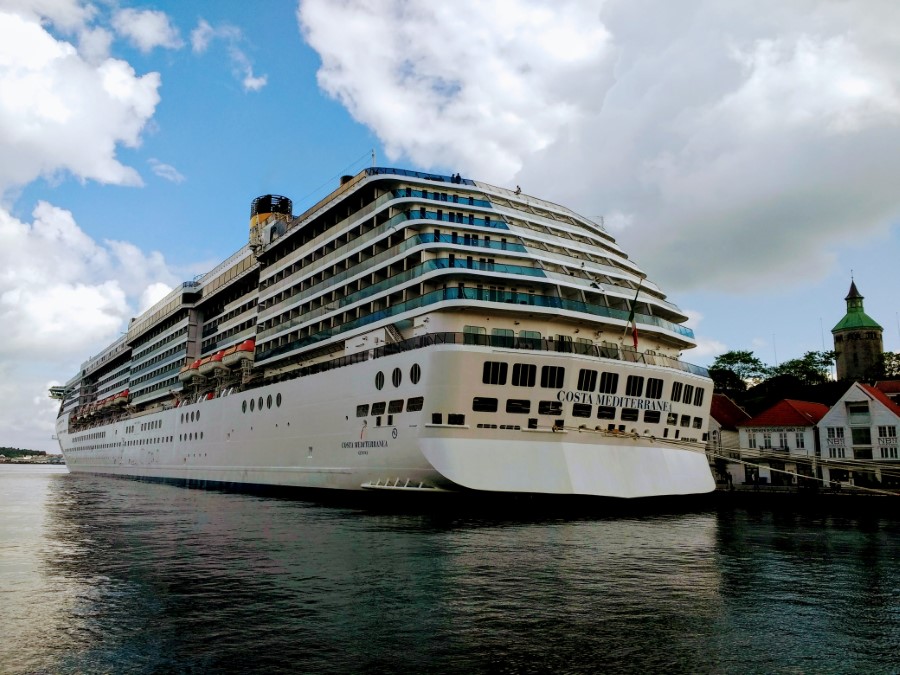 WJ Tested: Costa Mediterranea Norway Cruise Review
By WAVEJourney
WAVEJourney Sails with Costa Cruises on Costa Mediterranea to Norway and Northern Europe in June 2019
A few years ago we had the amazing opportunity to explore Norway on land – primarily via self-driving a rental car, plus taking trains and ferries between destinations. At that time we decided a cruise would be a fantastic option to discover Norway and sail through the fjords – affording a completely different perspective and viewing the scenery in a different manner. So when we received an invitation from Costa Cruises to join one of their sailings we were completely thrilled that they offered a 9-night cruise to Norway and Northern Europe on Costa Mediterranea that covered almost 2,000 miles.
The details of our Costa cruise experience follow below, but the bottom line is we loved all aspects of the ship and onboard experience. The itinerary was excellent with ample excursions available to suit a variety of fitness levels and interests – all at reasonable prices.
WAVEJourney is excited to sail with Costa Cruises again in the near future – maybe on one of their iconic Mediterranean itineraries they're so well-known for.
READ ON FOR ALL THE DETAILS:
ITINERARY & DISTANCE TRAVELLED
Ijmuiden to Bergen = 556 NM
Bergen to Hellesylt = 230 NM
Hellesylt to Geiranger = 11 NM
Geiranger to Andalsnes = 164 NM
Andalsnes to Flam = 275 NM
Flam to Stavanger = 229 NM
Stavanger to Bremerhaven = 323 NM
Bremerhaven to Ijmuiden = 198 NM
Total = 1986 NM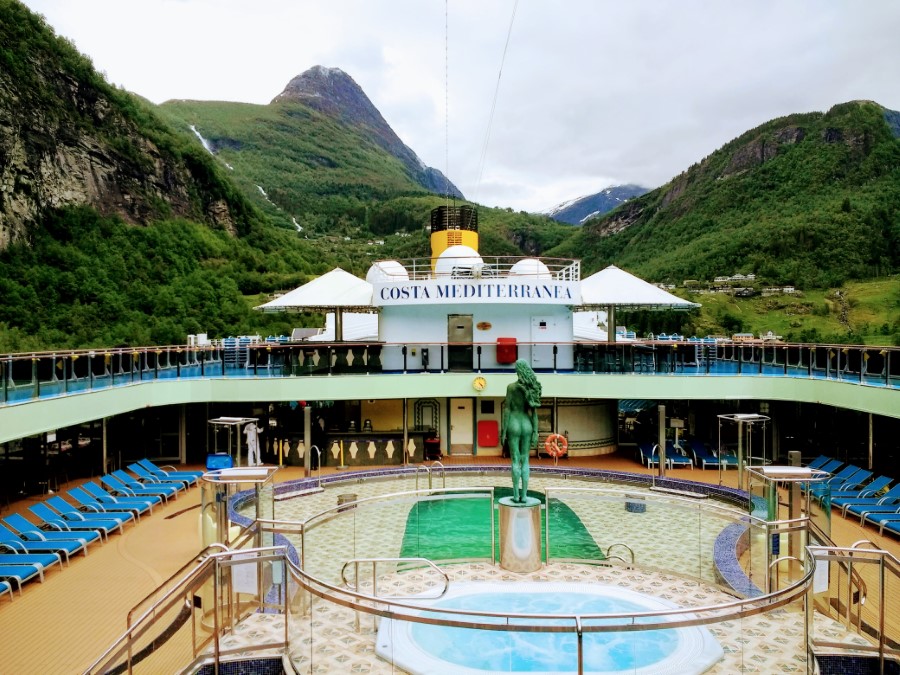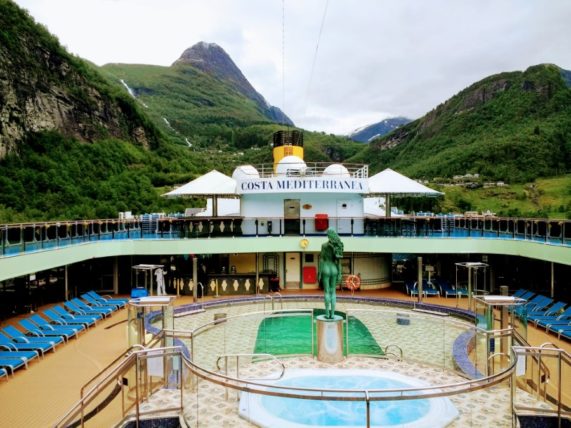 COSTA MEDITERRANEA SHIP FACTS
Length = 292,5 m
Width = 32,2 m
Gross Tonnage = 85,600 t
Maximum Draft = 8,0 m
Passengers = 2,680
Crew = 897 with Captain Giacomo Longo
Maximum Speed = 24 knots
Cruise Speed = 22 knots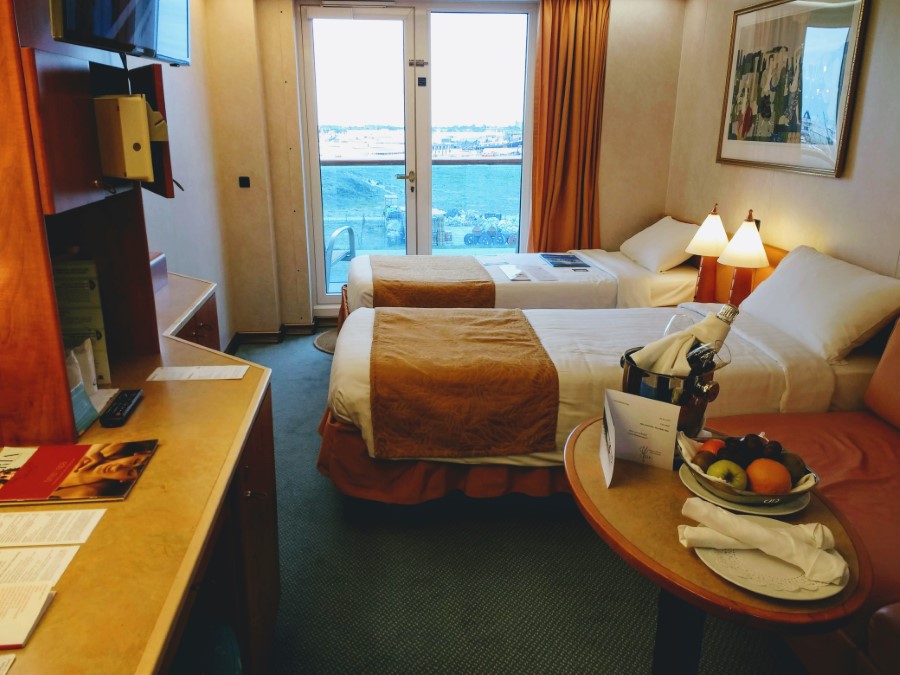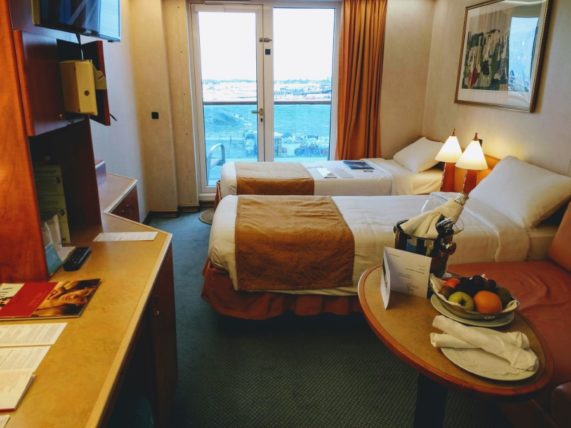 BALCONY STATEROOM
WAVEJourney was in a Deck 6 starboard balcony stateroom (6225) for our cruise on Costa Mediterranea. The cabin was bright and fairly spacious with a balcony with two chairs and a small side table.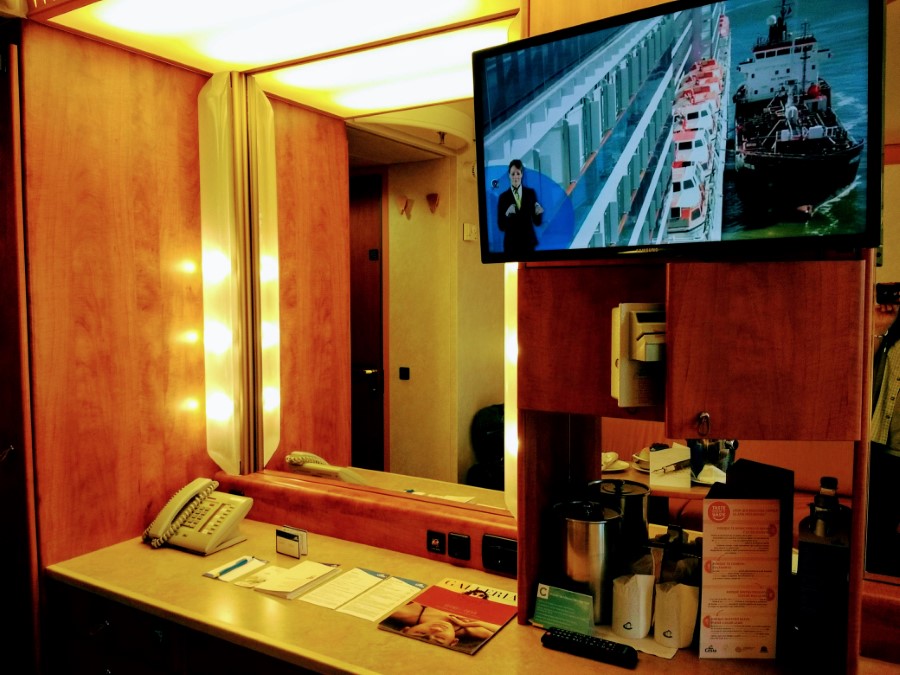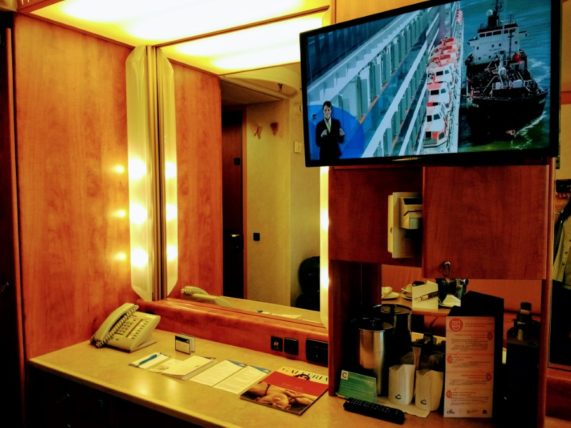 There were both European and North American plug outlets at the desk. A flatscreen TV above the desk and safe area was a good way to keep up with daily activities, news, and various ship's information. Pool/beach towels were provided in one of the cuboards and changed out as needed.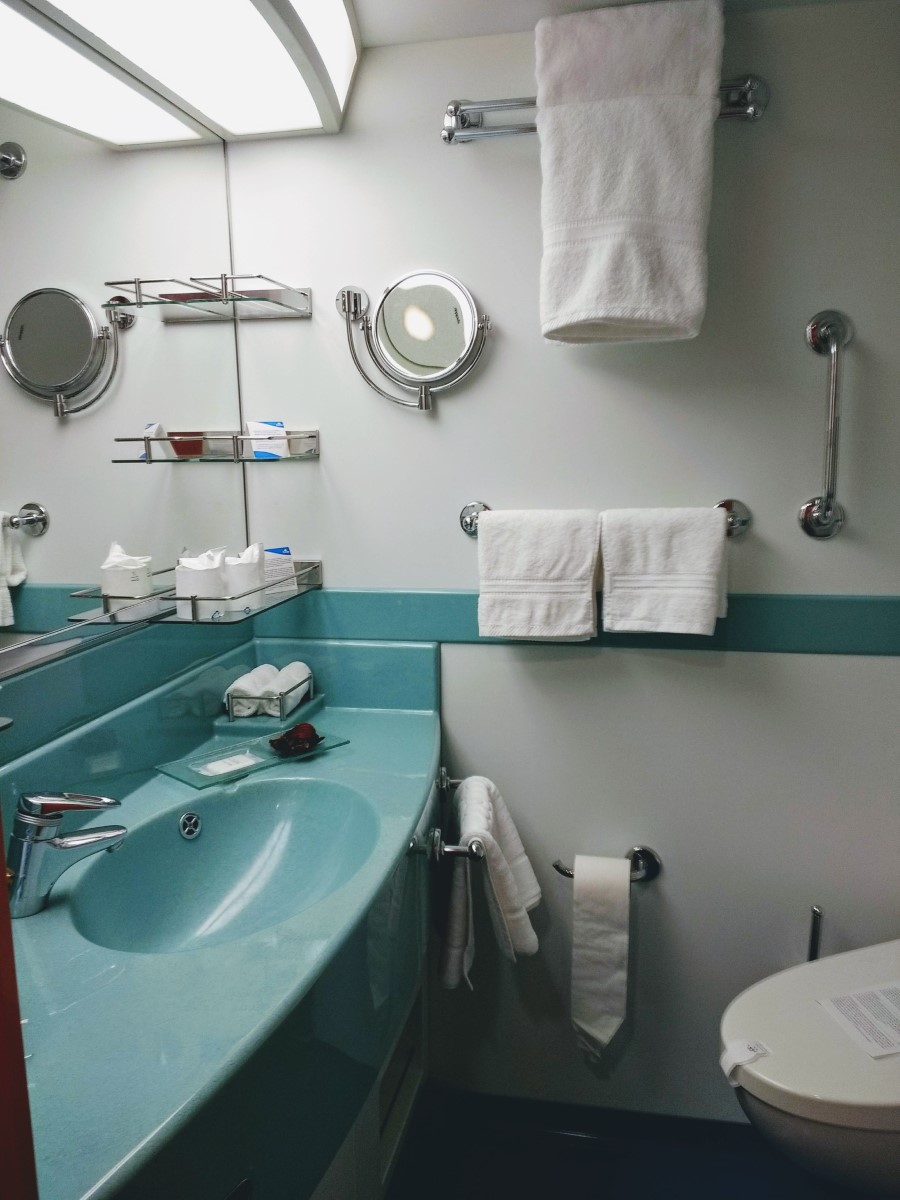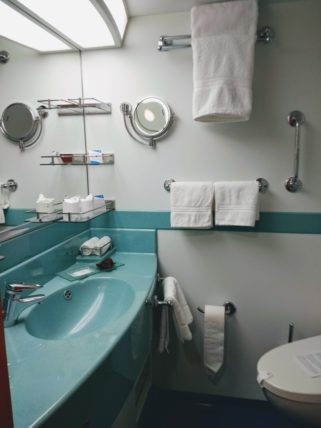 Robes and slippers were provided in our fare category. The bathroom featured a shower with shower curtain (and a shower gel/shampoo combo pump), and single sink. A washing line in the shower was very useful for drying after handwashing of underwear and socks.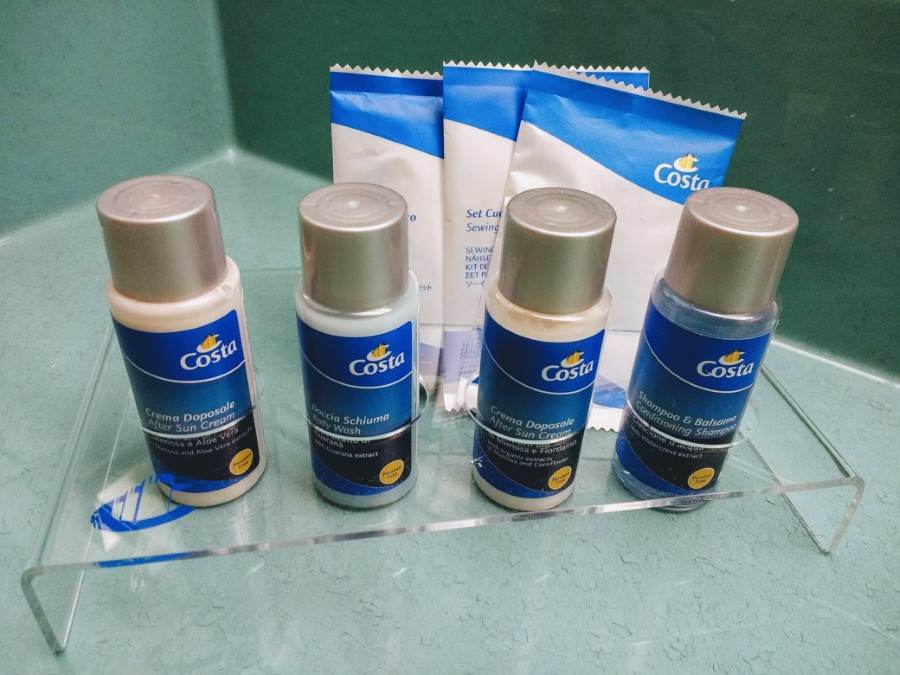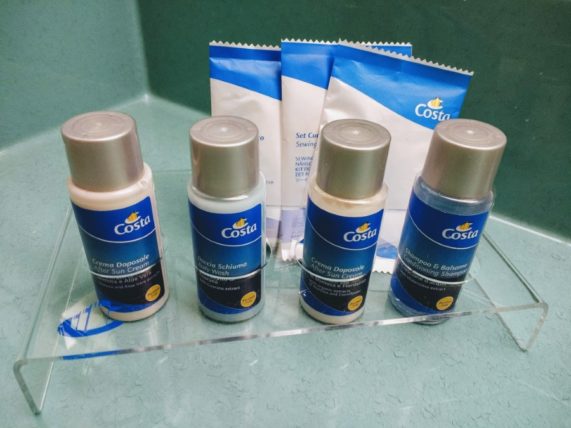 Small bottles of body wash, conditioning shampoo and body lotion were also provided in the bathroom – we used them all and thought they were of good quality and not heavily scented.
Click here to view WJ's cabin tour video.
COSTA APP
The easy to use and very helpful Costa App is available free of charge to download to a smartphone – iPhone or Android. It provides easy access to check your onboard account, booking excursions, restaurants, see the daily program (Diario di Bordo), etc. Download the app prior to boarding the ship. Once aboard, it is free to use the ship's WiFi network to access the Costa App – but only the app.
THE COSTA CARD
The Costa Card is the identity card for every ship passenger. You'll use the Costa Card to access your cabin (it's the key for the door), to pay for anything extra you want to book or purchase on the ship, and to use when utilizing your drink package. The Costa Card is also necessary to leave or return to the ship – it has your photo embedded and all other details to allow you access.
PAYMENT ONBOARD THE SHIP
Costa Cruises handles payment for onboard expenses somewhat differently than other cruise lines we've encountered. It's a quick and simple process where you register your credit card at an automatic machine within 24 hours of embarkation. If you wish to pay with cash you can use the same automatic machines or visit the Hospitality Service Desk (and they will take a deposit).
CRUISE DIRECTORS
A variety of languages are spoken on the ship and announcements are made in the top languages. Each main language has a Cruise Director that assists those guests in their native tongue. On embarkation day the English Cruise Director provided English-speaking passengers with useful information about the ship, entertainment, restaurants and how best to get the most out of the cruise. Our cruise had announcements in Italian, German, French, Spanish and English when appropriate and necessary. The Cruise Directors were very visible throughout the cruise and assisted passengers to fully answer their questions.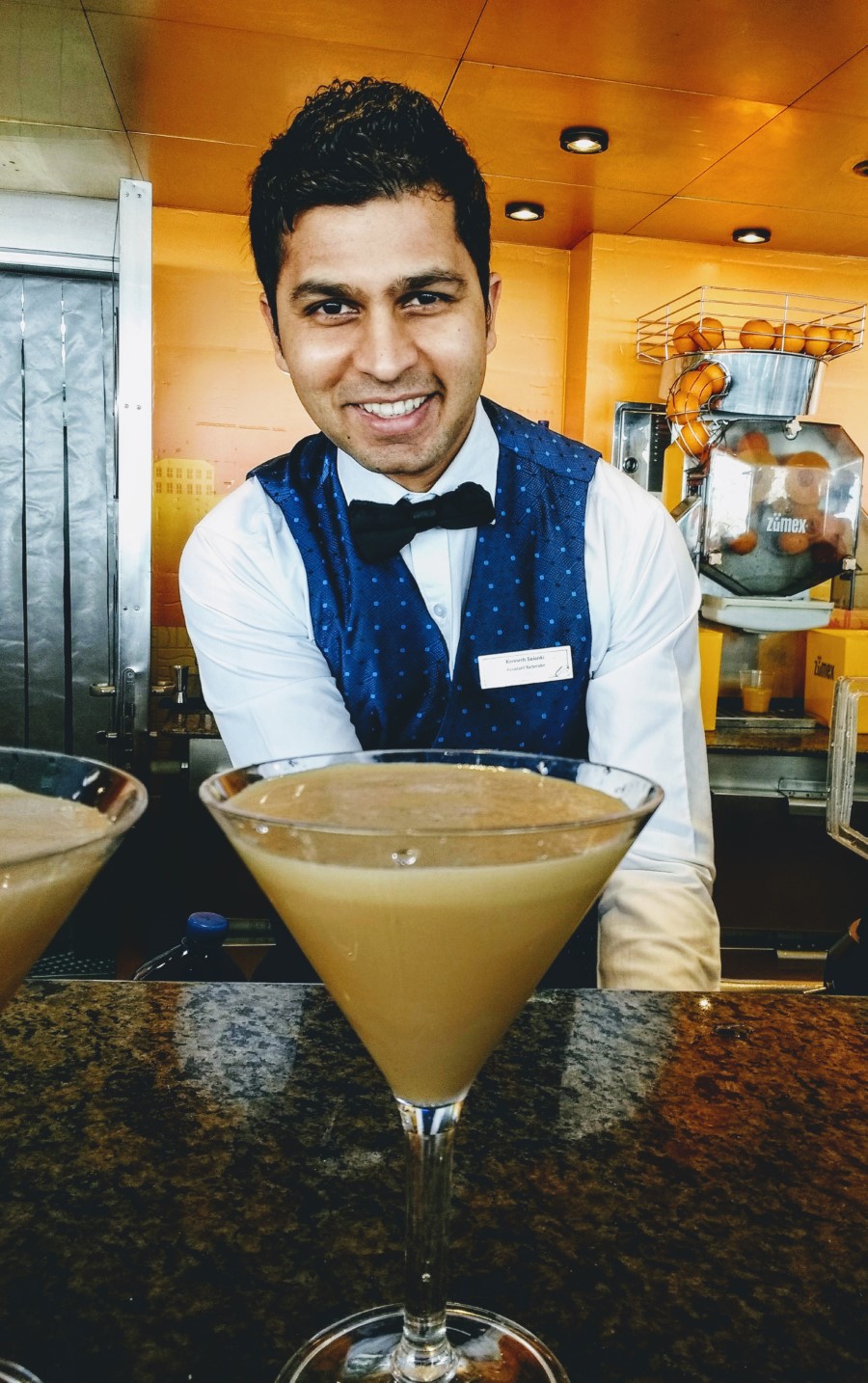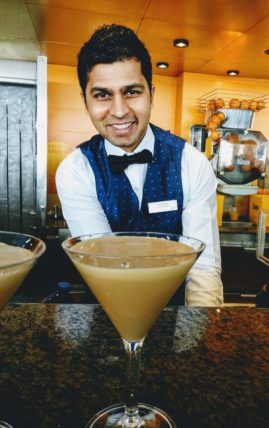 COSTA CRUISES DRINKS PACKAGES
If you prefer to go all-inclusive on your drinks when cruising, Costa Cruises has a few terrific options to save your money and enhance your onboard vacation experience. Choose between Brindiamo, Piu Gusto and Intenditore packages to find the one that fits your drinking habits. The drink package you have selected is indicated on your Costa Card and allows you to start enjoying as soon as you embark.
Brindiamo drink package was included in our cruise fare for the duration of our cruise. This was perfect for us as we found a more than ample included selection of draught beer, aperitifs, juices, soft drinks, mineral water, espresso-based drinks, wine, long drinks, and more.
Piu Gusto drink package included aperitifs, draught beer, juices, soft drinks and mineral water, espresso-based beverages, wines by the glass in the restaurant, cocktails, long drinks and more.
Intenditore drink package included freedom of choice and unlimited drinks at the bars, in the restaurants and from the minibar in the cabin. It allows any drink up to a maximum price of 9 Euro – including premium brands, liqueurs, champagne and wines by the glass.
Pranzo & Cena drink package included draught beer, soft drinks and mineral water, wines by the glass.
Giovani drink package included fruit juices, soft drinks, mineral water, espresso-based hot beverages, and alcohol-free cocktails.
Coffee & Cappuccino Package using Illy Coffee is ideal for those that don't want alcohol, but want their espresso-based hot beverages. Two options were available and both included a 125 G can of Illy Coffee.
25 Espresso drinks = 44.50 Euro
25 Cappuccino drinks = 73.00 Euro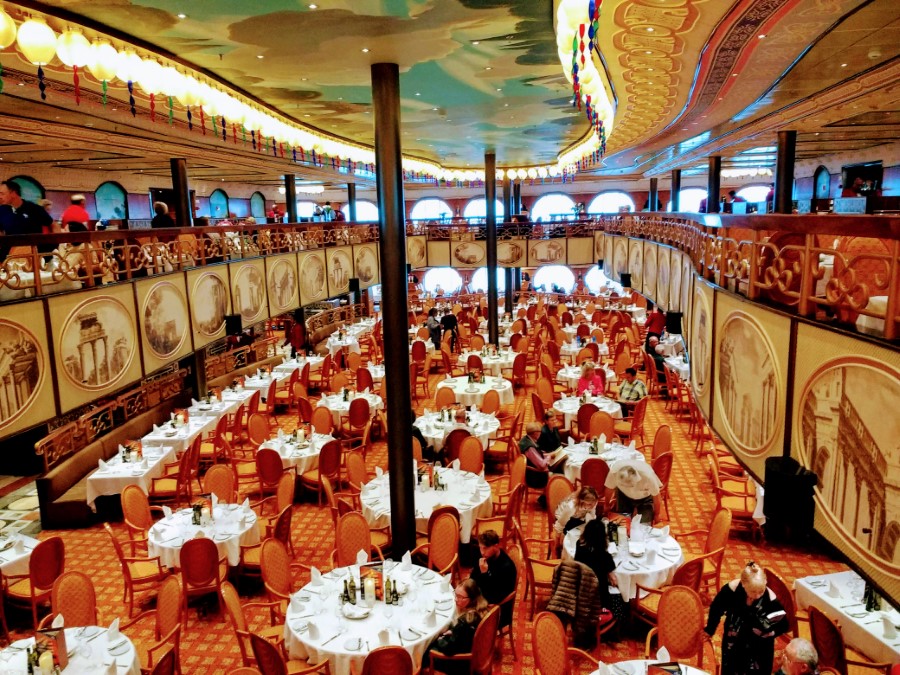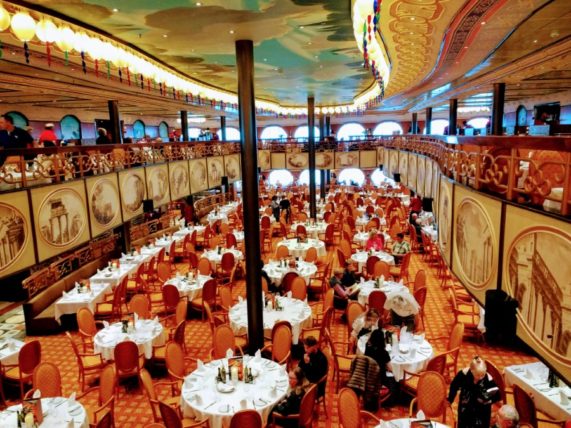 DINING INCLUDED IN CRUISE FARE
Breakfast, lunch and dinner is included in the cruise fare and available at two main dining venues. The dining room (Argentieri Restaurant on Deck 2) and the buffet (Perla del Lago Restaurant Buffet on Deck 9) offered excellent selections, and changed items daily.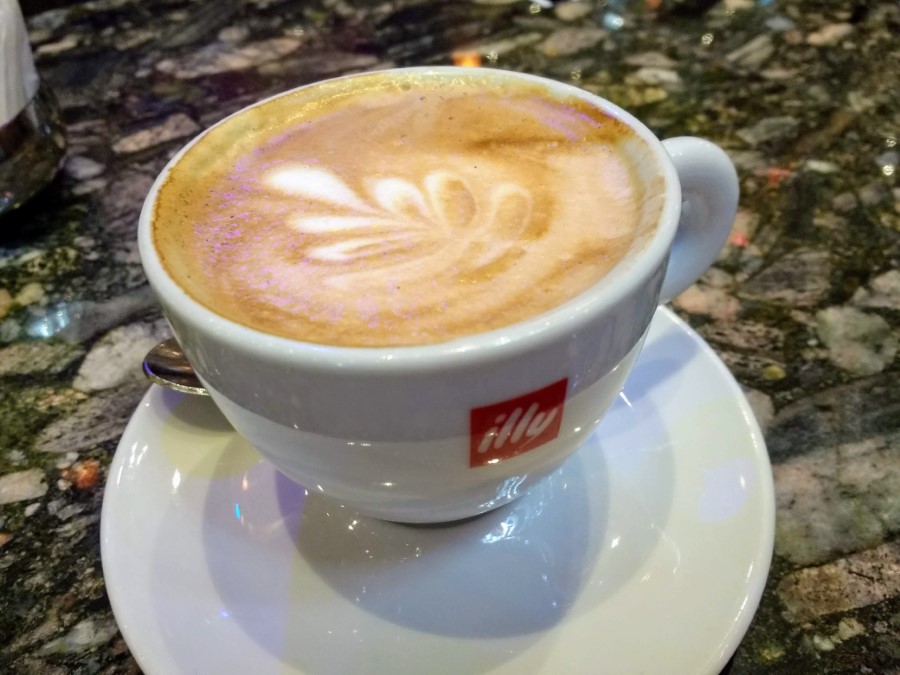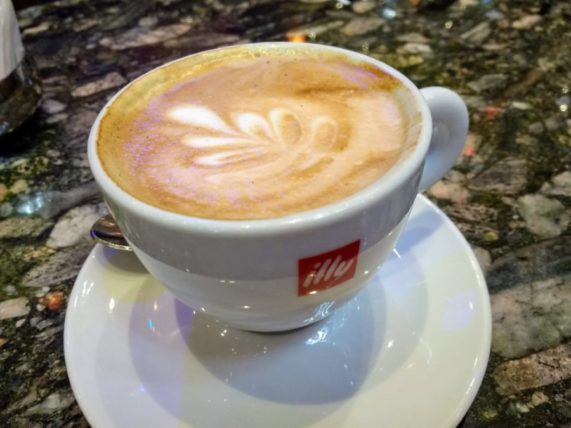 As we're not big eaters at breakfast, we skipped dining at Argentieri Restaurant in the morning, but each day made a trip to the buffet for a croissant, yogurt and fruit to take back to our balcony cabin, along with cappuccinos from one of the bars.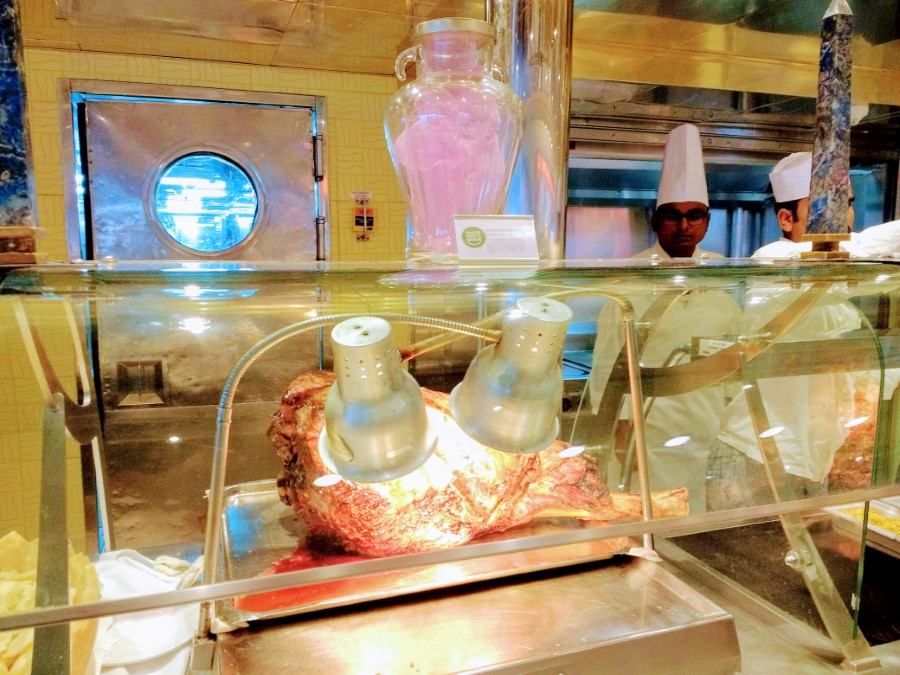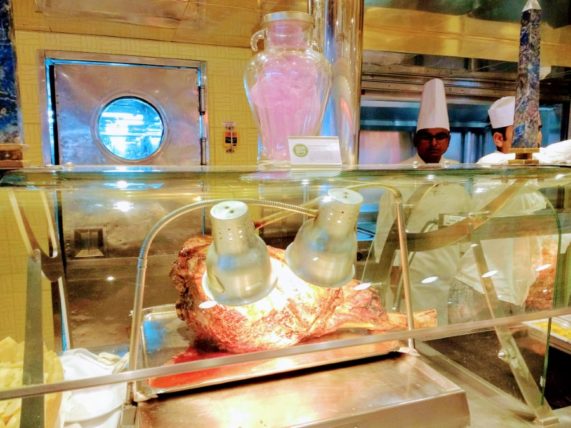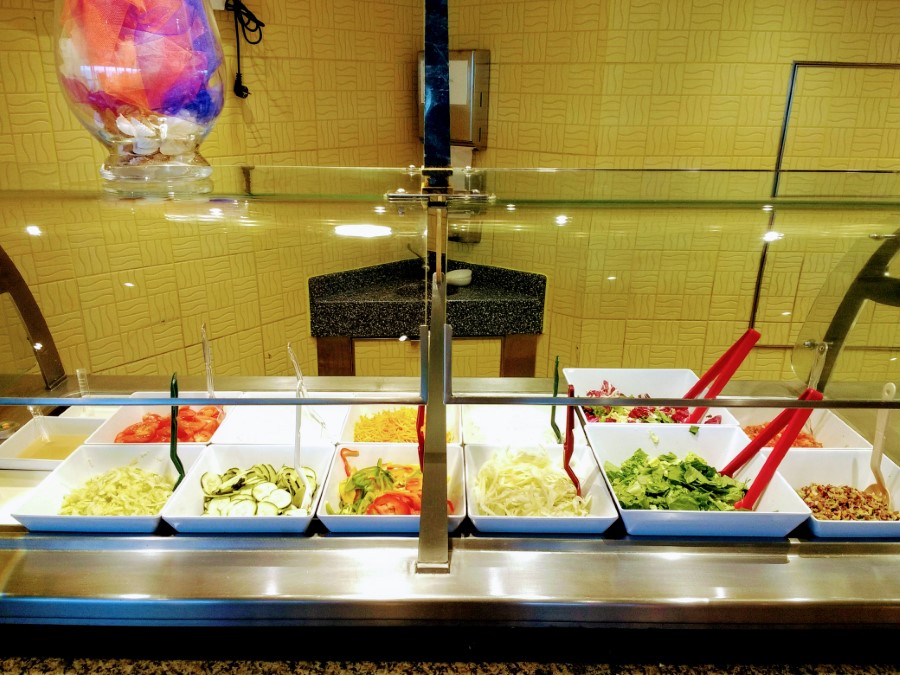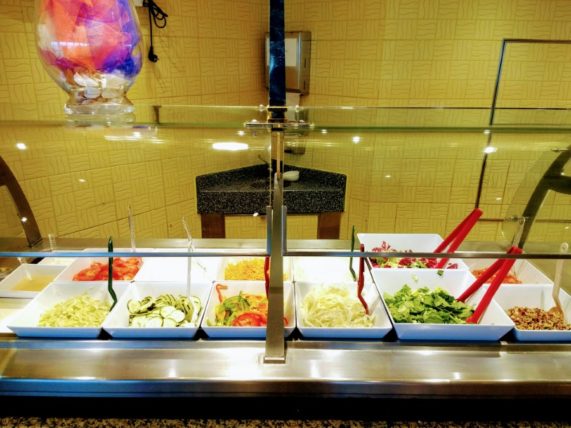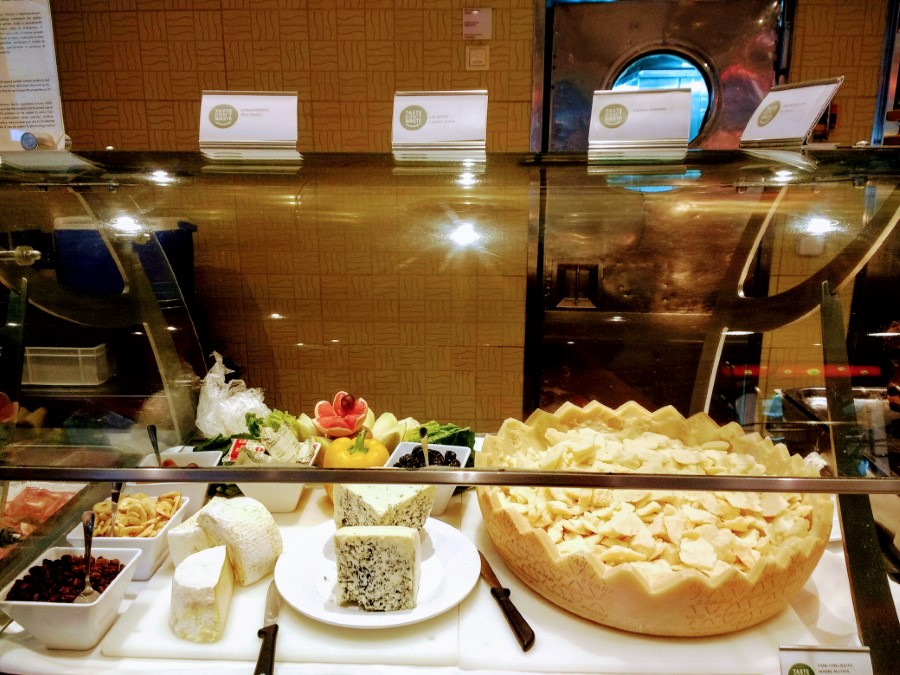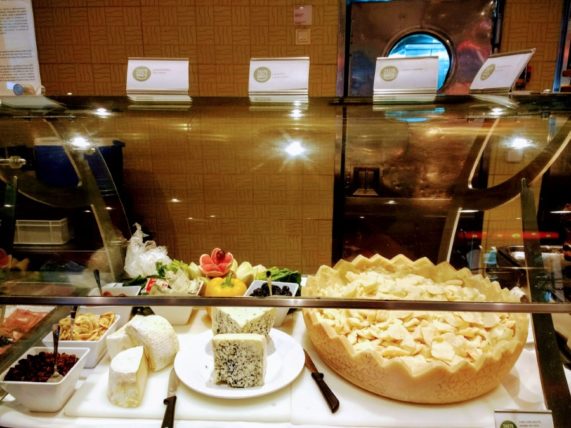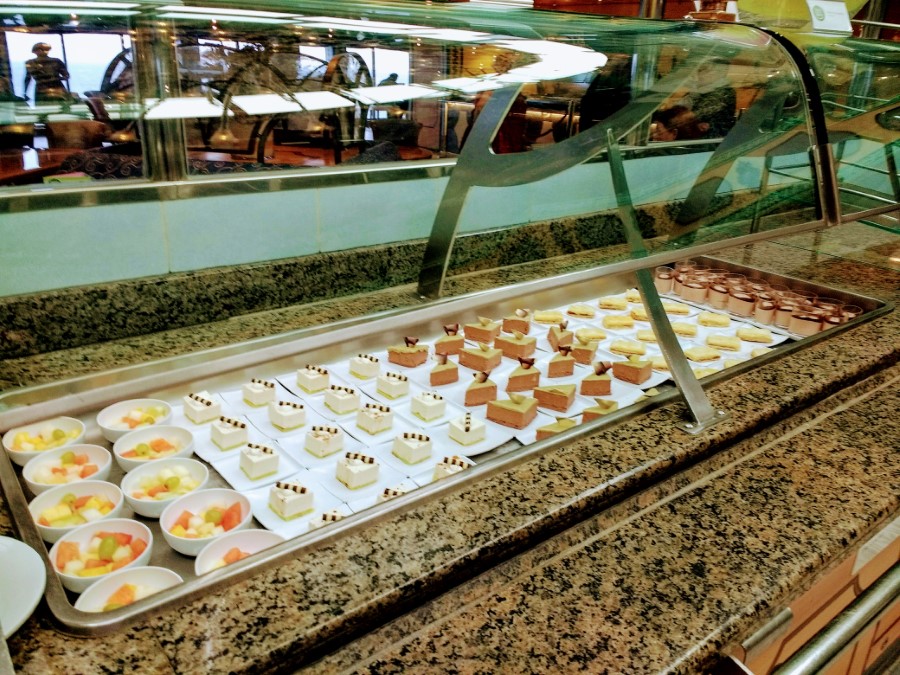 For lunch we would primarily eat light at the buffet – where the daily menu changed and offered a reasonably extensive variety.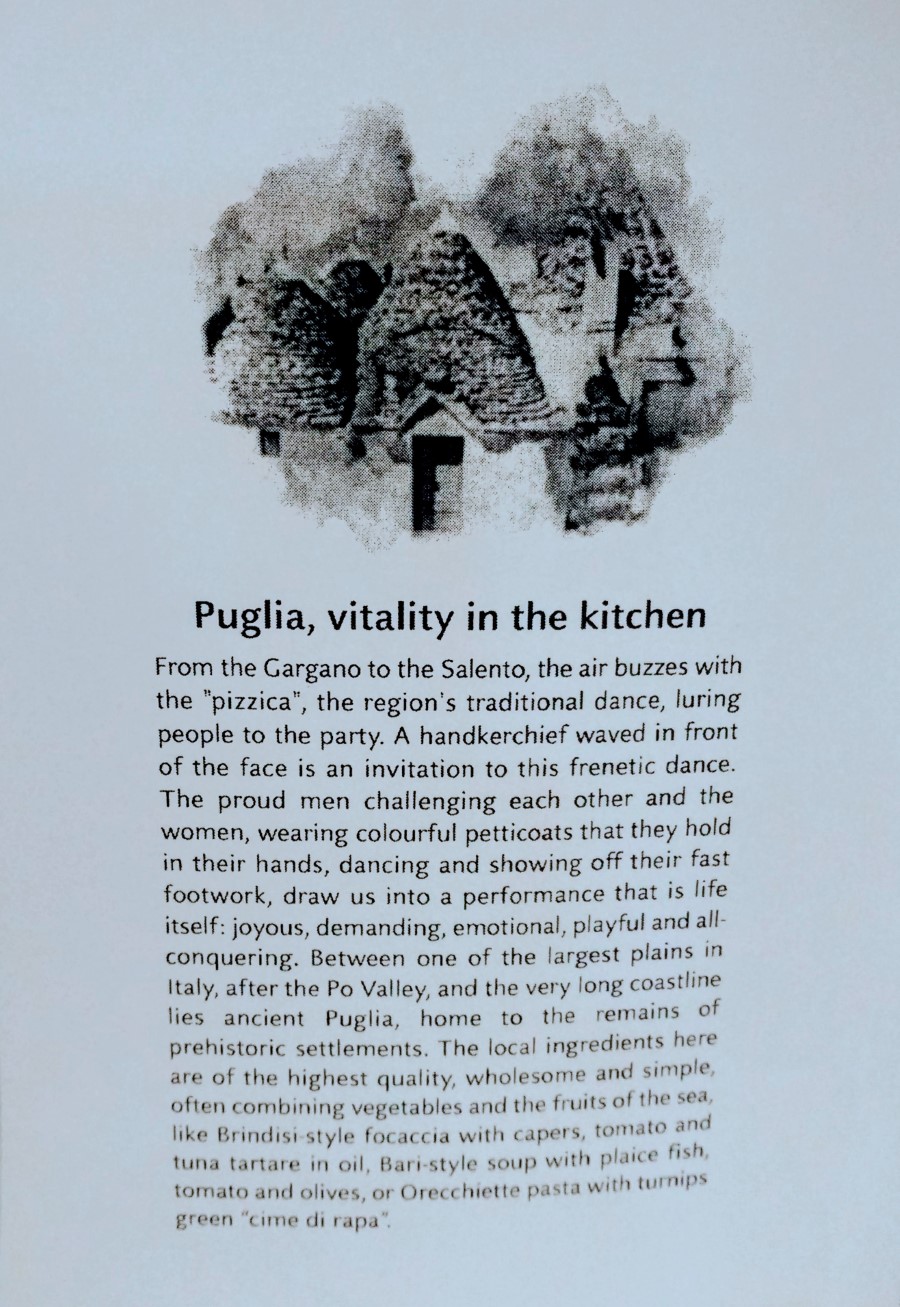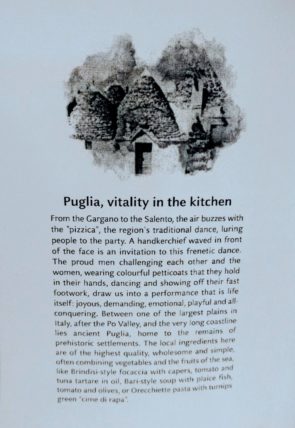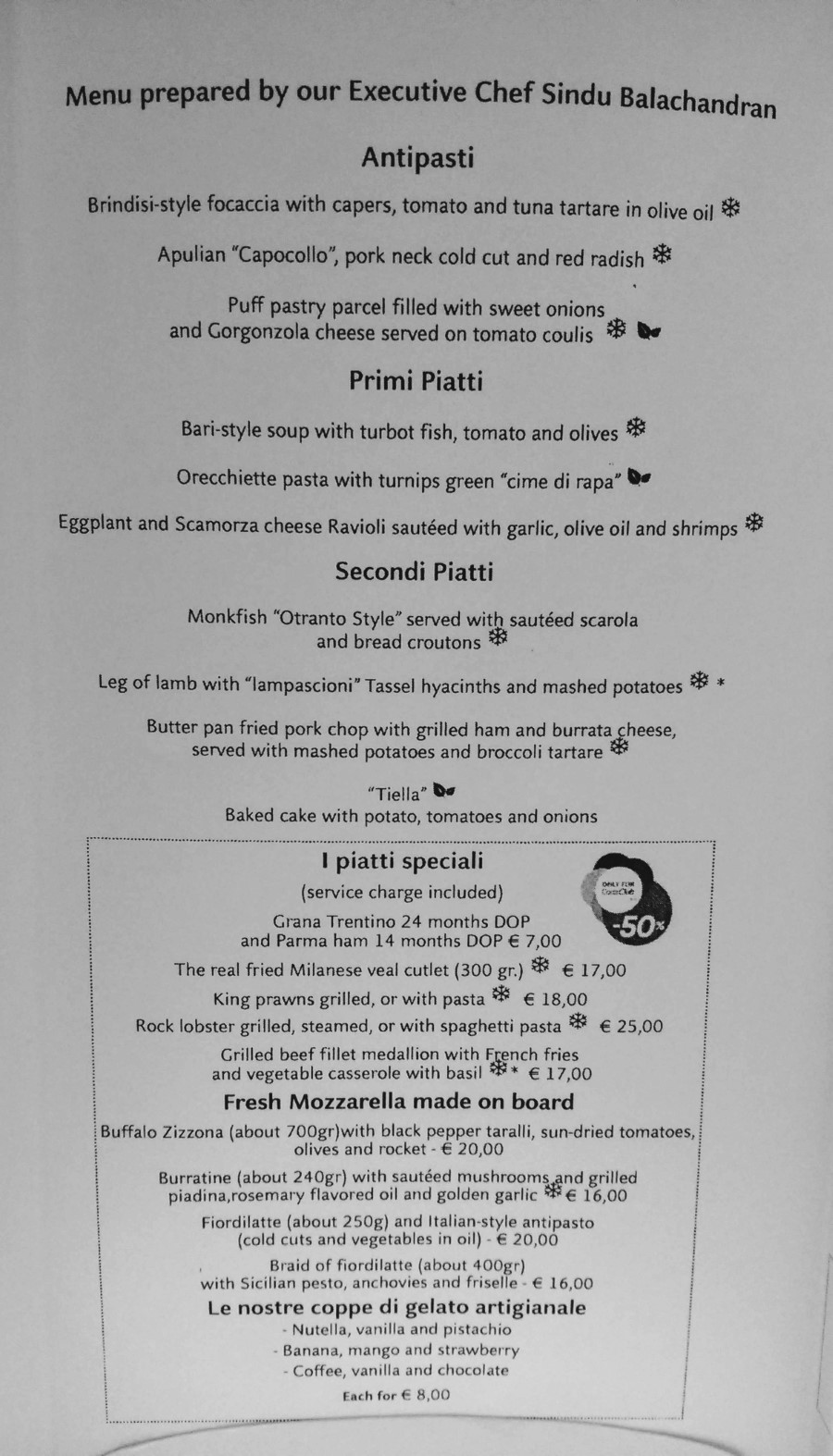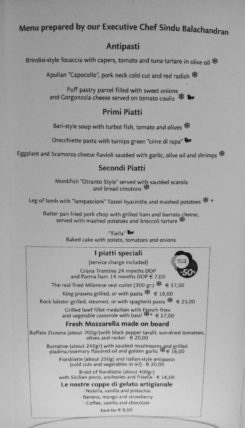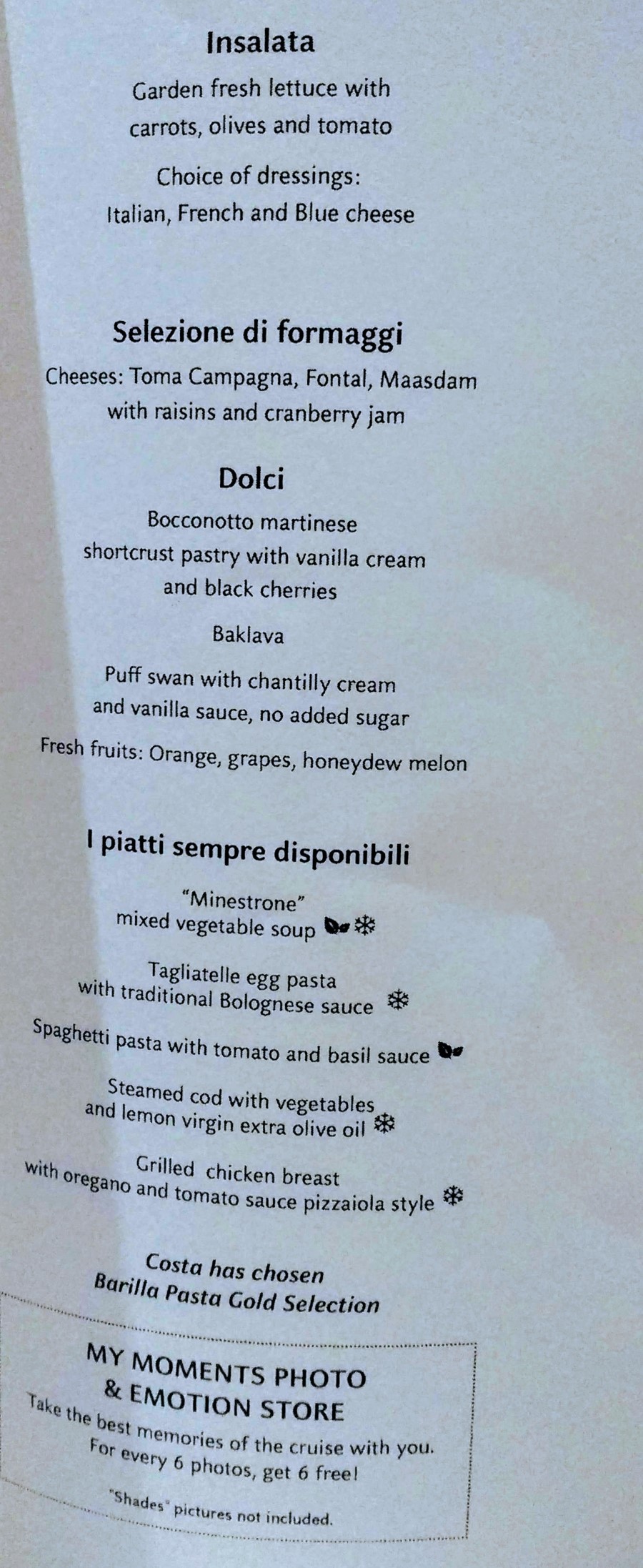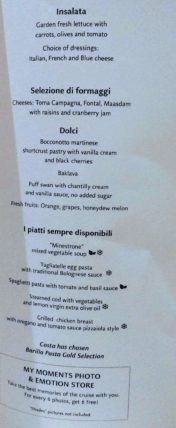 Evening dining saw us going to Argentieri Restaurant each evening for the first seating at 6:15 PM. Our waiter, John, was wonderful, provided us with English menus, knew after the first evening our preference of water and wine (and had it waiting for us on the table every other night), and provided a pleasurable dining experience. This is the first cruise we've been on where we've dined in the main restaurant each night of the cruise – the service and food was that good!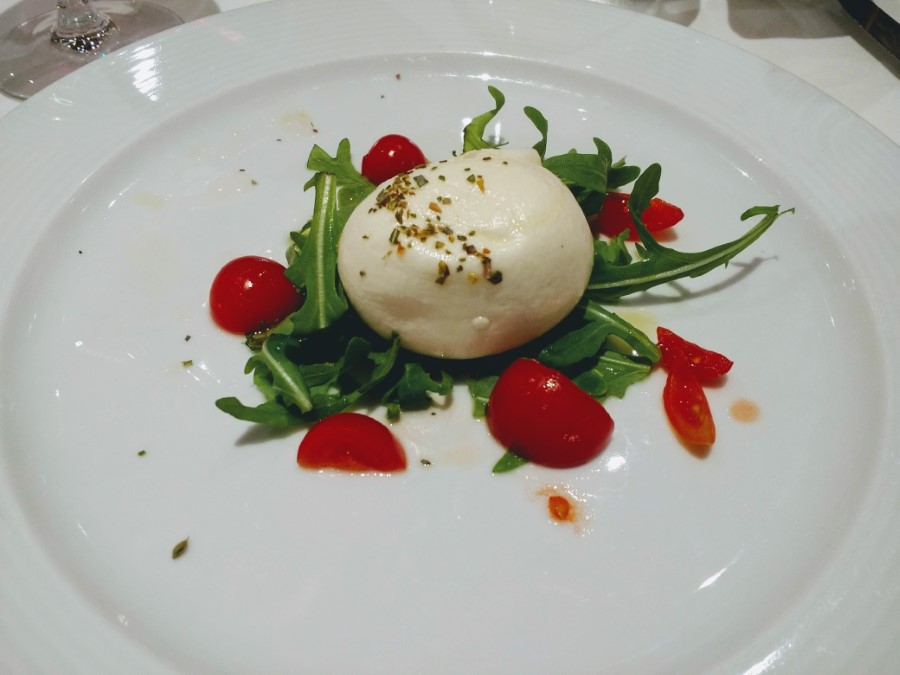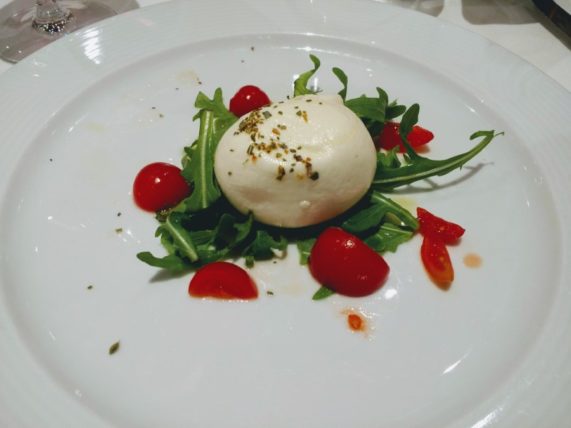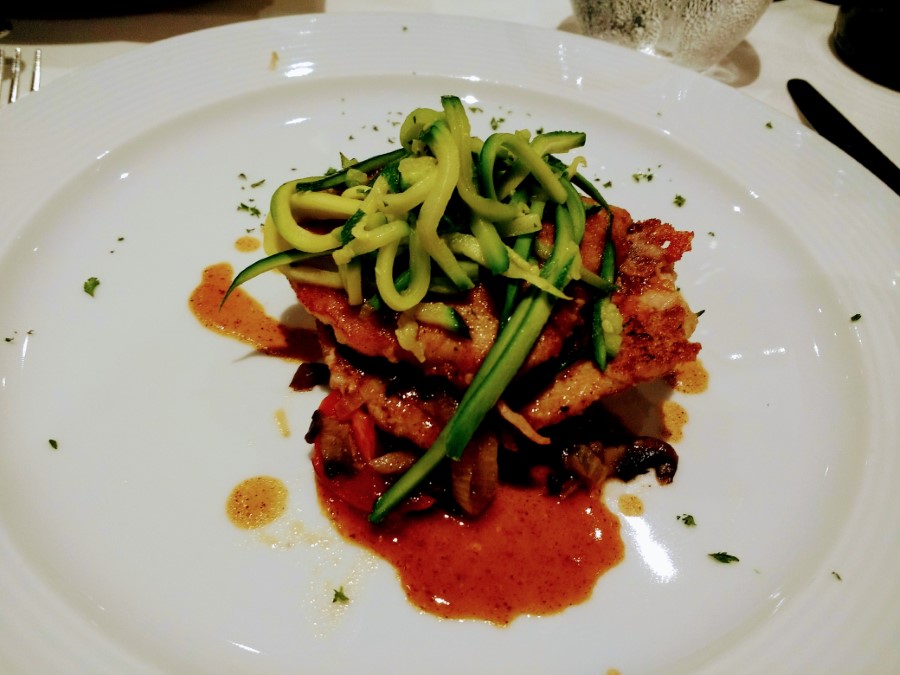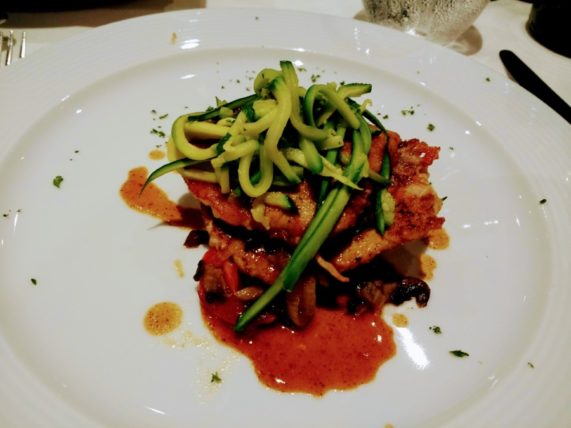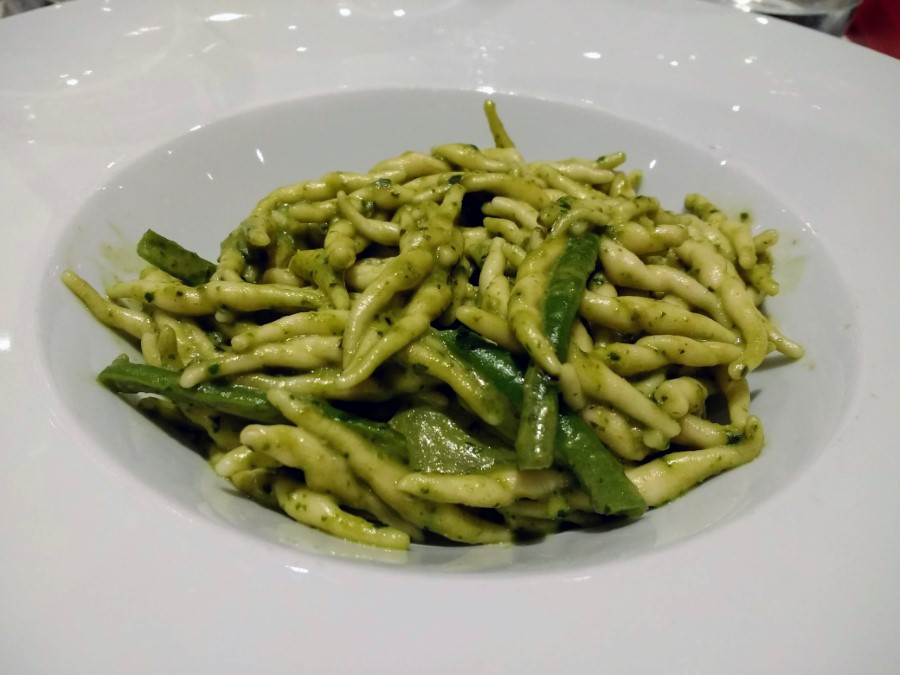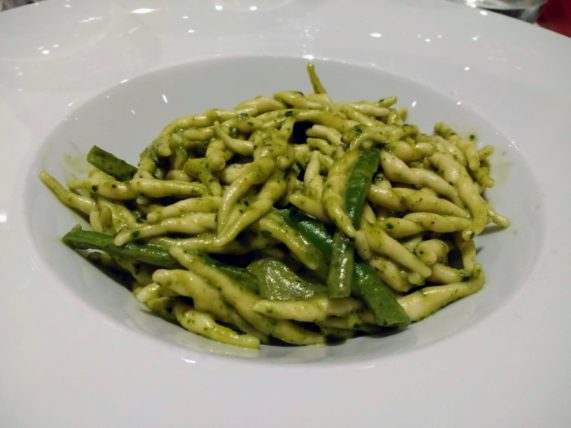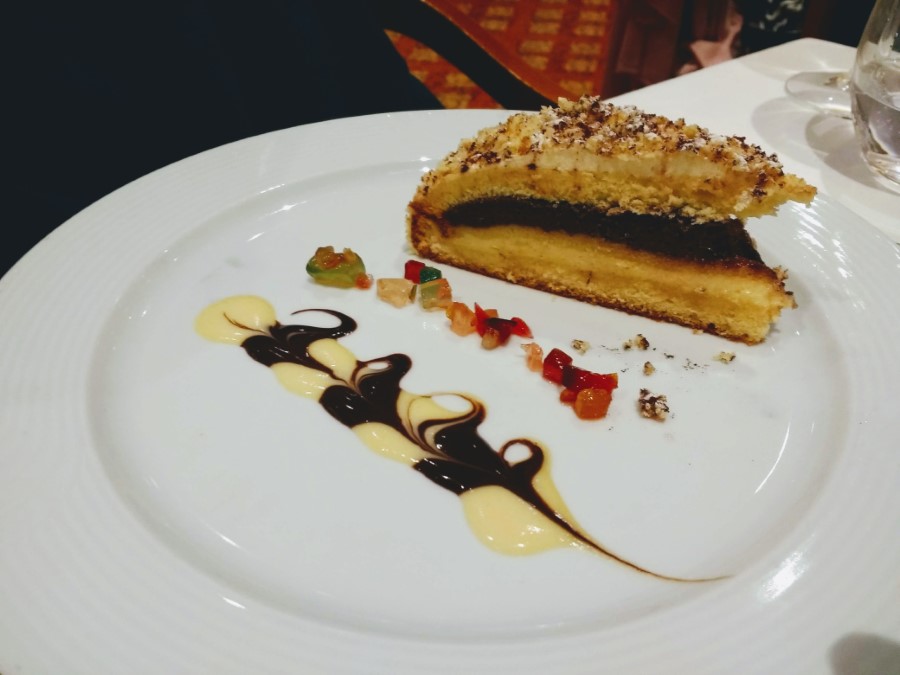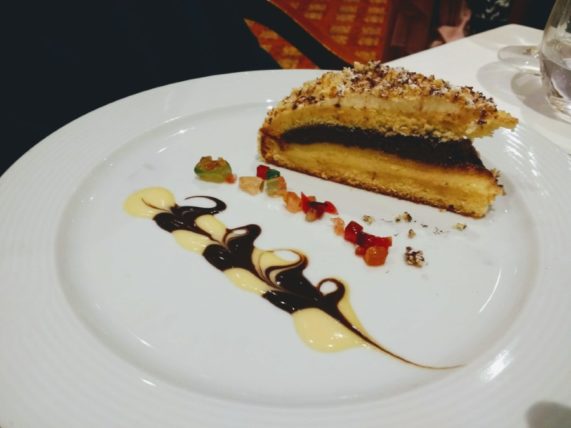 RESTAURANTS – EXAMPLE OF DAILY OPTIONS (times varied daily depending on ports):
Breakfast
International Breakfast 6:30-9:30 AM at Perla del Lago Buffet on Deck 9 or 7-9 AM at Argentieri Restaurant on Deck 2.
Late Breakfast
9:30-10:30 AM at Perla del Lago Buffet on Deck 9
Lunch
Self-service lunch from Noon to 4 PM at Perla del Lago Buffet on Deck 9.
Burger and Grill lunch from Noon to 4 PM at Lido Armonia on Deck 9.
Italian lunch from 12:30-1:30 PM at Argentieri Restaurant on Deck 2.
Snack Coffee, tea and desserts available in the Perla del Lago Buffet on Deck 9 from 4-5 PM.
Dinner
The Liguria Menu – Assigned table and timed seating in the Argentieri Restaurant on Deck 2 was either at 6:15 PM for the first sitting or 9 PM for the second sitting.
Self-service dinner at Perla del Lago Buffet was available from 6:30 PM to 8:30 PM on Deck 9.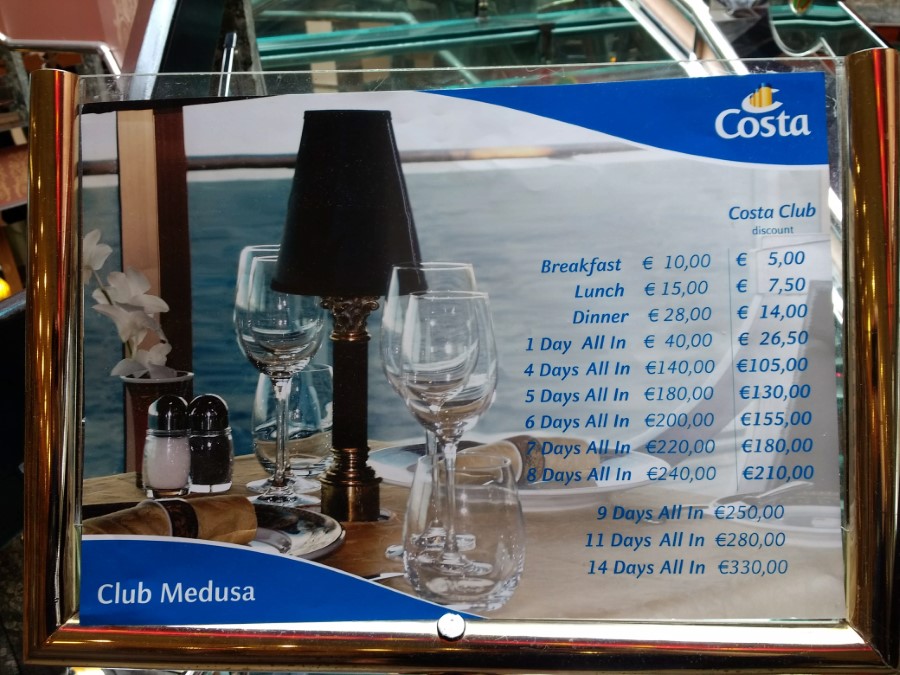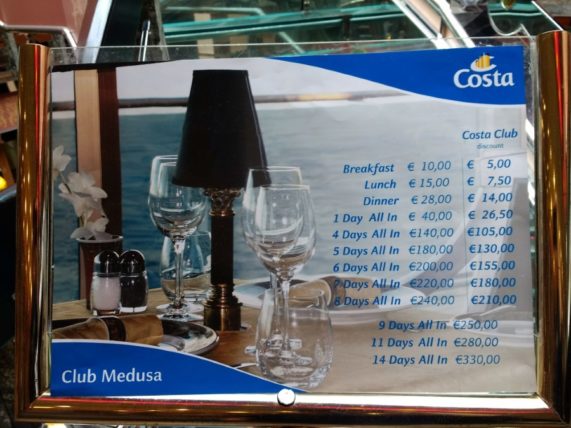 DINING WITH ADDITONAL FEES
Room Service – The 24-hour room service menu was somewhat limited and fees were associated with each item. Some drinks were available free of charge (coffee, tea, milk, hot chocolate, orange juice or grapefruit juice), but did have a 2 Euro delivery service charge if food was not also ordered. Delivery time was promised within approximately 30 minutes.
Menu Items and Charges:
Antipasti
Warm Consomme 3 Euro*
Chilled Fruit Cream 3 Euro
Insalate
Traditional Caesar Salad 4 Euro*
Caesar Salad with Poached Salmon 5 Euro
Caesar Salad with Grilled Chicken Breast 4 Euro
Pasta with Tuna 4 Euro*
Sandwiches
Il Classico – White bread with tuna, lettuce and tomato 4 Euro*
Lo Scandinavo – With prawns 4 Euro
Il Pollo – Grilled chicken breast, lettuce, tomato and onion 4 Euro*
La Baguette – Roast beef and brie, served with vegetables 4 Euro
L'Italiano – Focaccia with prosciutto, cheese, lettuce and tomato 4 Euro
Il Vegetariano – Pesto bread with grilled vegetables, mozzarella, roasted peppers, served with potato chips 4 Euro
Dessert
Cake of the day 3.50 Euro
Fresh fruit salad 3.50 Euro
Selection of fruit yogurt 3 Euro*
Note: If you have a Brindiamo or Pia Gusto drink package, during bar open hours, you can order drinks from the bar menu and only pay the delivery service charge.
Note: Items marked with * are free for Premium guests.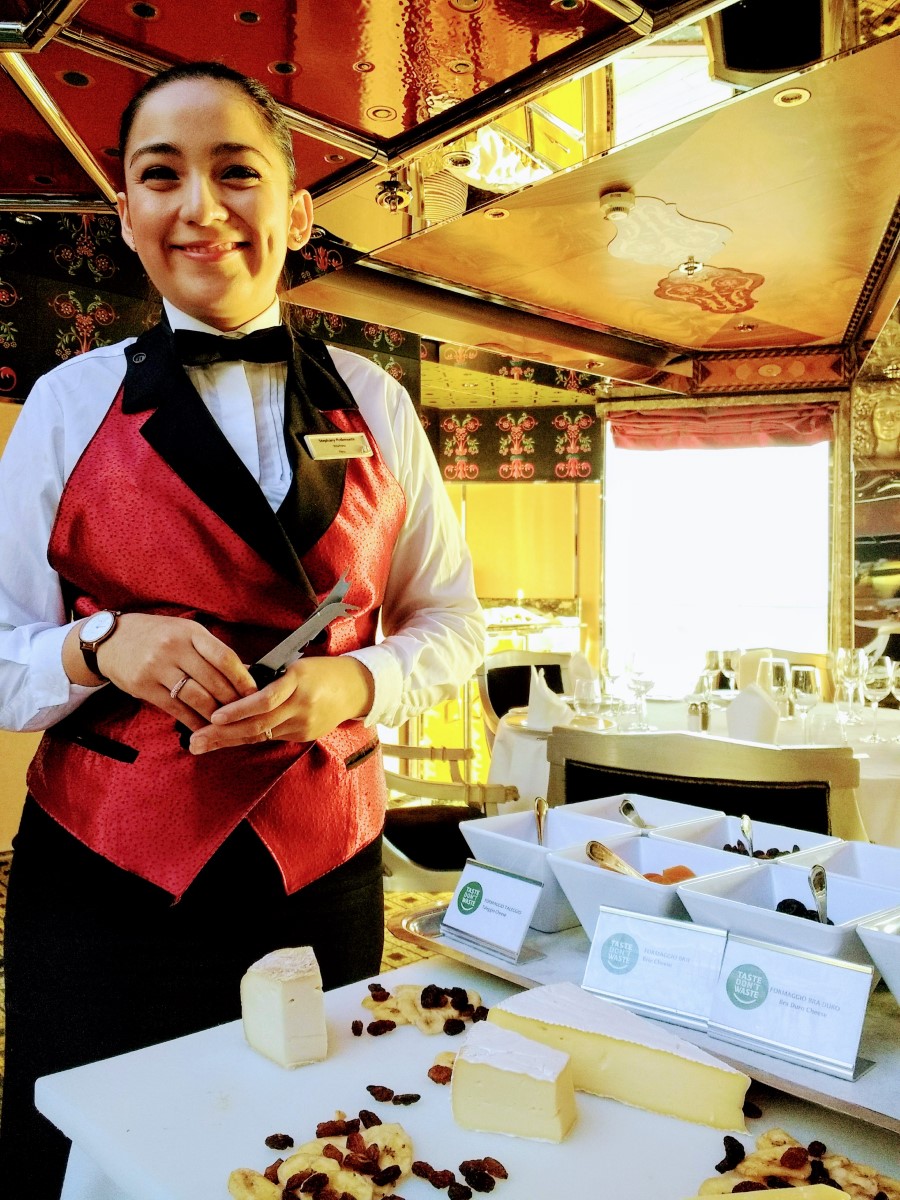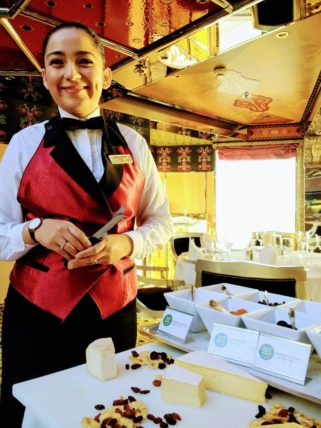 Club Medusa Restaurant – Exclusive breakfast, lunch and dinner – open sitting on Deck 10 in a specific restaurant venue with ocean views on port and starboard sides. The menu was the same as the Argentieri Restaurant daily choices, but service was much more personalized and a more intimate atmosphere.
Burger d'Autore Dinner – open seating on Deck 9 in a specific section of the buffet featuring a 200 g burger of Piedmontese meat and other high quality ingredients produced in Italy.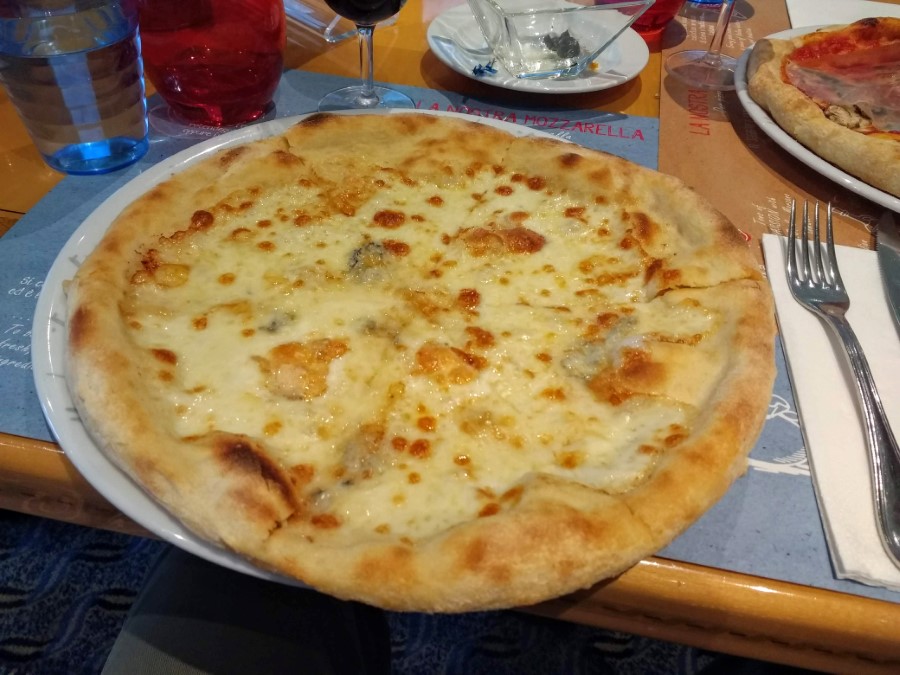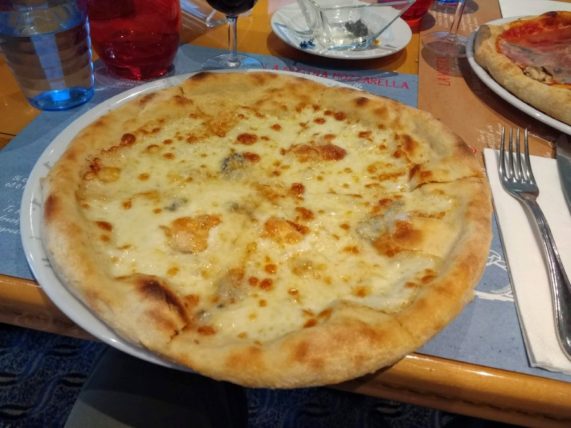 Pizzeria Pummid'oro Dinner – open seating on Deck 9 in a specific section of the buffet serving 16 varieties of pizza. Dine in or take out.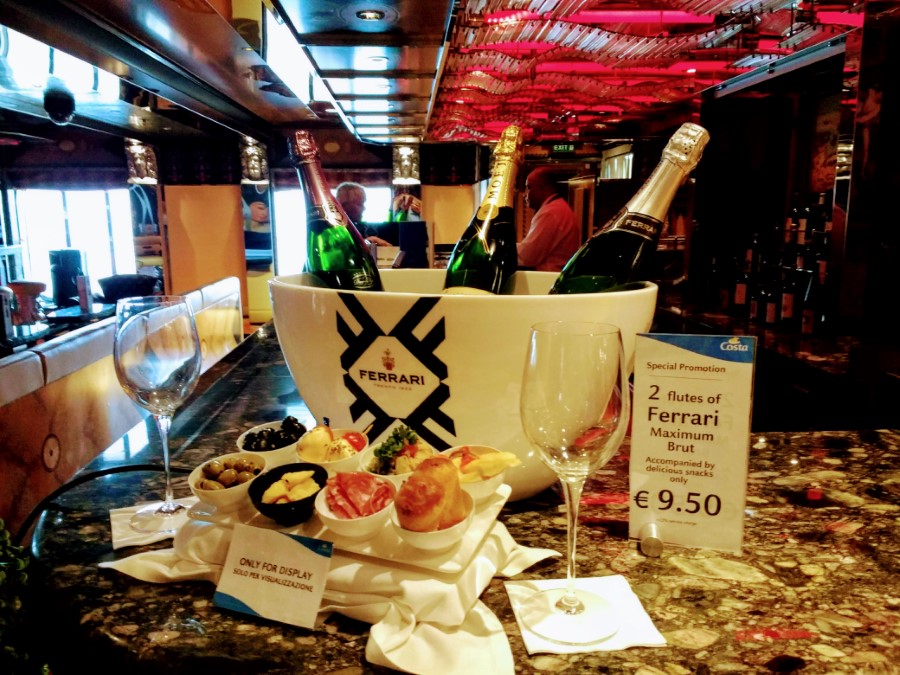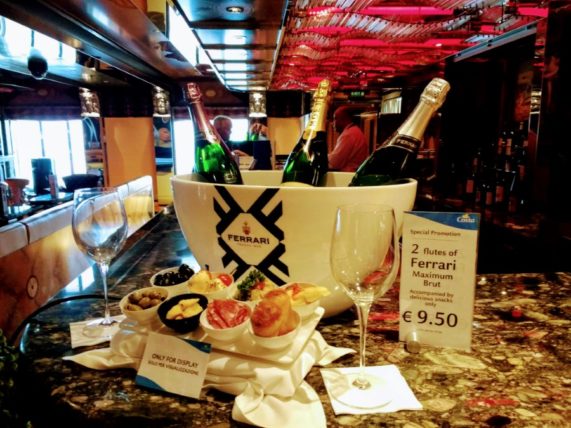 BARS & LOUNGES
Opening times varied depending on sea days or time in ports. The variety of beverages at bars was extensive and the ala carte pricing for those without drink packages was reasonable.
Example prices:
Long Drinks – Gin & Tonic or Whisky Cola = 6.5 Euro
Cocktails – Aperol Spritz or Mojito = 6.5 Euro
Beer – Draught Beer 25 cl = 4 Euro and 40 cl = 5 Euro
Armonia Bar on Deck 9 – open 7 AM to 9:30 PM – Well-being sips and fresh and healthy detox juices.
Dioniso Bar on Deck 3 – open 5:30 PM to 12:30 AM – Good wine and Prosecco.
Roero Bar on Deck 3 – open 5:30 PM to 1 AM – Molecular cocktails.
Apollo Bar on Deck 9 – open 6 PM to 8 PM – Aperol Spritz Bar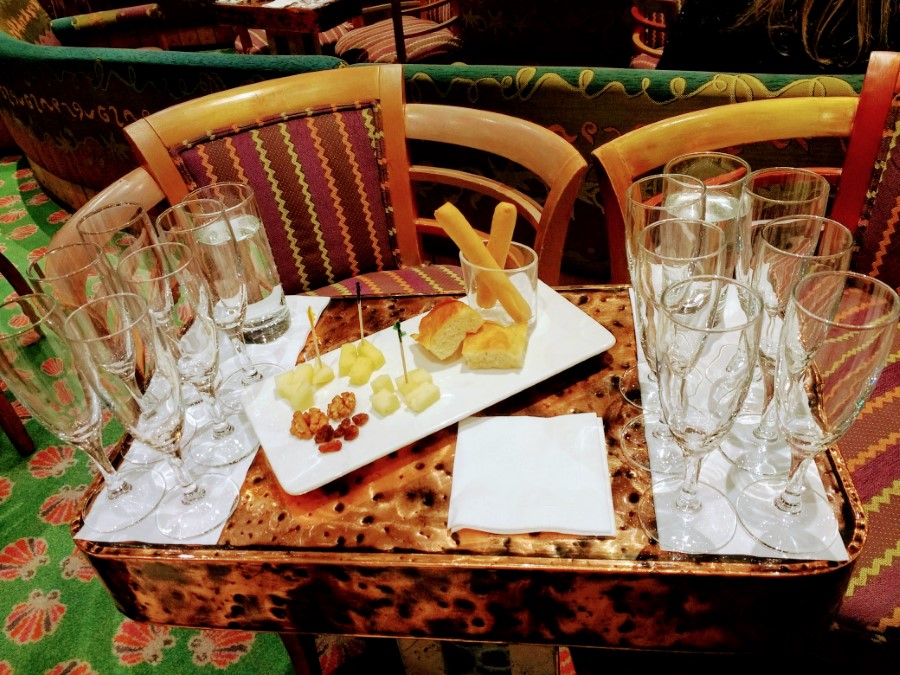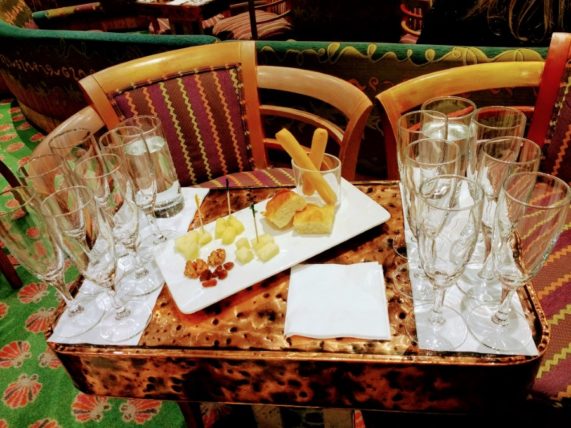 ONBOARD ACTIVITIES
Onboard activities throughout the day started at the reasonable hour of 8:30 AM with a morning walk, yoga, cardio, stretching, sports court games, darts, tennis, volleyball, basketball, bowling, ping pong, plus other fitness and spa programs, available free of charge or for a fee.
Entertainment included plenty of events such as trivia, bingo and lotto, cards, board games, dancing and dance lessons, live music, wine tastings, and a live theatre performance each evening.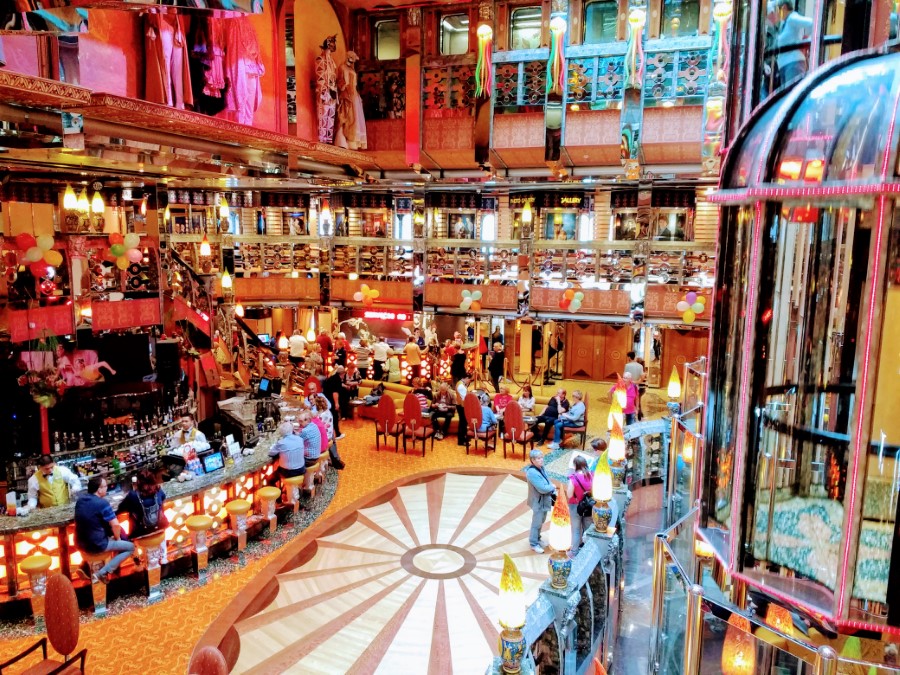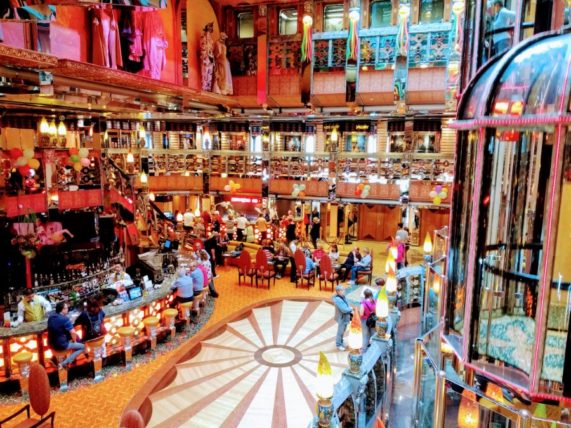 SPACES & PLACES
Check the Diario di Bordo for exact operating times each day.
Hospitality Desk on Deck 2 – open 24 hours
Currency Exchange on Deck 2 – at the Hospitality Desk
Hospital on Deck A – 24-hour medical emergency
CostaClub Desk on Deck 3
Excursion Office on Deck 2 – hours vary depending on sea/port timing
Personal Cruise Consultant on Deck 3 – hours vary
Internet Point on Deck 3 – open 24 hours
Multipurpose Sports Pitch on Deck 11 – open weather permitting
Library on Deck 3 – hours vary
Shopping Area on Deck 3 – hours vary
My Moments Photo & Emotion Store on Deck 3 – hours vary
Casino on Deck 2 – hours vary
Wellness Center on Deck 9 – open 8 AM to 9 PM
Gym on Deck 10 – open 8 AM to 10 PM
Squok Club on Deck 5 – open 9 AM to Midnight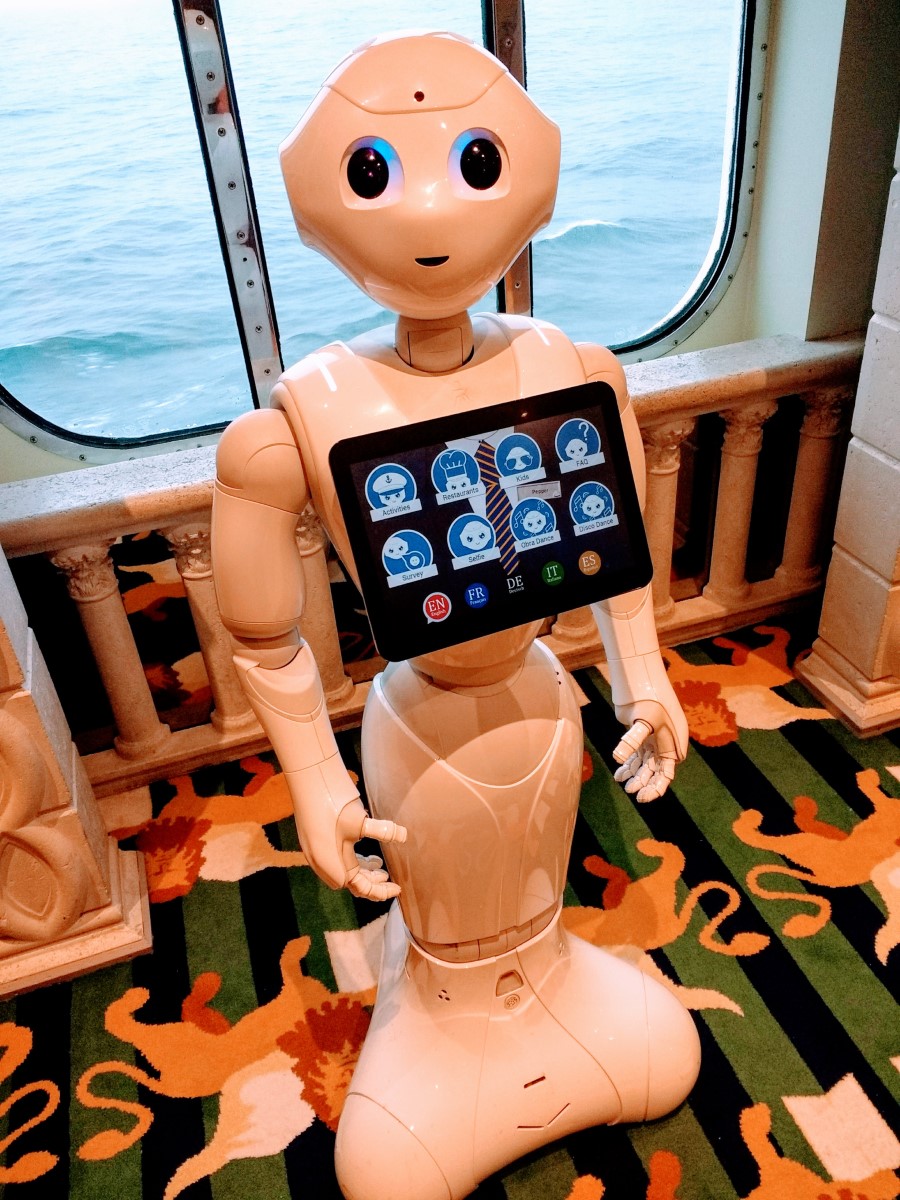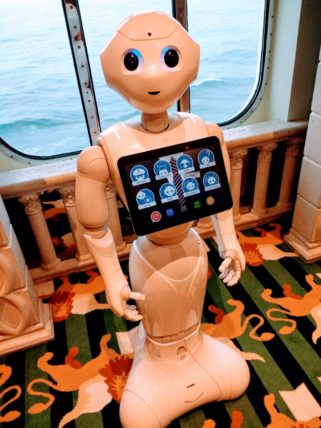 Peppa Pig on Deck 5 – from 9 AM to Midnight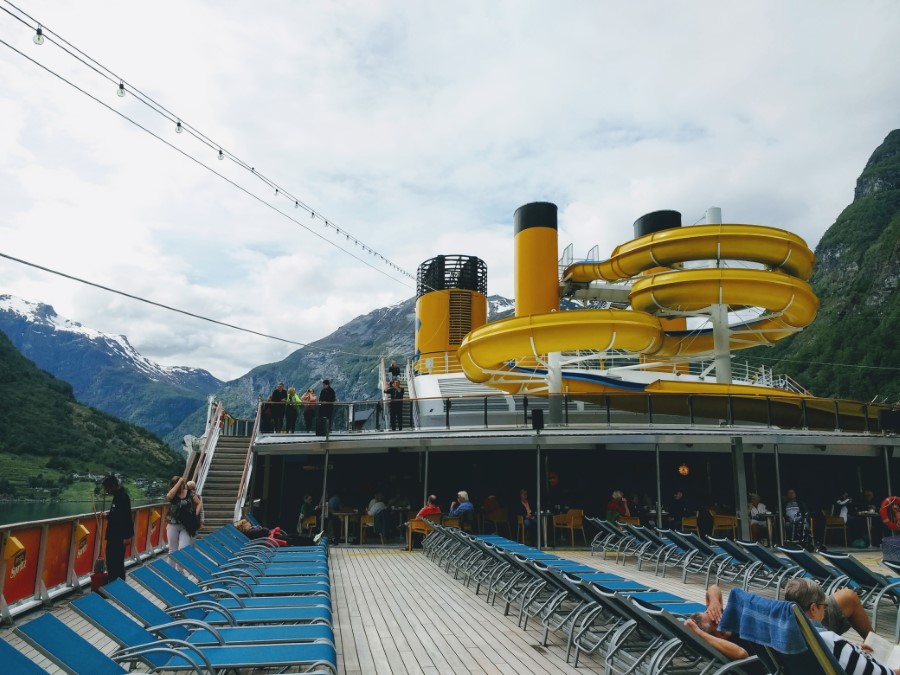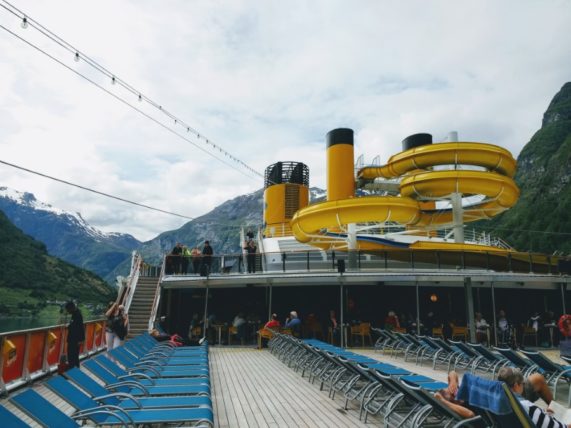 Water Slide on Deck 11 – open at various times depending on weather
WIFI & INTERNET
If you can unplug while at sea you may not need a WiFi package on the ship, but if you do need to stay connected at all times Costa Cruises has a variety of internet packages to choose from.
I LOVE SOCIAL – if you only want to connect to social media – Facebook, Messenger, Twitter, WhattsApp Threema, Snapchat, Instagram, Pinterest, Tumblr, Xing, LinkedIn, WeChat – this is a fantastic package. Pick the 24 Hours social pack (5 Euro/day) or the One Cruise social pack that keeps you covered from the moment you embark to disembarkation.
I LOVE INTERNET – If you need to access websites, email, and other sites, then a Volume Pack is a better choice. Packages and prices on our 11-night cruise included:
250 MB = 35 Euro
500 MB = 45 Euro
1 GB = 65 Euro
3 GB = 110 Euro
These internet packages are valid for the duration of your cruise and based on your own data usage.
Tip: Make sure to log off when finished each session so not to eat up data unknowingly. Also, many apps are set to automatically update when connected to WiFi. You may want to disable this setting while on a data package so you don't eat it up from app updates.
We found the Social Package perfect for our needs as making posts to social media platforms and keeping in touch through WhatsApp and Messenger were all we needed until we were in port and able to connect to our mobile provider.
Note: There is a service charge added to your onboard account when you activate your WiFi package. The charge was 3 Euro on our cruise.
KIDS & TEENS
Costa Cruises is very family friendly, and offer spaces and programs for different ages in the Squok Club on Deck 5. The animation team and Squok Club activities create a lively and interesting time for kids of various ages with lots of games and movement to encourage fun exercise.
COSTACLUB
CostaClub membership is free and available to all passengers. Sign up before your first Costa cruise and enjoy a variety of benefits depending on your point level. There are six point levels with Perla Diamante being the top tier and offering the most discounts and perks.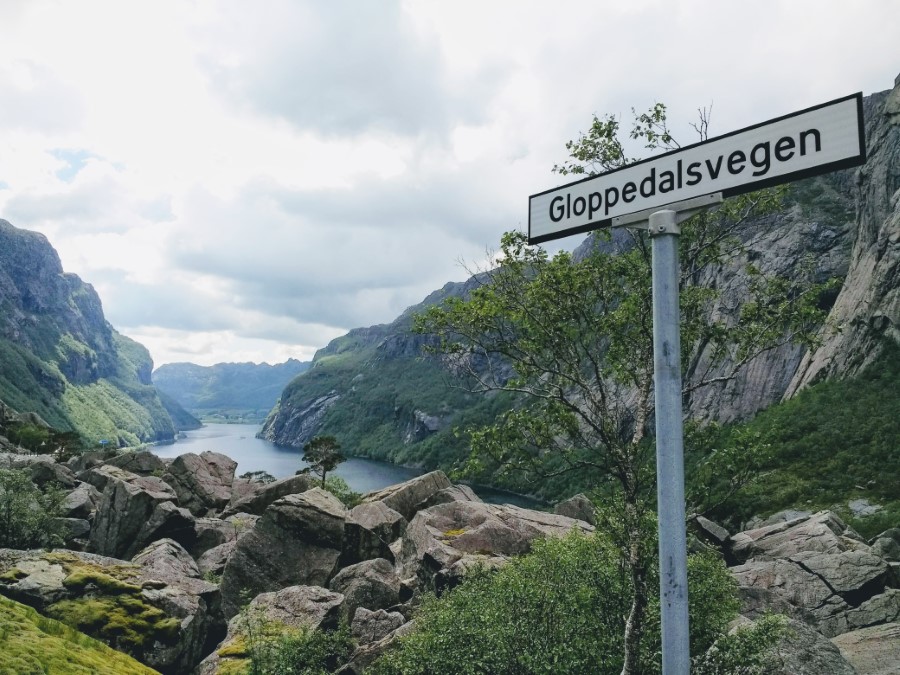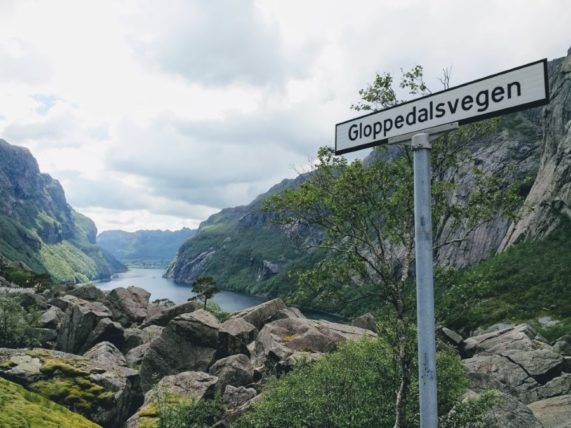 EXCURSIONS
Costa Cruises offers excursions in each port of call during the cruise. It is possible to make reservations prior to your cruise through your account on MyCosta – this is recommended if you don't want to miss out on certain popular excursions. English-speaking tour guides were available in most ports and excursions were dedicated to the various language groups.
As we had previously explored a few of the ports of call on this itinerary we only took a couple of excursions. We were very happy with the ship's excursion offerings and reasonable pricing.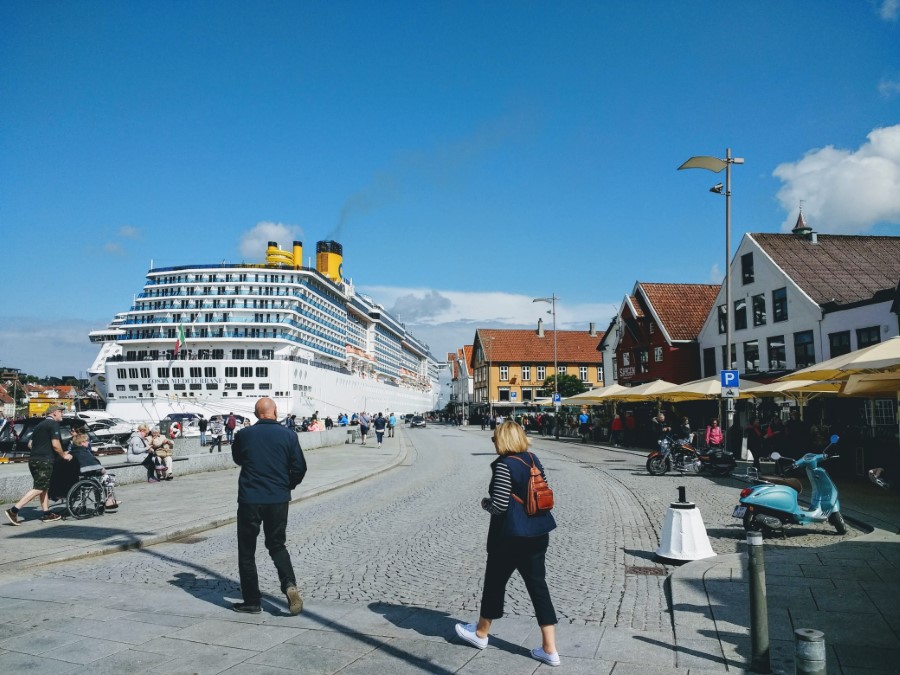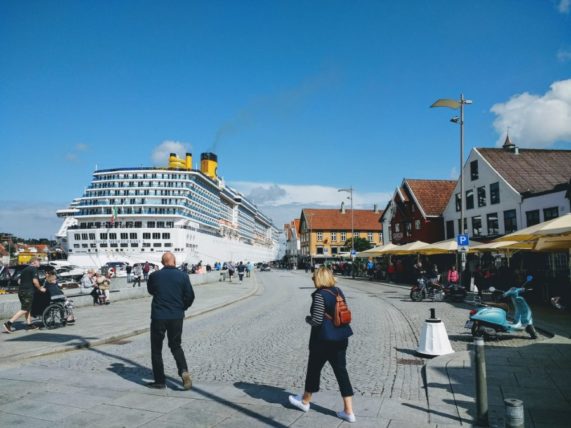 In Stavanger, Norway we took the 1 PM tour called Stavanger: Nature, History and Flavors. This 4.5-hour tour was 100 Euro per person and included a guided bus tour out into the countryside and a brief walking tour of Stavanger before returning to the ship. The scenery on the 45-minute motor coach ride out into the countryside was spectacular – completely different than other areas we'd visited on this cruise. Arriving at Byrkjedalstunet – a local market and restaurant with shopping, a candle factory, and lodging facilities – carved into the heart of the mountain, we enjoyed an included pancake and coffee before having free time to explore the facilities and grounds with historical buildings. The tour continued on through the countryside with a photo stop at Gloppedalsura along the way before arriving back in Stavanger. The guide then walked us through the historic old town back to the ship.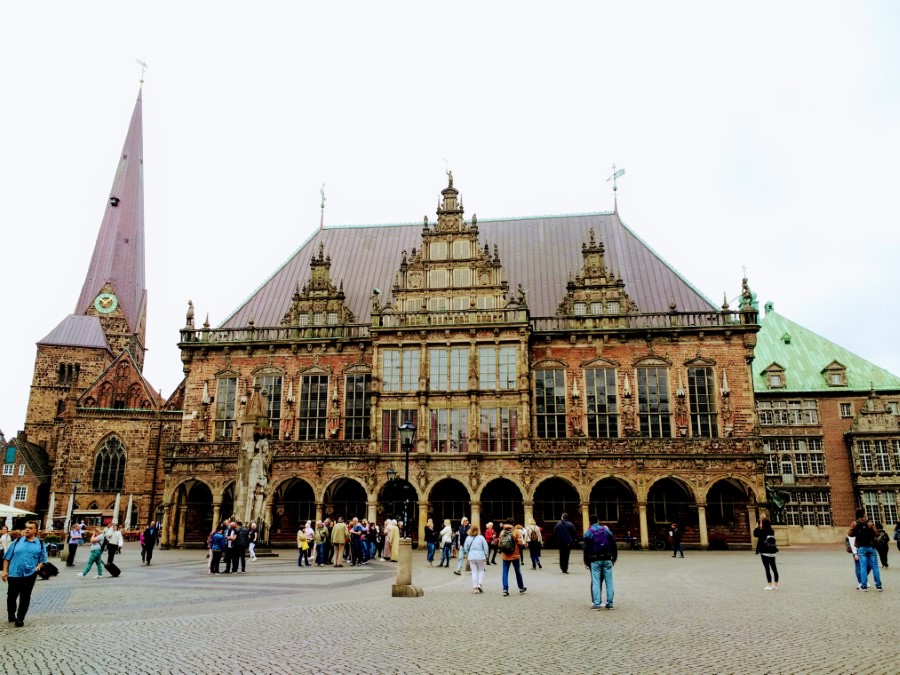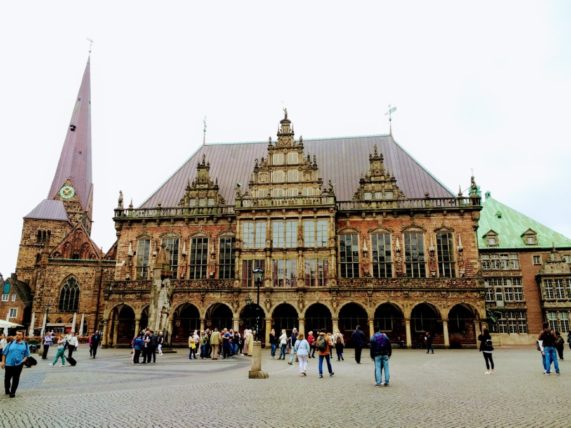 In Bremerhaven, Germany we took the roundtrip shuttle from the ship to Bremen (the historical Free Hanseatic City about 50 minutes drive from the port). The 39 Euro cost per person was reasonable considering the peace of mind knowing traffic could be problematic – so taking the ship's shuttle service gave us freedom to explore on our own in Bremen while having reliable transport.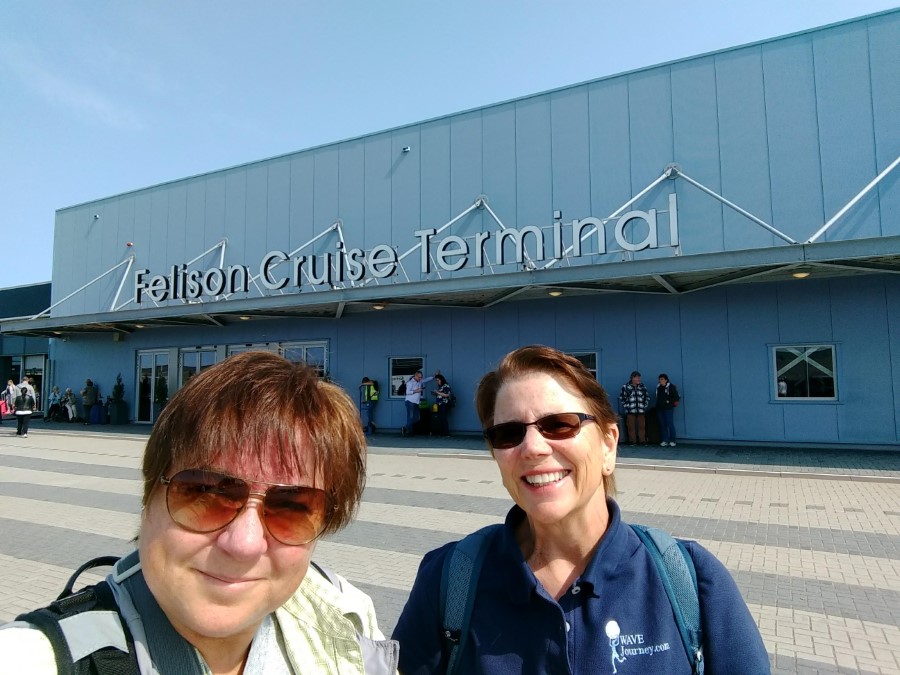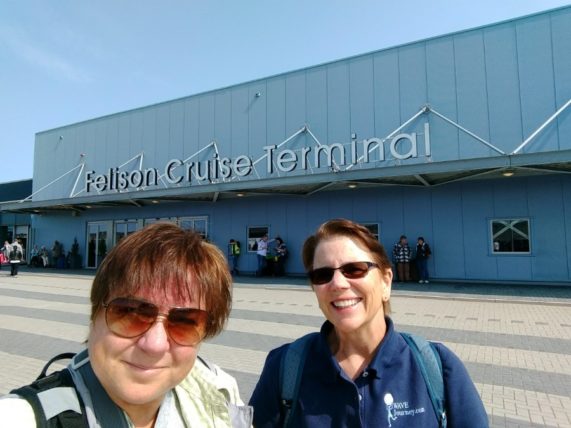 EMBARKATION
We arrived at Filsen Cruise Terminal at 11 AM after taking the public bus from Amsterdam Sloterdijk Station. Disembarking passengers were still leaving the ship at this time – so they had not been rushed off when the ship docked around 7 AM.

We checked our luggage with the porters, and as we didn't have luggage tags printed out, they provided them for us.

As we entered the cruise terminal we were given a boarding card and sent to the waiting area for our number to be called. We'd been informed boarding would start in approximately 30 minutes by the wonderful Dutch staff working the embarkation.
At 11:57 AM check-in started with Group 1 (we had 2). The process was simple as we just needed to provide a completed info form and confirm passports with the agent. There was a security check point to go through before taking the shuttle bus to the ship.

By 12:11 AM we boarded Costa Mediterranea, and within a couple of minutes we were enjoying our first beer at the pool bar. There we also enjoyed lunch from the buffet.
Although we'd been told our cabin would be available at 2:30 PM (collect key cards in the cabin), we were cleared to access the cabin by 1:30 PM. All told, it was a swift and simple boarding process without being stressed and hurried.

Notes:
Apollo Hotel visible from the terminal.
Bus 382 credit card for tickets (€6.22 from Sloterdijk) – no cash taken on bus. Driver very helpful. Not all 382 buses stop at Badweg (next to stairs = 20 steep/25 steep down leading to cruise terminal).
Helped two Russian women with bus tickets. Only had cash and couldn't figure out how work the system.
Amsterdam Port Info:
Felison Cruise Terminal
Cruiseboulevard 10
(for navigation use Volendamkade 1)
1976 EB IJmuiden
The Netherlands
Phone +31 (0)255 545454

Getting there by public transport from Amsterdam Sloterdijk Station:
Take R-Net bus line 382 to "IJmuiden aan Zee" from Amsterdam Sloterdijk Station. Exit the bus in IJmuiden at the bus stop 'Badweg'. At this bus stop you will see a stairway at your right hand side, approximately 50 meters from the bus stop. Go up the stairs (on the dike) and go down at the other side; you'll see the Felison Cruise Terminal almost in front of you.

Getting there by public transport from Amsterdam Schiphol Airport:
There is no direct connection between the airport and the Felison Cruise Terminal but still it's easy getting there. At Amsterdam Schiphol Airport there is a railway station and overhere you can take a train to Amsterdam Sloterdijk Station. Trains from the airport to Sloterdijk run very often (every 10 to 15 minutes) and the traveling time is only 11 minutes. From there you can take R-Net bus line 382 to the terminal in IJmuiden, as described above.
DISEMBARKATION
As smooth as the embarkation process had been, the disembarkation was just as unrushed and simple. Having an afternoon international flight from Amsterdam Schiphol Airport to JFK Airport in NYC, we opted to take the less stressful and reasonably priced ship's transfer. This had us leaving the ship at approximately 9 AM and arriving at Schiphol by 10:30 AM – perfect for grabbing a bite to eat, catching up on work, and reading before our mid-afternoon flight.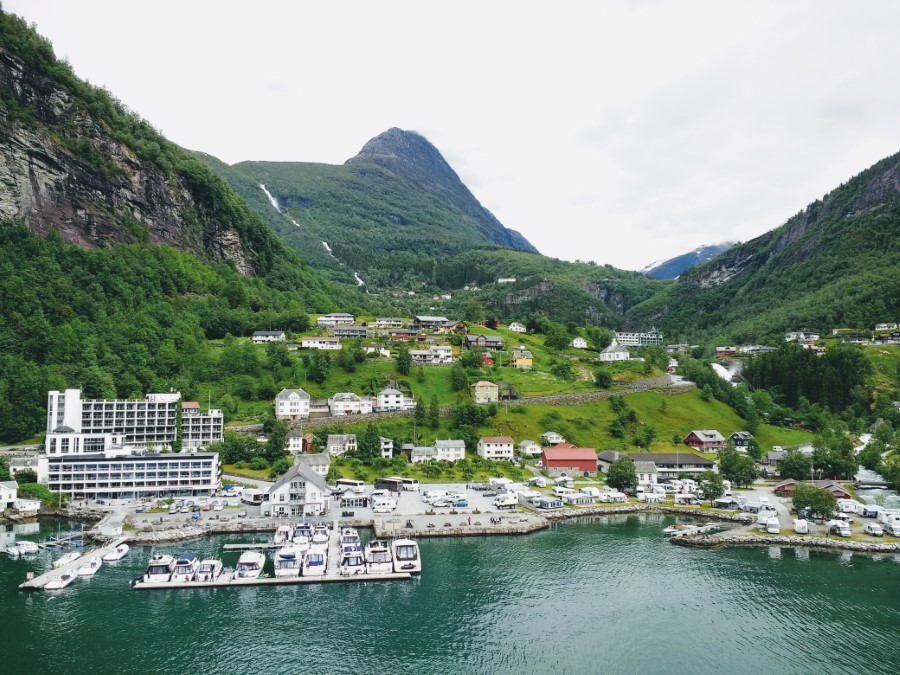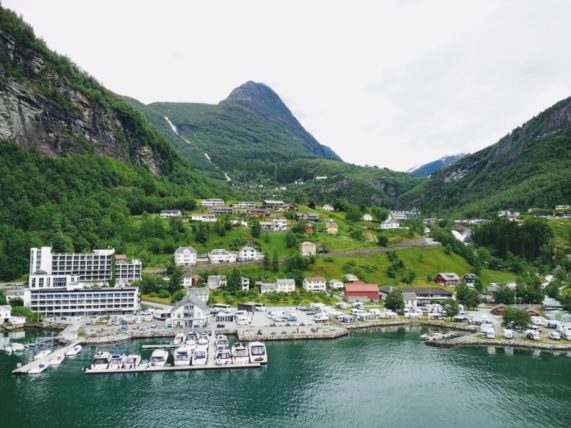 WHO WILL ENJOY THIS CRUISE?
Passengers that enjoy an authentic Italian cruise atmosphere with primarily European nationalities will have a wonderful trip with Costa Cruises on Costa Mediterranea. Those that enjoy Italian cuisine will find authentic menus using high-quality ingredients. The value of a Costa cruise is excellent and the drink packages offer a large variety of options that won't break the bank account. Crew are friendly and professional and do their utmost to deliver excellent service. If you're interested in exploring Norway and cruising the fjord region, this itinerary is a fantastic way to only unpack once, see the amazing scenery and fascinating ports, plus receive excellent value.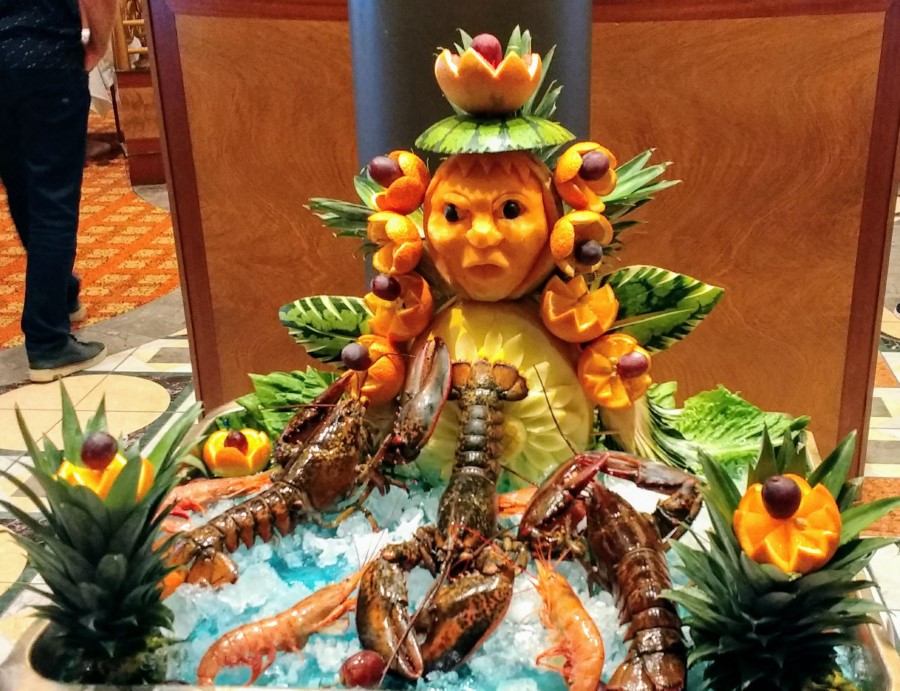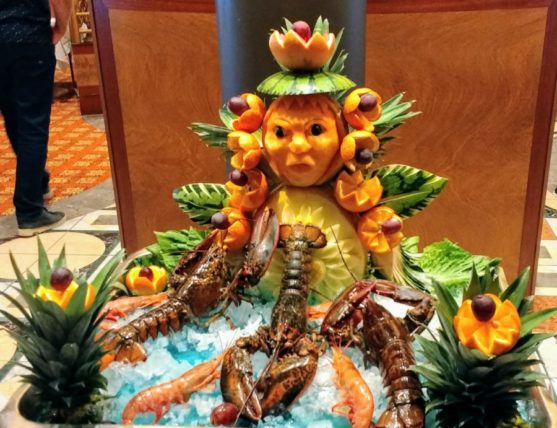 NOTE: WJ were guests of Costa Cruises aboard Costa Mediterranea from June 4 to 13, 2019. Read our review full disclosure statement – all opinions and findings are ours at the time of travel.