Travel Yukon, Canada – A Day in Whitehorse
Travel Yukon, Canada – A Day in Whitehorse
By Karen and Riley Caton
Whitehorse? Where the heck is Whitehorse? Unless you've been to the Yukon or live there, it would be easy to believe that the city of Whitehorse is a small enclave of log homes and sourdough's trying to eke out an existence in the far north. The image of bearded men and tough women is quickly shattered as you drive into this modern, culturally rich city. Sure, there are bearded men, but there are also great museums, interesting sights, live theatre, shopping, good food, and a farmers market. The population of the Yukon is 36,800 and 75 percent of that population (27,600) live in Whitehorse.
There's a lot to do in Whitehorse and the following activities just scratch the surface. However, they were selected with the local culture and history in mind.
BREAKFAST
Start your day at the Baked Café + Bakery. Located at 100 Main Street downtown and open at 7am, Baked is where the locals hang out. They offer coffee drinks and tea, a variety of baked goods, and a small lunch menu. While they are open through the lunch hour, they sometimes stay open later and offer evening entertainment.
MILES CANYON
After breakfast, climb in your car and head south on Second or Fourth Avenue toward Robert Service Way. If you have time, stop at the SS Klondike, a riverboat museum. However, your destination is historic Miles Canyon. Turn on to Miles Canyon Road, a couple miles out of downtown and follow the road to the marked turnoff. Follow the steep road to a parking lot and interpretive signs.
Here, the Yukon River swiftly passes through Miles Canyon, a narrow corridor of vertical basalt cliffs. The river is still swift, but the water level is much higher due to the dam that provides electricity to Whitehorse and surrounding area. Miles Canyon is significant because it is where sourdoughs, rushing to the Klondike Stampede, risked their lives running rapids in small boats while traveling to the gold fields. Many of the boats crashed on the rocks and many of the sourdoughs lost their lives here. A suspension bridge, built in 1922, provides exciting views of the canyon and access to a variety of hiking trails.
MUSEUMS
From Miles Canyon, head toward the Alaska Highway and Whitehorse Airport. The next stop is on the Alaska Highway at Electra Street.
There are at least seven museums in Whitehorse. If you enjoy historical interpretation, the Yukon Beringia Interpretive Centre and Yukon Transportation Museum should not be missed.
During the Klondike Gold Rush, miners found more than gold in the ground. They found all kinds of bones. It took a while for the word to get out, but it wasn't long before scientists from around the world were collecting ice age fossils. The Beringia Interpretive Centre brings these discoveries to life in exhibits of fossil remains and interpretive displays. The Centre covers the period of the last Ice Age, approximately 20,000 years ago.
The Yukon is described as mountainous and forested wilderness and, except for the Alaska and Klondike Highways and some larger cities, the Yukon is just as much a wilderness as it was over 100 years ago. So, how did people travel in the Yukon during the Klondike Gold Rush or later? The answer lies within the Yukon Transportation Museum, which is just down the street from the Beringia Interpretive Centre.
They say that necessity is the mother of invention and that theme is certainly in the forefront in the Transportation Museum. Travel by foot, dog sled, train, boat, and airplane is all described in interesting exhibits. However, the collection of historic artifacts is what makes this such a great museum. Airplanes hang from the ceiling and a rail car can be boarded for very realistic experiences.
The world's largest weather vane, as certified by the Guinness Book of World Records, is located in front of the Transportation Museum. A Douglas DC-3 is mounted on a tall pole that allows it to swing in the wind.
LUNCH
If you are lucky enough to be in Whitehorse on Wednesday or Saturday, work your way over to Shipyards Park at the north end of Second Avenue. The Saturday Fireweed Community Market is open from 10am to 2pm, offering a variety of lunch options. The market is also open on Wednesday between 3pm to 8pm. Both markets are open only in the summer.
If you aren't in Whitehorse on a Saturday, consider picking up a sandwich at Yukon Meat and Sausage (203 Hanson Street, between Second and Third Avenues). They make their own meat products using old European recipes.
SHOPPING
Ready for a little shopping? When traveling north, Whitehorse is the last town with a wide variety of shopping. There are many tourist stores in the downtown area and big-box stores on the north end. A favorite among locals and visitors alike is Mac's Fireweed Books, located at 203 Main Street. Mac's is a classic independent book store that offers a wide selection of books and the "largest magazine rack north of 60" (referring to Latitude 60). They also have an extensive selection of guide books and maps and a bargain basement where you can select from a wide variety of authors.
DINNER
While the name sounds like a breakfast joint, the Burnt Toast Café (2112 2nd Avenue) is anything but. The menu is completely unexpected with items like Croissant French Toast for brunch or Scallop & Goat Cheese Salad for dinner. Oh! And the preparation is fantastic. They offer brunch, lunch, and dinner daily until 9pm, Sunday until 2pm. Closed between 2pm and 5pm.
EVENING
In the summer, the days are long and the locals make up for the long winter with a wide variety of events. While there is the usual tourist theatre – Frantic Follies Vaudeville Revue – for a more refined experience pick up a copy of What's Up Yukon (available nearly everywhere and the Visitor Center) and check out event listings. Take in a play reading at the Old Fire Hall on Front Street where the annual Aboriginal Summer Play Readings are held. Or take in some live music which is held in a number of venues throughout Whitehorse.
The days are long, so don't forget to pull the curtains and get a little sleep so you can have more fun tomorrow.
READ MORE ARTICLES BY KAREN & RILEY:
BIO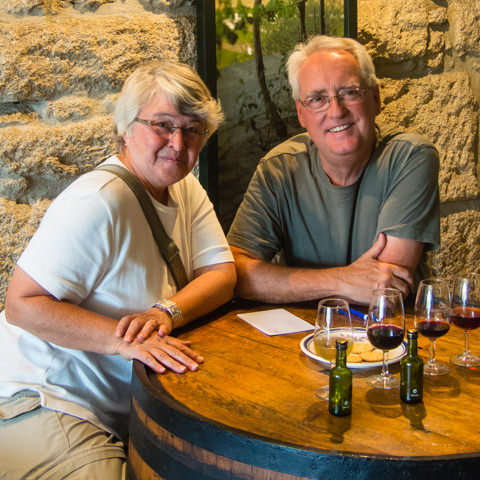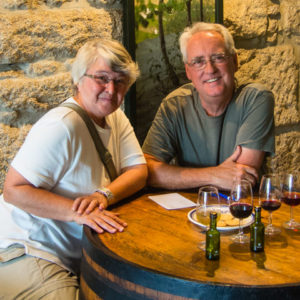 Karen and Riley Caton are retired and having a grand time exploring North America, with a few side trips across oceans for some added fun. As full-time RVrs, they live and travel in "The Dip", a 40' Monaco Diplomat motorhome. Karen and Riley travel where the road leads, writing about and photographing the journey. You'll never know where the two of them will show up next, but you can keep up with their adventures on their blog – On the Road with RK Caton!