CroisiEurope Deborah Hotel Barge Cruise in France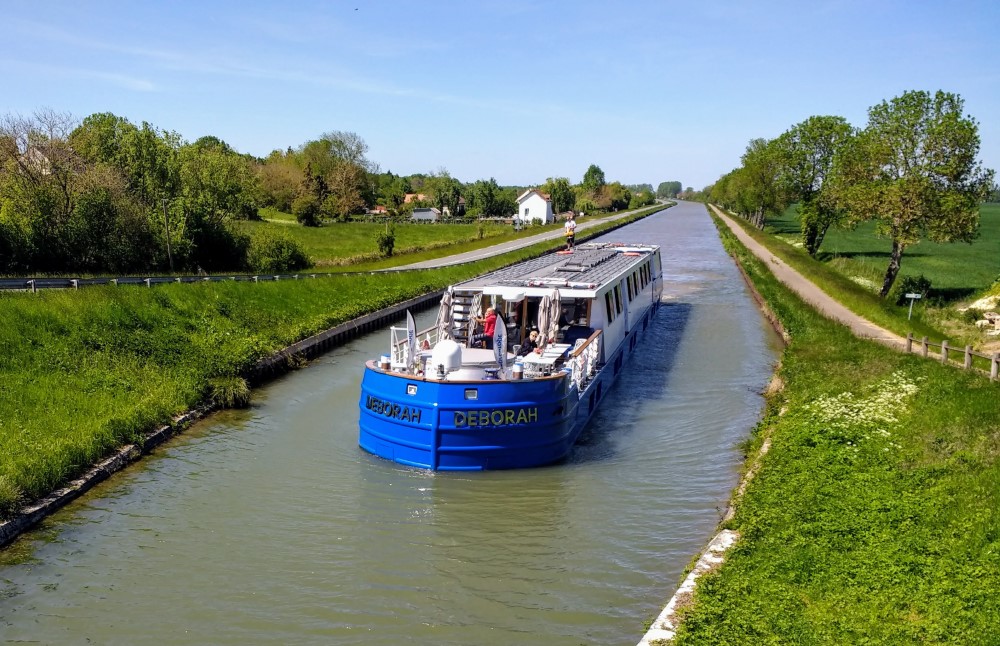 CroisiEurope Deborah Hotel Barge Cruise in France
By WAVEJourney
OVERVIEW
CroisiEurope is a French family-owned and operated cruise line based in Strasbourg, France. The company started in 1976 by founder Gerard Schmitter, and now operates more than 50 ships throughout Europe – plus one in Southern Africa and another in Asia on the Mekong River.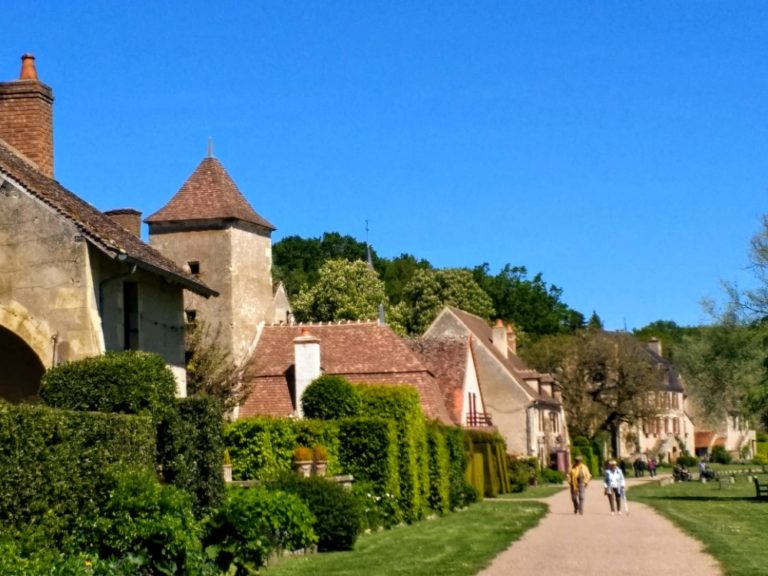 WAVEJourney was invited to experience a 6-night hotel canal barge journey with CroisiEurope in France – where they operate five hotel canal barges on various canals. Barge Deborah is named after a granddaughter (all hotel barges are named after the women – wife, daughters & granddaughters) in the Schmitter family.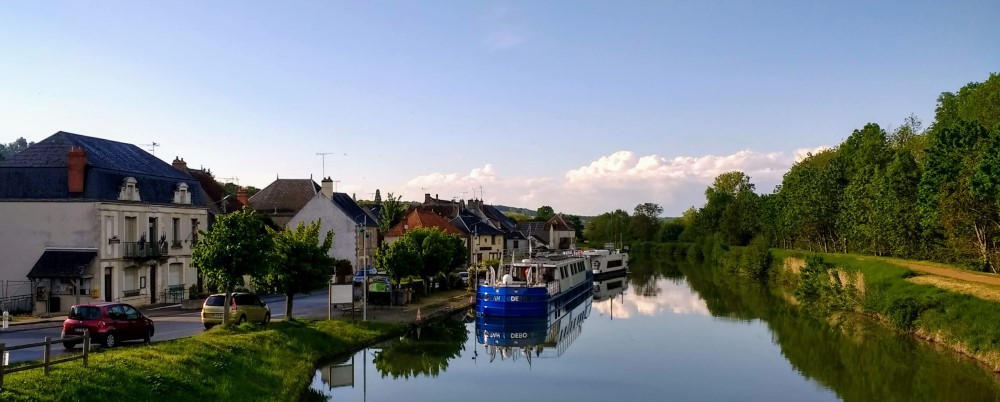 Deborah carries 22 passengers and was launched in 2016 on the Upper Loire Canal where she operated for the 2019 season on the route between Briare and Nevers.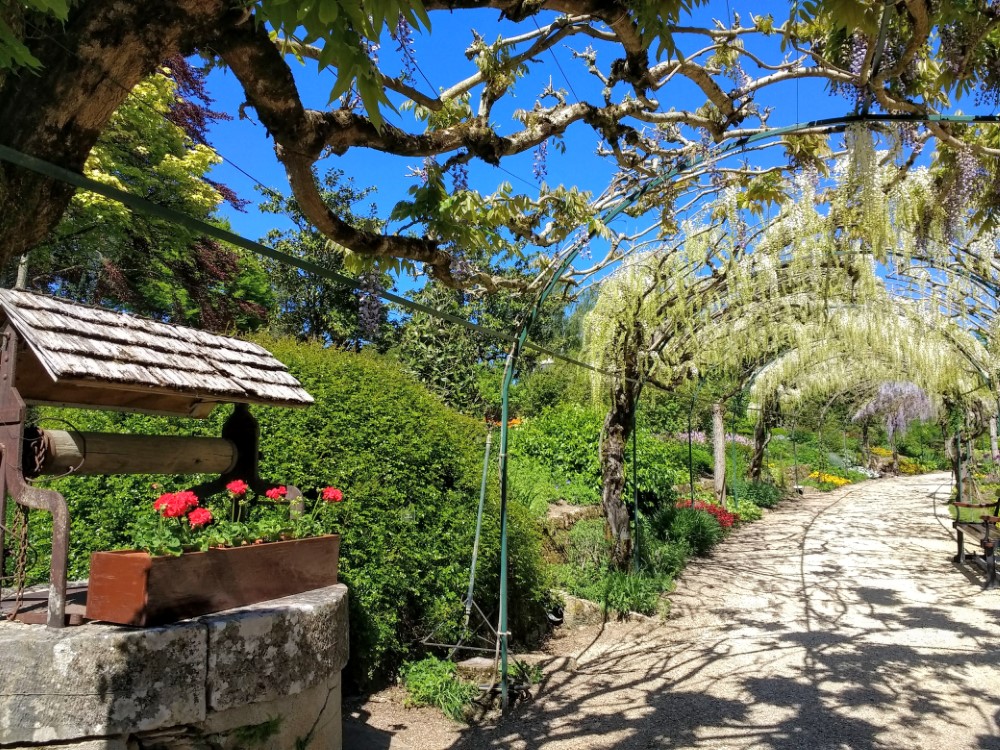 Charming, quaint and historical towns and villages are the highlight of stops and excursions in the Upper Loire Valley during this slow-paced canal cruise. Which makes it idyllic for anyone wanting a relaxed vacation in a peaceful manner while dining on exquisite French culinary creations paired with regional wines.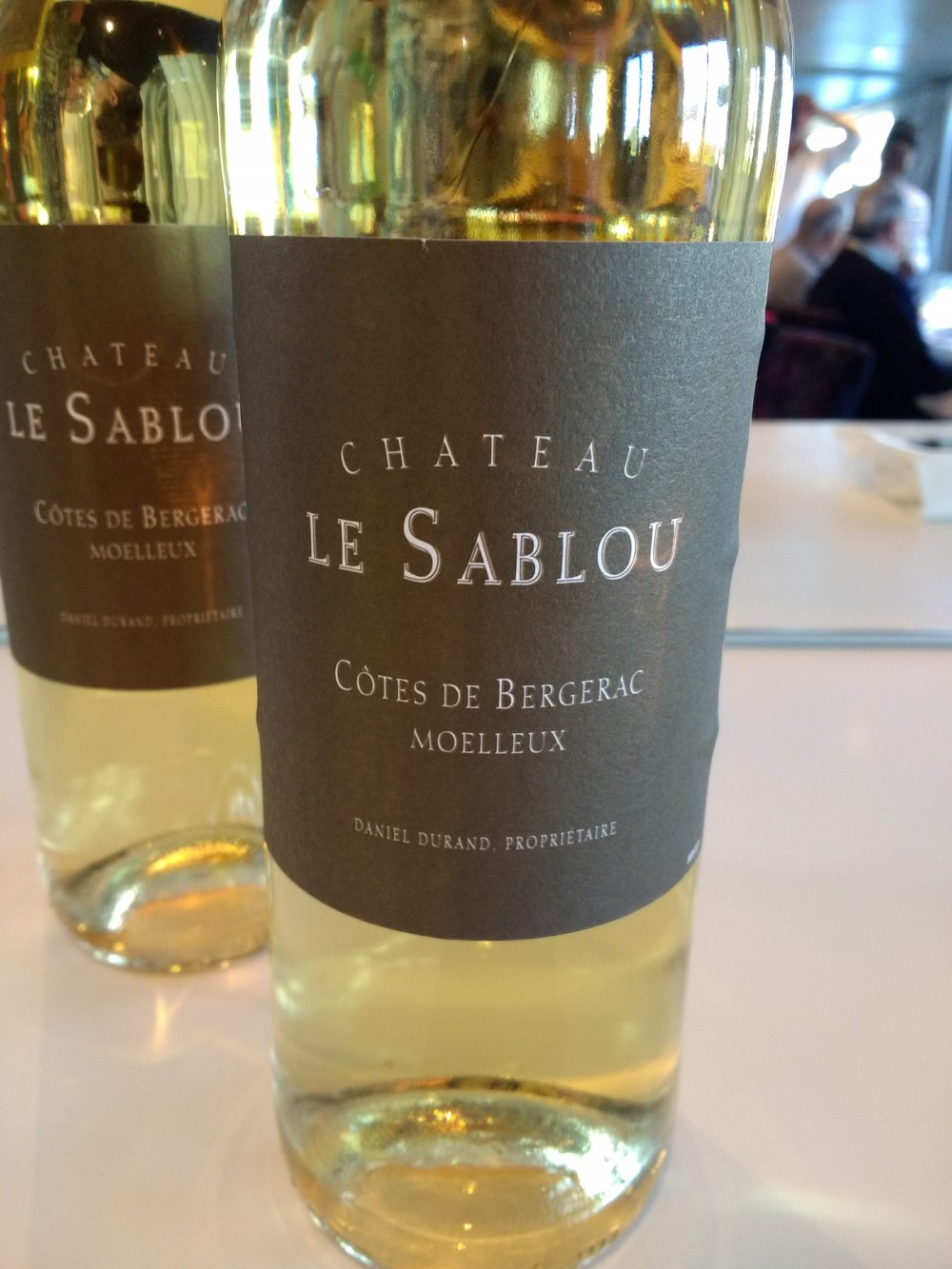 VIDEO FROM BRIARE, FRANCE
Enjoy this short video snippet ~ On Location with WJ in Briare, France with CroisiEurope River Cruises aboard the hotel barge Deborah.

EMBARKING & DISEMBARKING
Passengers met in Paris at a designated point (Gare du Nord) for the motorcoach ride to the barge, and were returned to the same place for drop off on disembarkation day. This made joining the barge easy to coordinate, plus provided a fantastic excuse to spend time in Paris pre/post cruise. We always stay at 4-star Hotel Cambon in the 1st arrondisment in Paris – it's a wonderful boutique hotel in one of the most desirable locations near the Louvre and Jardin des Tuileries.
HOTEL BARGE DEBORAH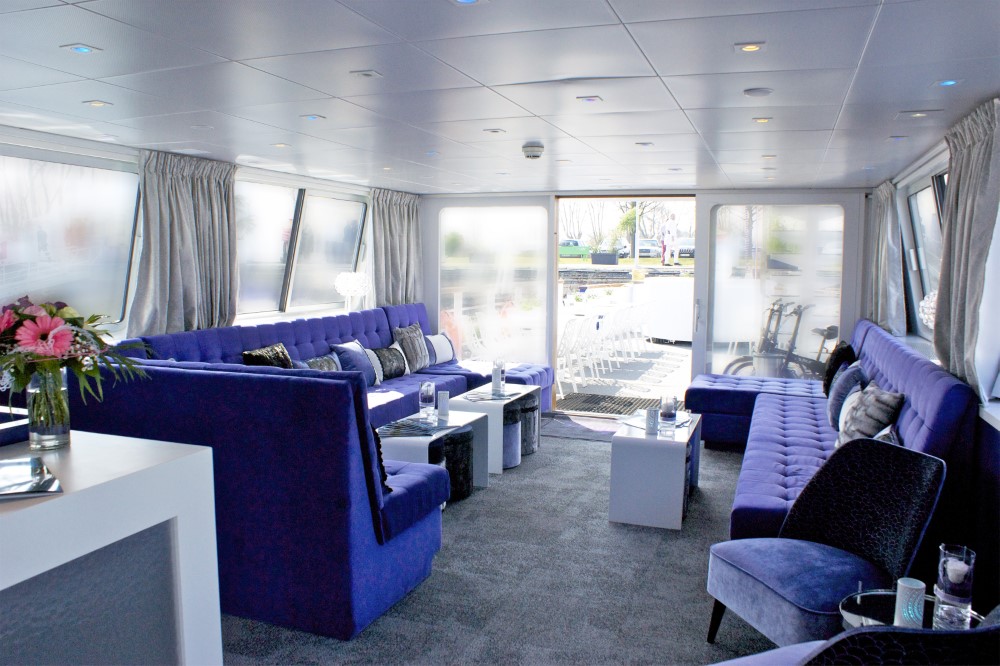 CroisiEurope has designed and built modern, functional, ​attractive hotel barges ​specifically ​for their​ canal cruise itineraries in France. We were extremely pleased with the layout and comfort of barge Deborah ​during our week aboard ​- it made for ​a​ pleasurable cruise.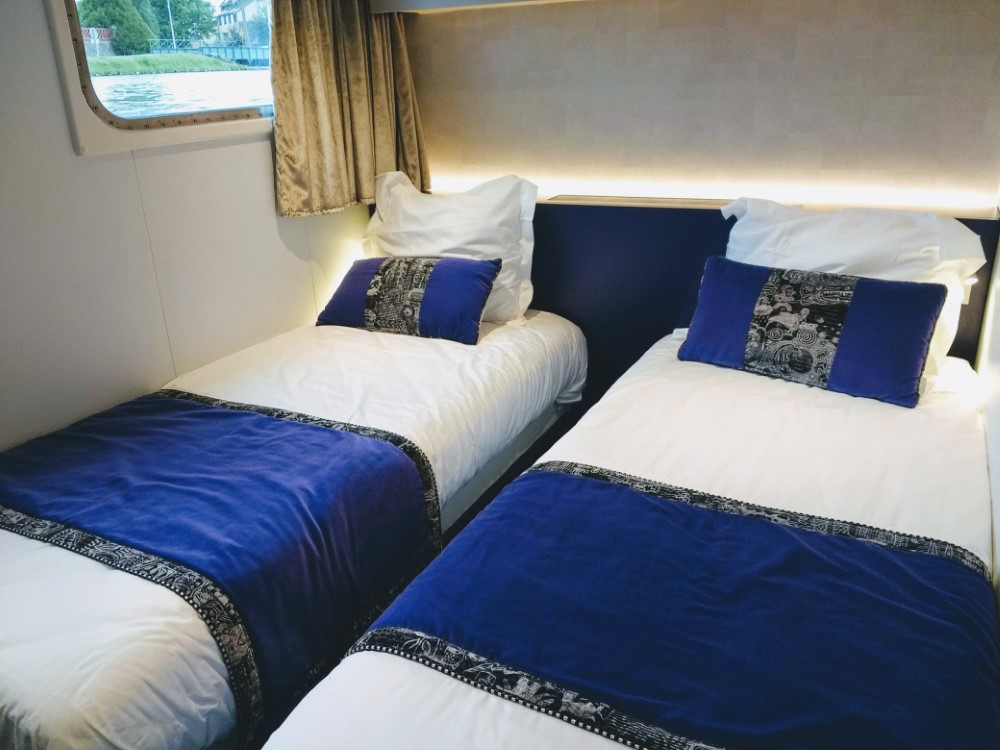 ​The barge consists of two interior decks and an upper sundeck. The lowest interior deck is home to the twin bed cabins and reached by a spiral staircase. The main deck has one double bed/accessible cabin​, the lounge, bar and dining room. The bow of the main deck is an open area with hot tub and sundeck – perfect for enjoying a glass of Champagne while cruising the canal.
BARGE DEBORAH FEATURES
Lounge is spacious and comfortable
Bar for cocktails and coffee throughout the day and evening
Books and games available for passenger use
Dining room is separate from the rest of the lounge
Chef comes out at meals to introduce the menu
Nice large umbrellas in lounge for excursions on rainy days
Lots of outdoor sitting space, including a hot tub
VIDEO OF DEBORAH INTERIOR
Enjoy this short video of the interior of CroisiEurope Deborah.
CABIN ON BARGE DEBORAH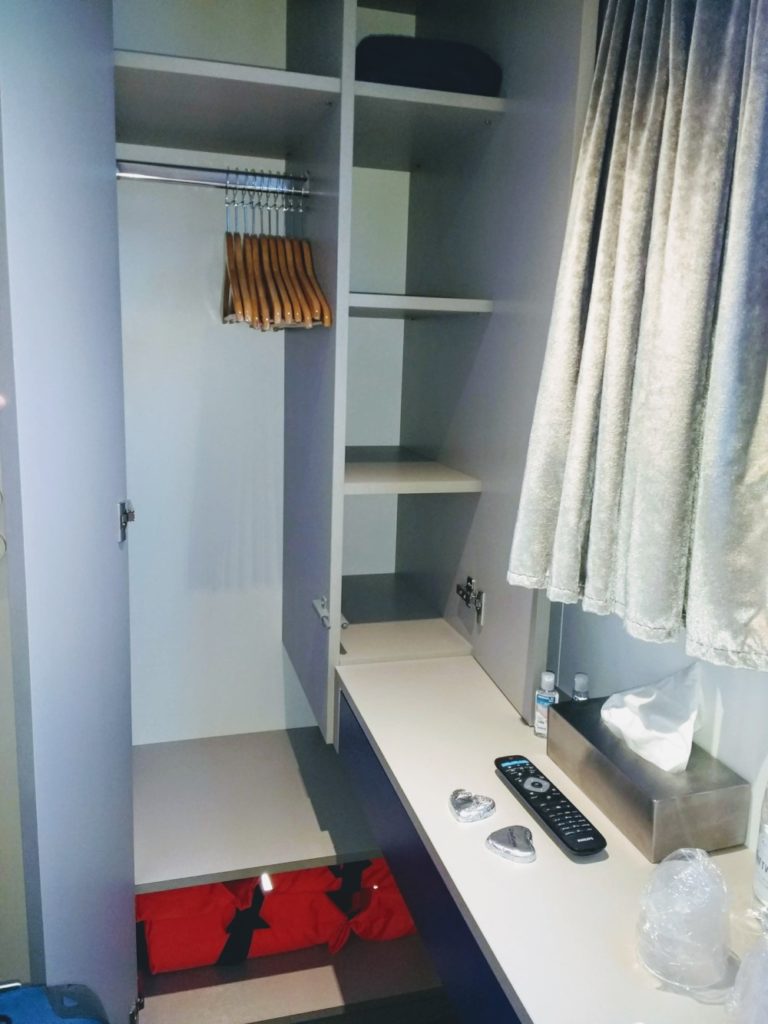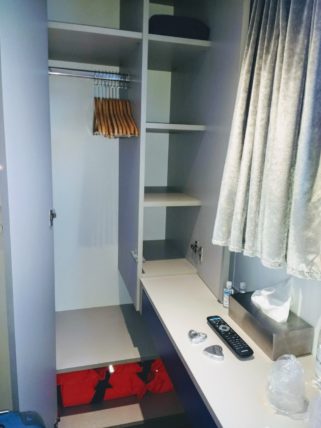 CroisiEurope purpose-built and designed their hotel barges for comfortable efficiency, and maximum usage of limited square footage (the canal locks limit the size they can build). We think they did a fantastic job!

There are 11 passenger cabins that accommodate 22. Ten twin cabins are on the lower level of the boat (reached by a spiral staircase – no elevator on the barge), with one fixed double bed on the main level (an accessible cabin for those not good with stairs).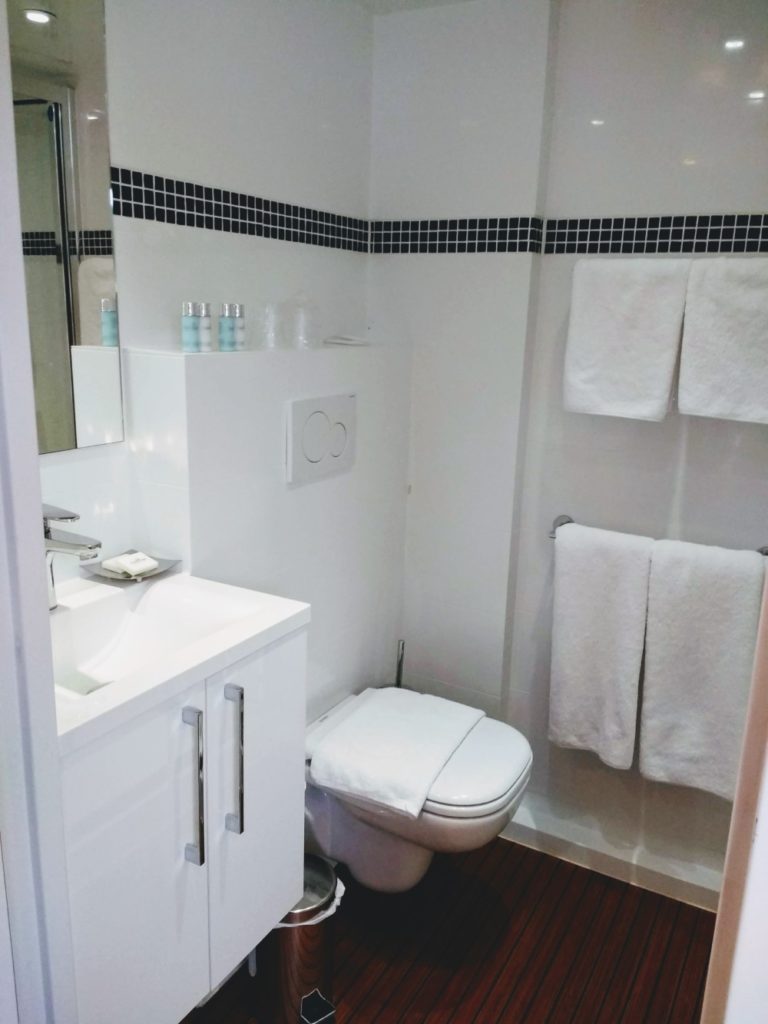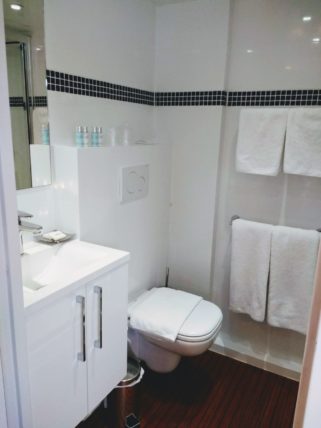 CABIN FEATURES
Compact cabins that are supremely functional
Comfortable twin beds in all but one double bed cabin
Spacious shower with glass doors, reasonable water pressure and plenty of hot water
Ample electrical outlets where most needed – 220V electric outlet next to head of beds (bring a plug adaptor if you're not from Europe)
The safe was plenty big enough for passports/valuables and paperwork (but not cameras or laptops)
Adequate storage space for all of our belongings and luggage
Hooks for hanging jackets
Windows do not open on the lower level cabins – but you do look out at water level
Tip: Tallest people (6'2"+) are best sleeping in the bed next to the door (or will risk kicking the alarm cover off the end of the desk).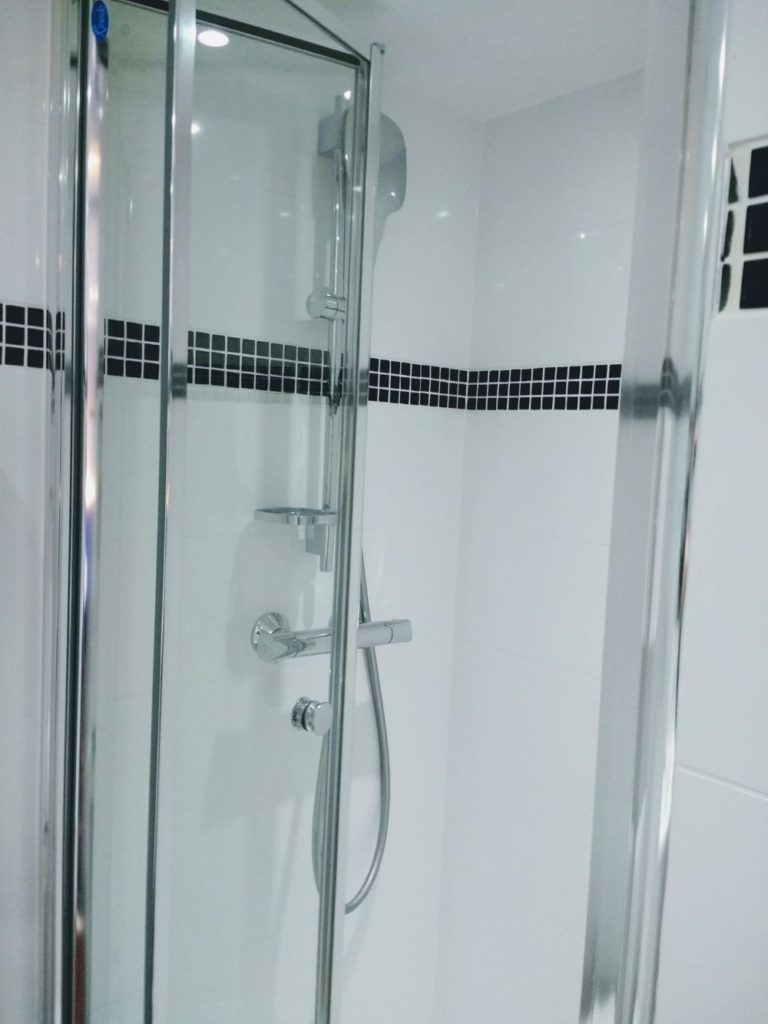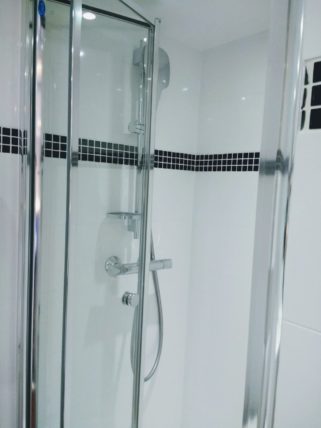 Want to see the cabin WJ called home for six nights on CroisiEurope River Cruises hotel barge Deborah? Enjoy WJ's cabin 109 video tour.
FOOD & BEVERAGE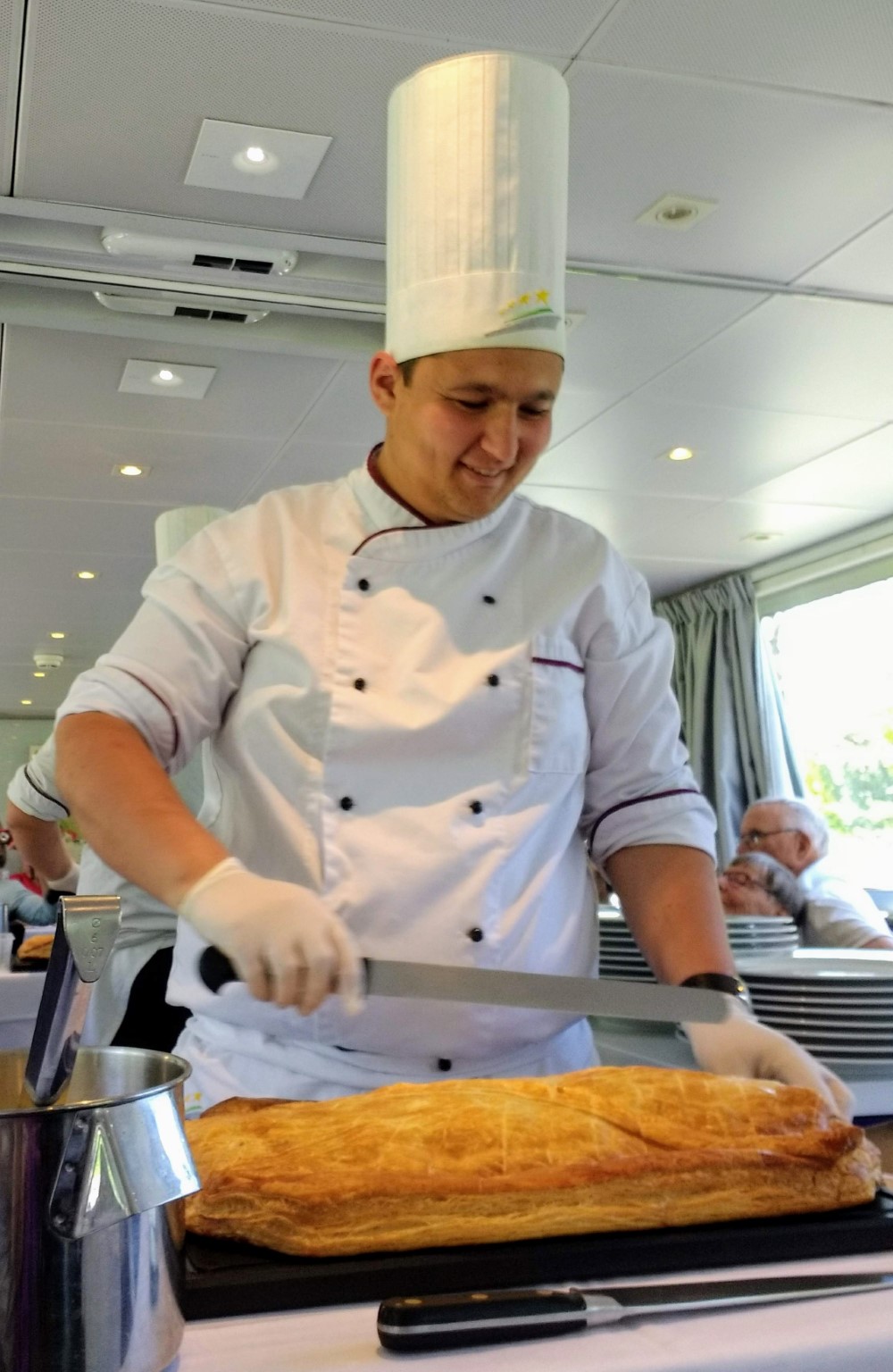 CroisiEurope keeps the French theme alive in their menus served on their hotel canal barges. Tables are set family-style – the majority of passengers prefer not to have an assigned table unless they're travelling with friends and family. We prefer this style of dining which provides an opportunity to chat with other guests during meals.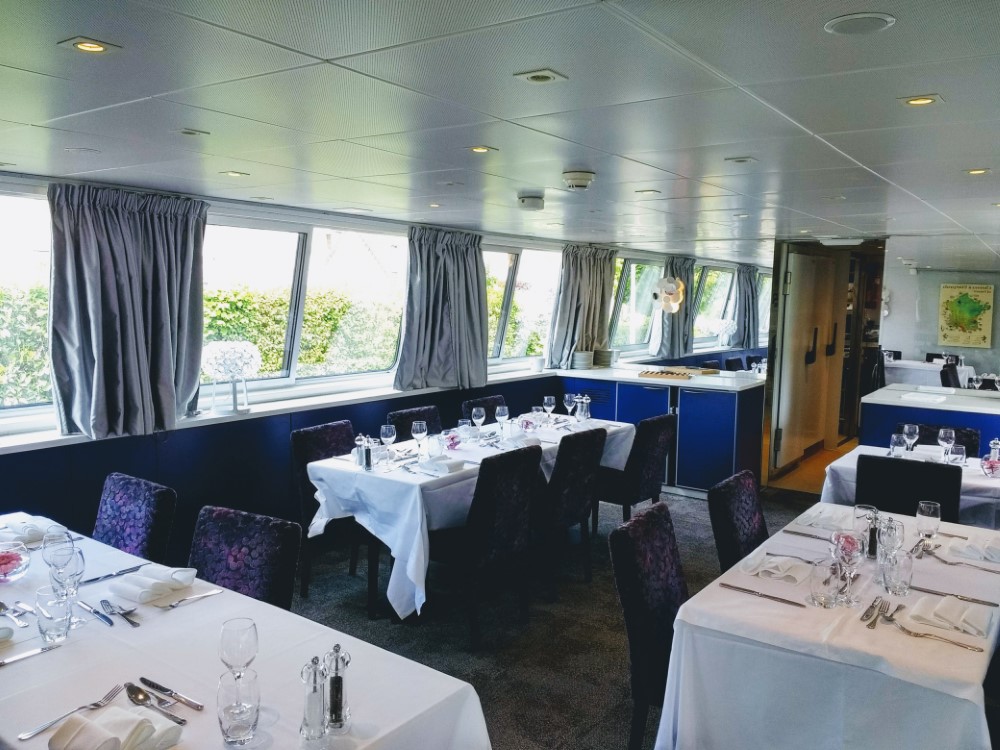 The Chef on Deborah prepared palate-pleasing French cuisine, beautifully presented, and expertly paired with wine at lunch and dinner. Dining for meals is in the dining room at times noted on the daily schedule.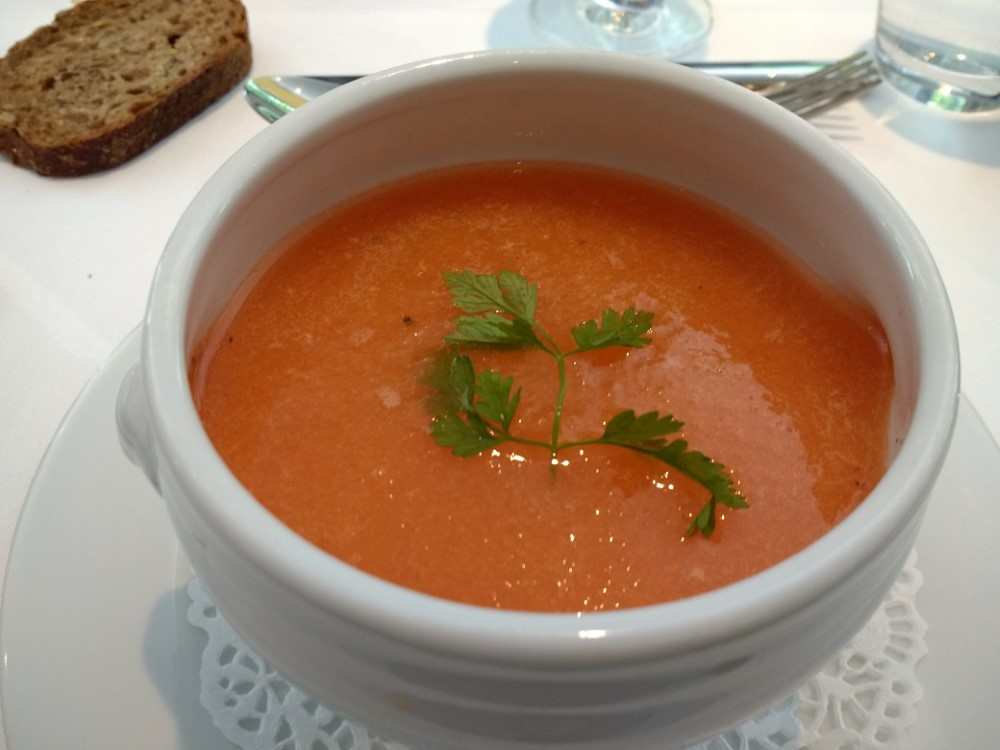 Set menus are also the norm (which we prefer as it's one less decision to make – and we eat most things) for the 4-course lunch and 3-course dinner.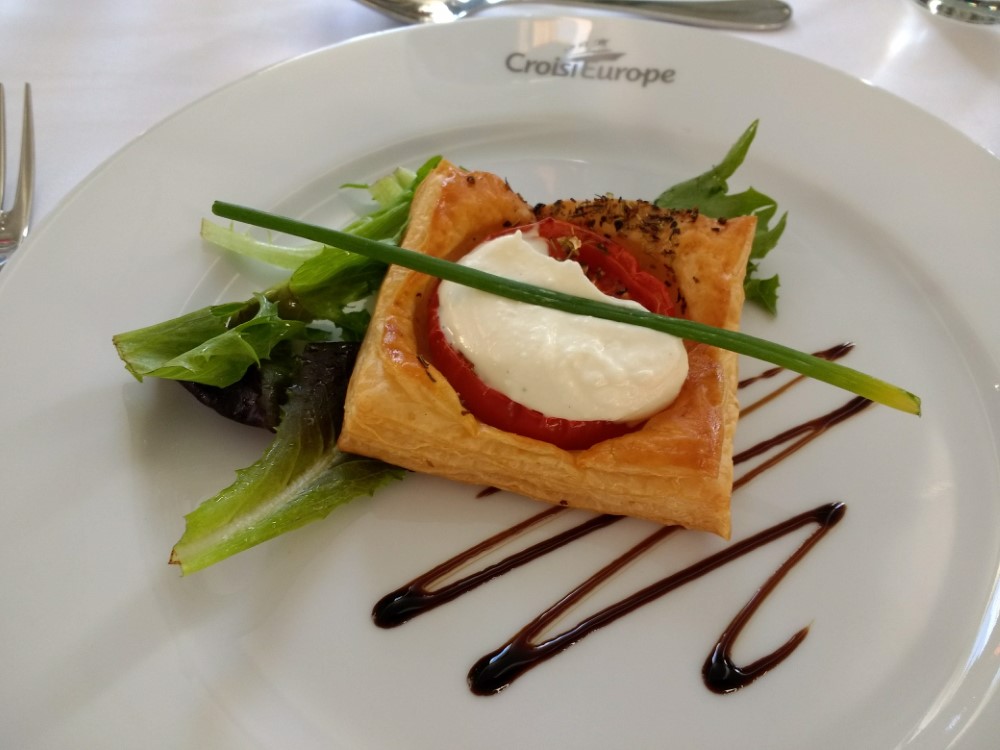 For those less adventurous eaters, or that have dietary limitations, the Chef accommodated their requests – but do let CroisiEurope know both before you join the barge, and also confirm the details once you arrive on board.
Mornings start with a light continental breakfast buffet that's self-serve over the course of an hour (typically starting between 7:30 to 8). A hot breakfast menu was available (daily special), but we were never hungry enough to order anything more than coffee and help ourselves to yogurt with fresh fruit and a croissant.
Lingering over a 4-course lunch menus after a morning of exploring or cruising is one of our favorite canal barge events. Especially with the perfect wines presented to enhance the culinary experience, plus a superb cheese board that will make any cheese hound swoon.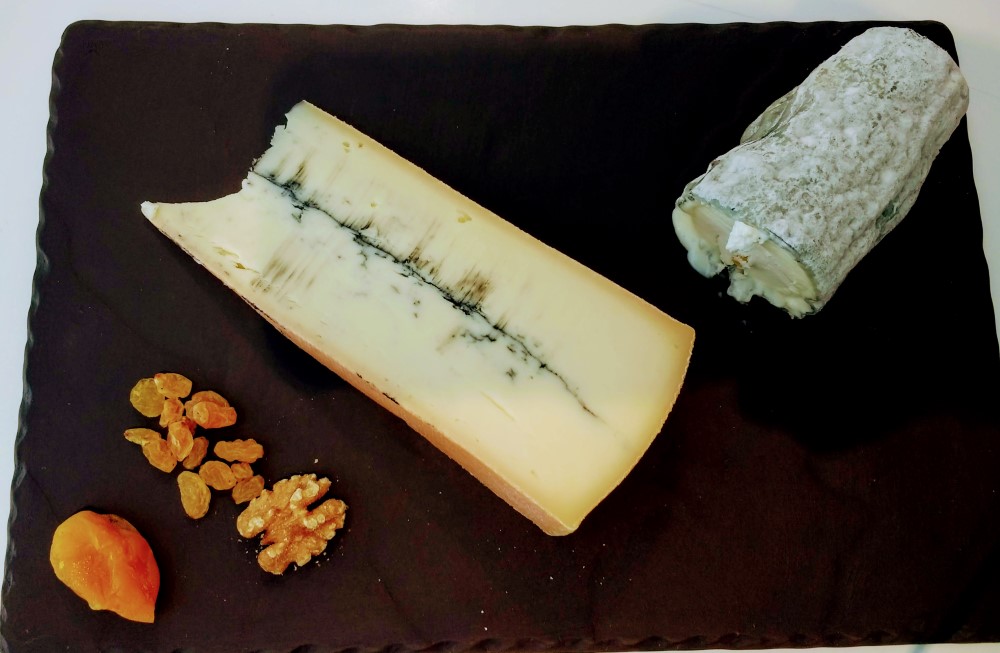 LUNCH MENU EXAMPLES
Chardonnay  from Nimes; Starter – cold melon soup; Main – pork filet with wild rice and broccoli; Cheese – from North Burgundy & Strasbourg; Dessert – Floating Island
Merlot from Bordeaux; Starter – Two types of salad; Main – Entrecote – (like prime rib) with cauliflower gratin & boiled potatoes; Cheese – Brie Meaux & Roquefort; Dessert – Strawberry soup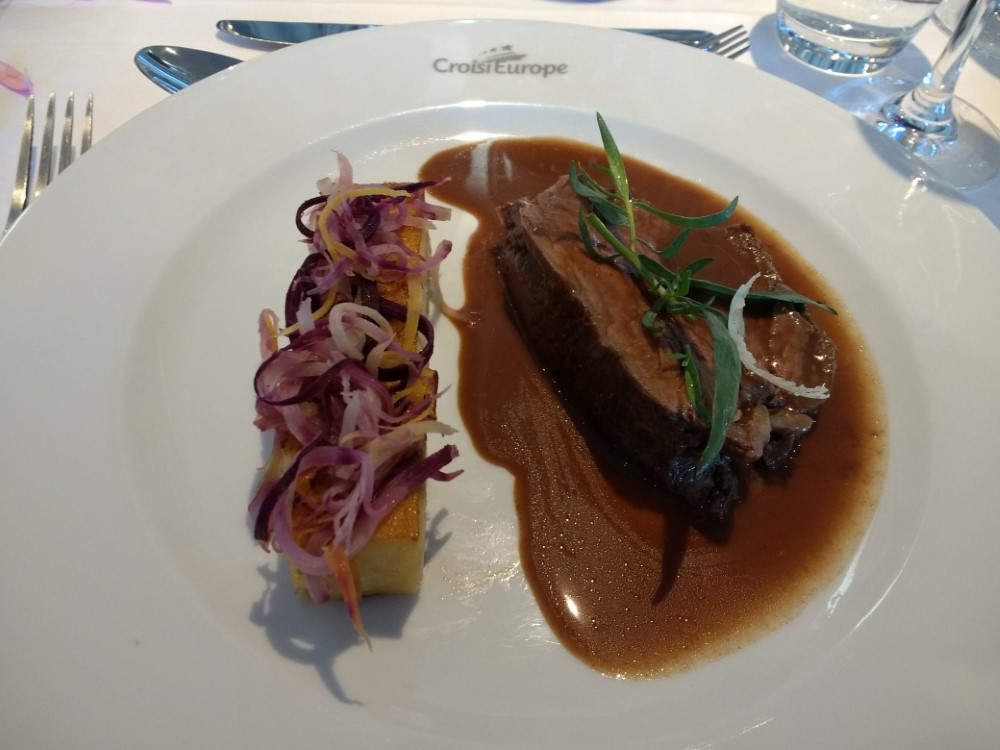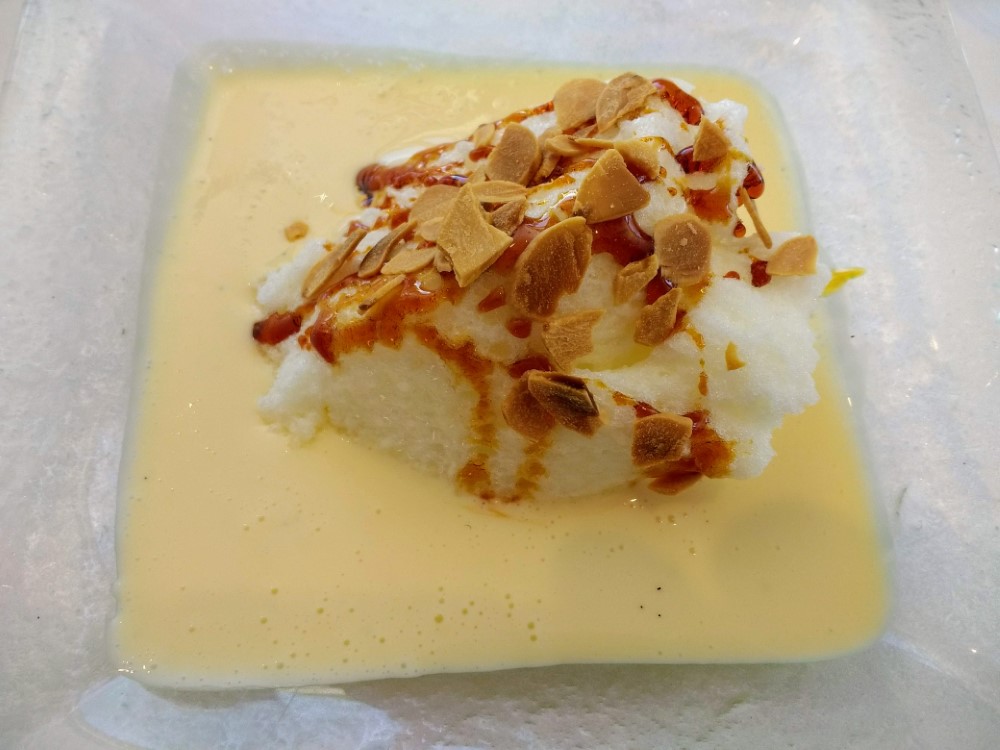 APERITIF HOUR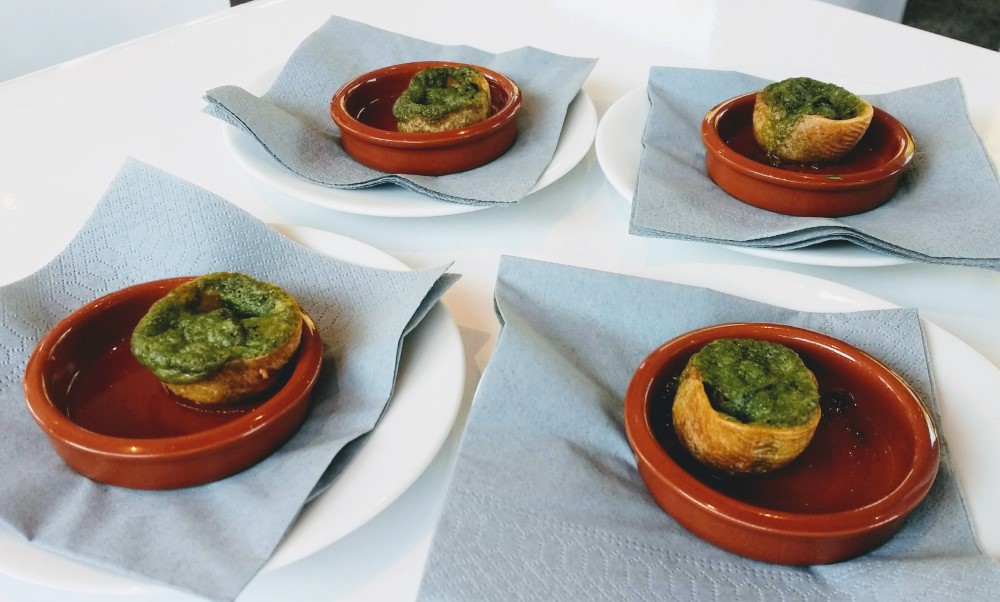 Before dinner the Aperitif Hour featured a cocktail along with an amuse bouche to whet the appetite.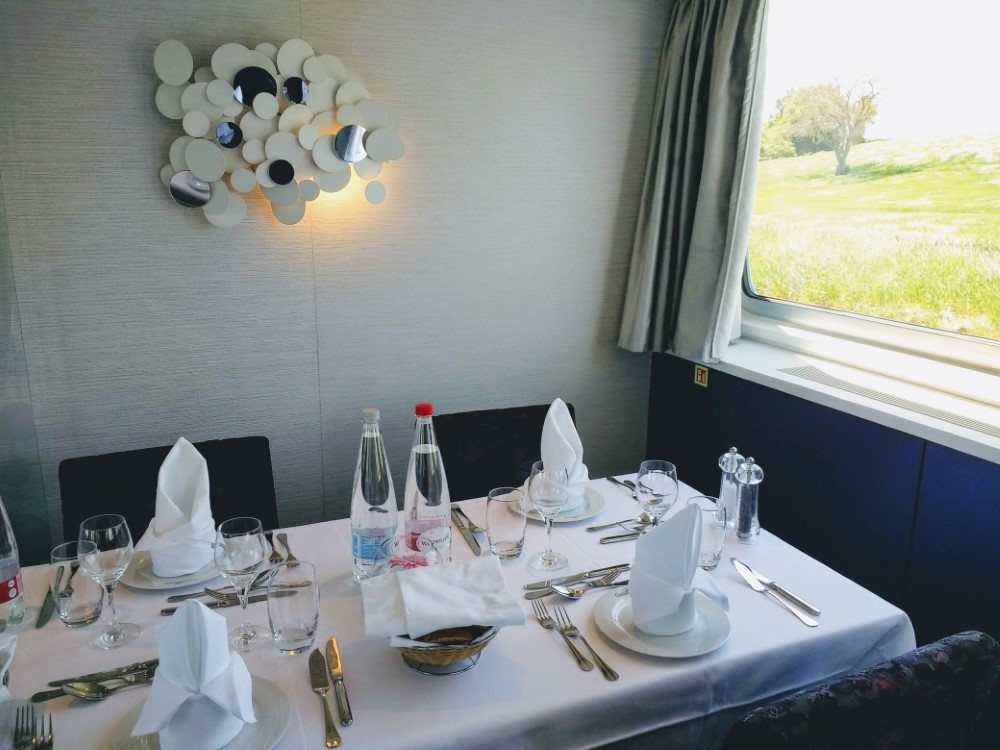 Three-course dinners were somewhat lighter than lunch, but continued the flow of wine and conversation before retiring into the lounge for a digestive and conversation.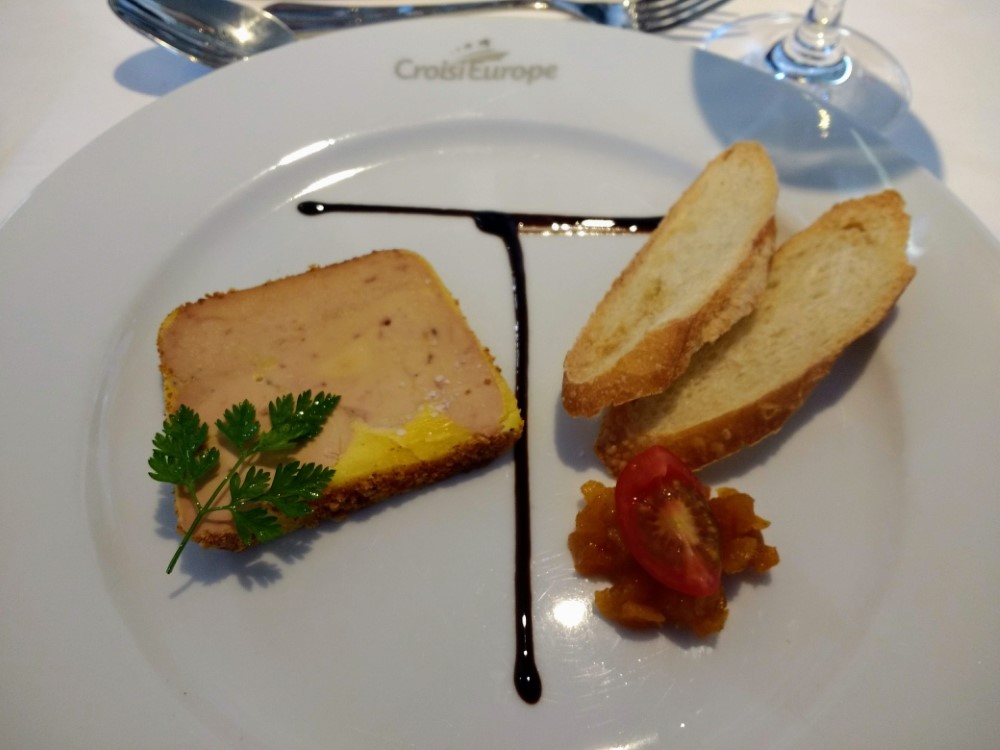 DINNER MENU EXAMPLES
Red Wine – Touraine; Starter – country terrine; Main – duck breast with Cassis sauce and celery root medley; Dessert – fruit sabayon
Chardonnay Wine; Starter – poached eggs with Epoisse cheese and croistini; Main – chicken with tagliatelle with vegetable strands of carrot and zucchini; Dessert – Panna Cotta with fresh pineapple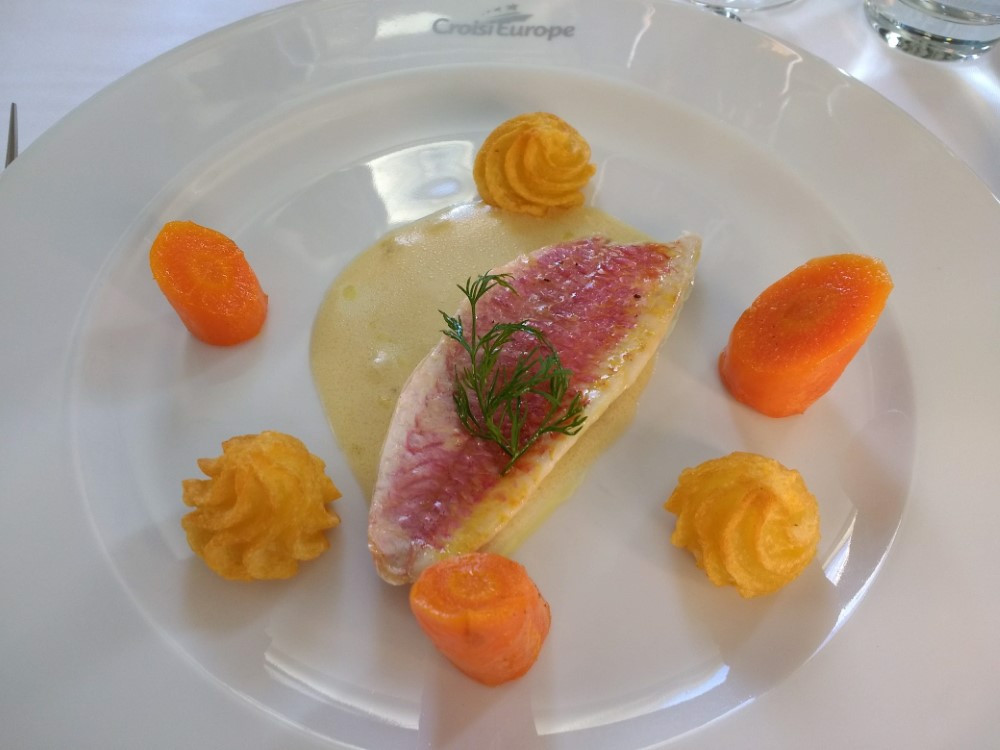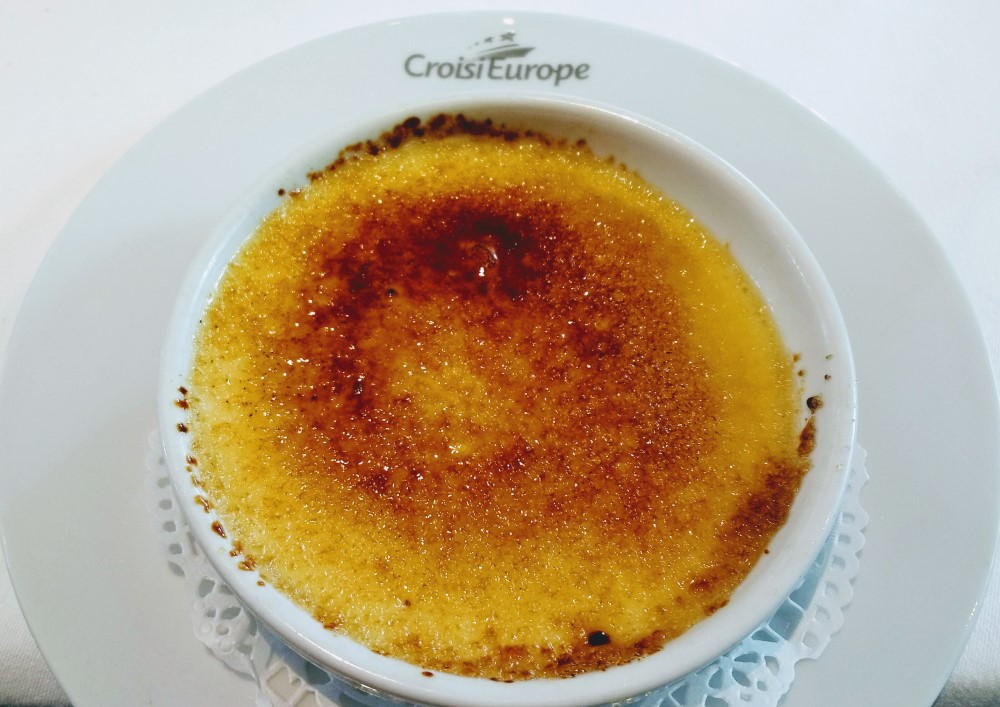 EXCURSIONS
BRIARE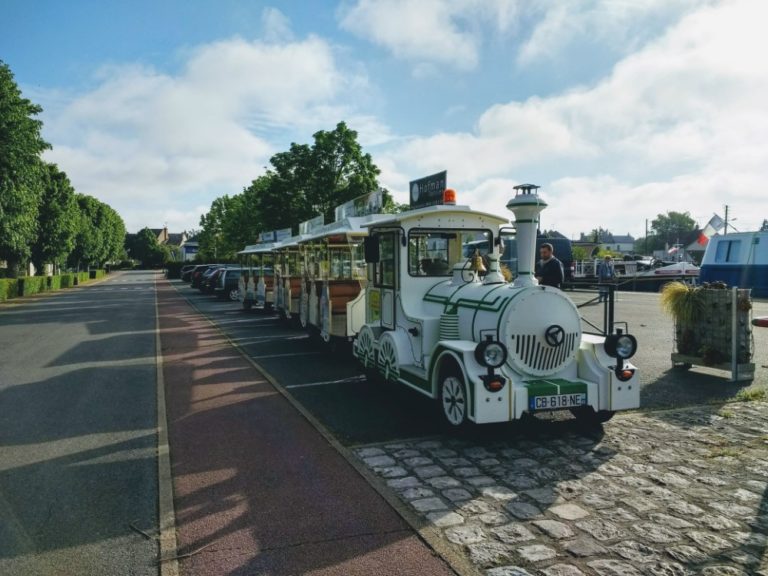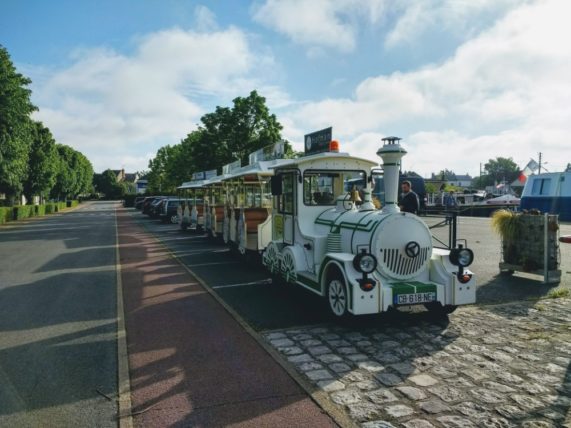 A morning excursion from 9 to 11 AM started with a tiny train ride around Briare. The audio recording in English was impossible to hear/understand. French was live narrated and easy to hear. Guests spent 45 minutes on the train before arriving at the boat/canal museum where they watched a 10-minute video (only in French). Next, a guided tour with a museum employee reading the English version. We left and walked back to the boat via the church/town square, wandered down to the viaduct and visited a chocolate shop next to the canal bridge.
SANCERRE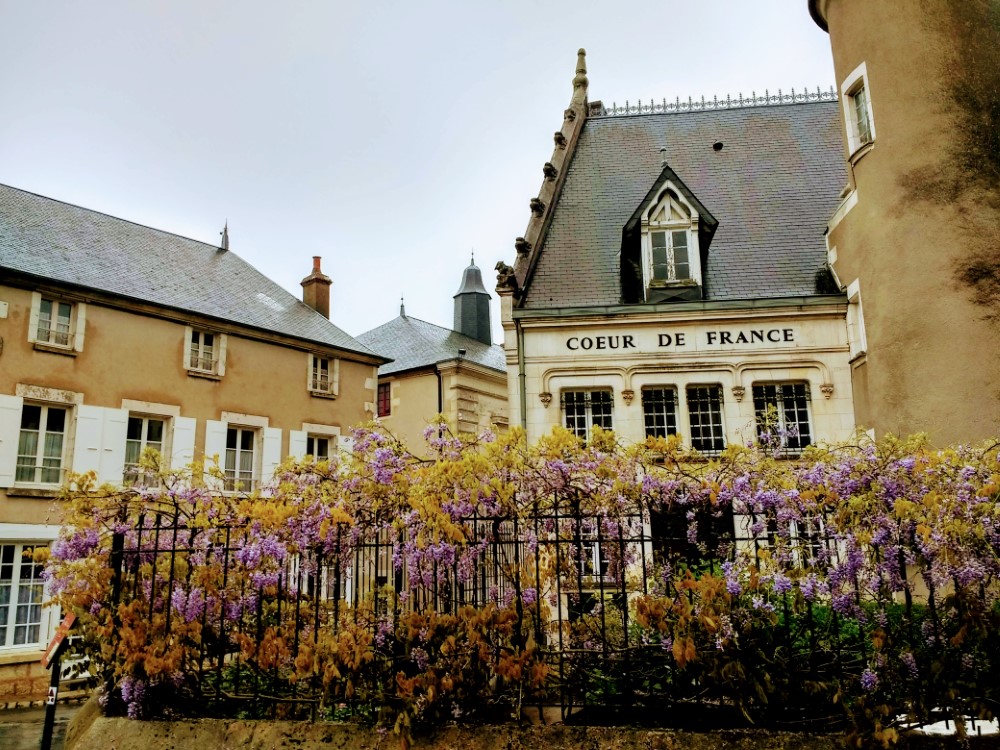 Passengers departed from Deborah at 8:30 AM for a 30-minute mini-coach ride to Sancerre with two local guides – one for French passengers and other for English.

Following the Sancerre visit we drove to a goat farm for a visit, tour, and taste of the cheese they produce with Sancerre wine and local apple juice.

POUILLY FUME
An 8:45 AM departure in same coach used for Sancerre, but with a new local guide. Yesterday's tour of Sancerre was on one side of the Loire River where those grapes are grown, and today's tour is the other side of the river where Pouilly Fume is grown. Tip: Pouilly = poo-yee!
In Pouilly Fume the tour started at the wine center where a 10-minute video (in English) explained the wine and history of the region, followed by a visit to the cave below the building to smell various aromatics used in the wine production.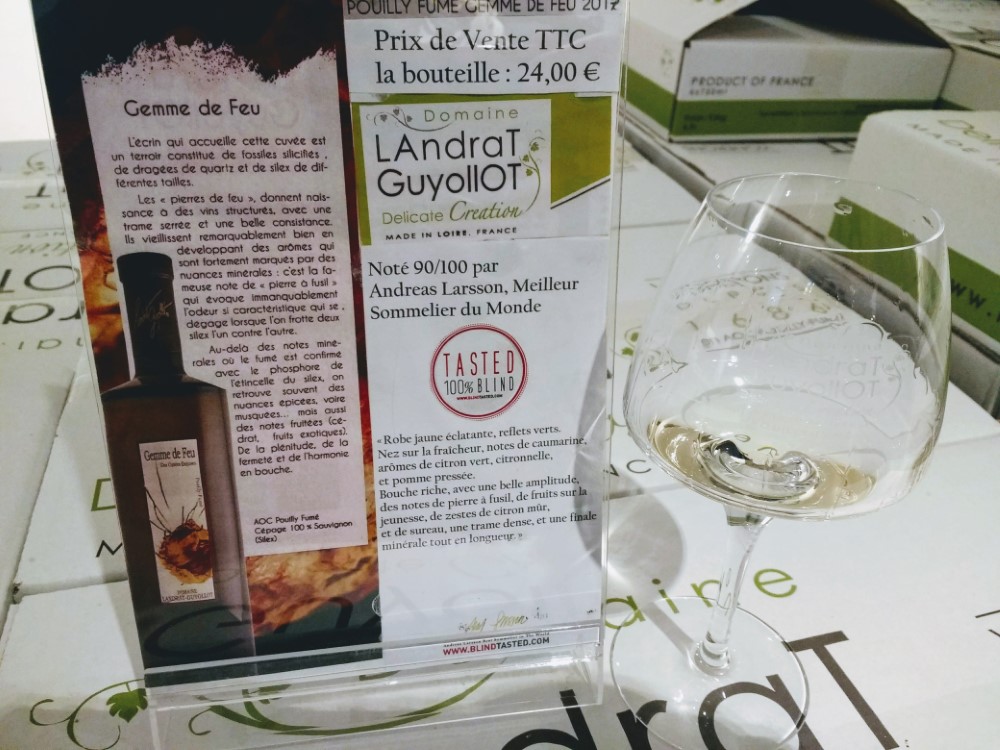 Following the wine center we drove into the countryside to visit a chateau for a wine tasting at a family owned and operated vineyard (10th generation) to sample Pouilly Fume wines – 4 samples = 1 Chesslar and 3 Pouilly Fume.

LA CHARITE-SUR-LOIRE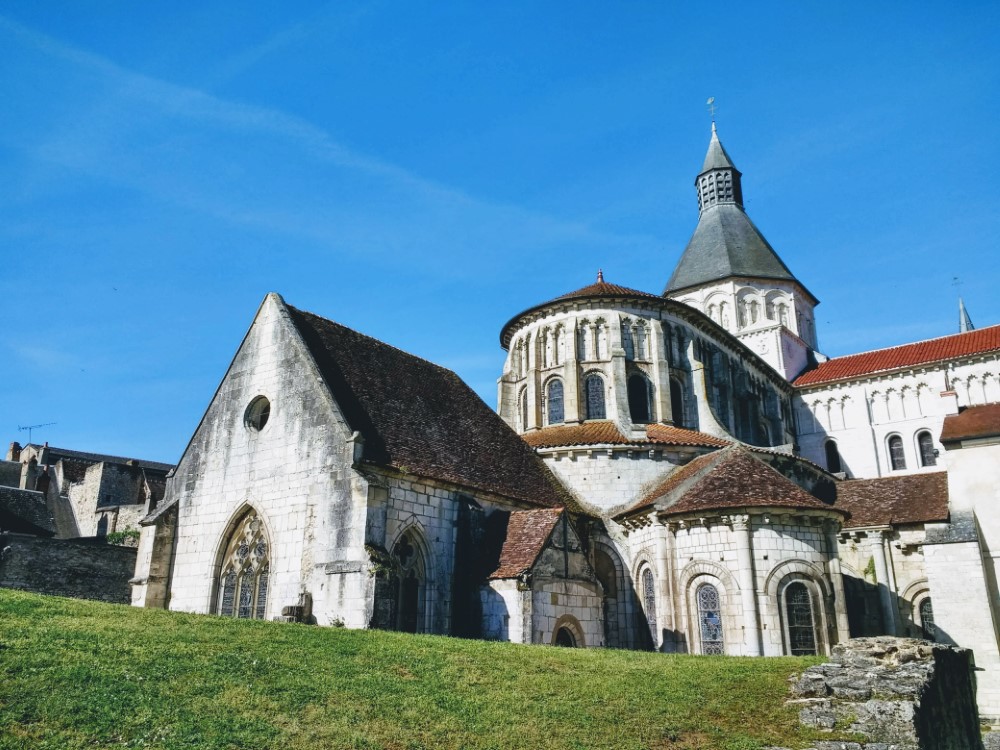 At 8:45 AM our group tour departed Deborah for a 15-minute drive to La Charite-Sur-Loire to meet 2 guides – English and French speaking. We had a guided tour of the church and 30 minutes free time.
Next up we drove 20 minutes into the countryside to a farm for a tour with the owner, and see all their animals – yak, ostrich, peacocks, Scottish Highlander cows, donkeys, llama, Brahman bull or zeboo!
The tour also included a tasting of local products and some they produce – Foie Gras and Rillette with Chardonnay and Pinot noir. Delicious!
ABBAYE DE FONTMORIGNY & D' APREMONT VILLAGE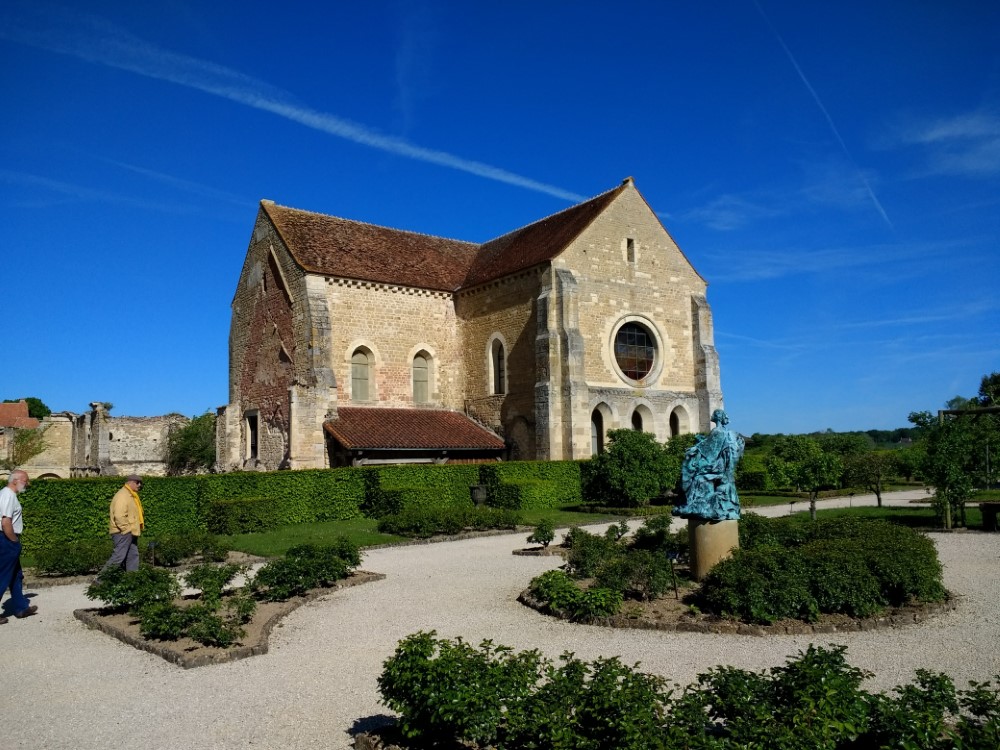 After a leisurely start to the morning, at 9:30 AM our group departed Deborah by coach for Abby Abbaye de Fontmorigny where we had a guided tour of the Abbey and gardens with the owner.
Following the tour of the Abbey we drove to D' Apremont village for a visit at the Parc Floral – beautiful gardens and lovely quiet village on the banks of the Loire River.

NEVERS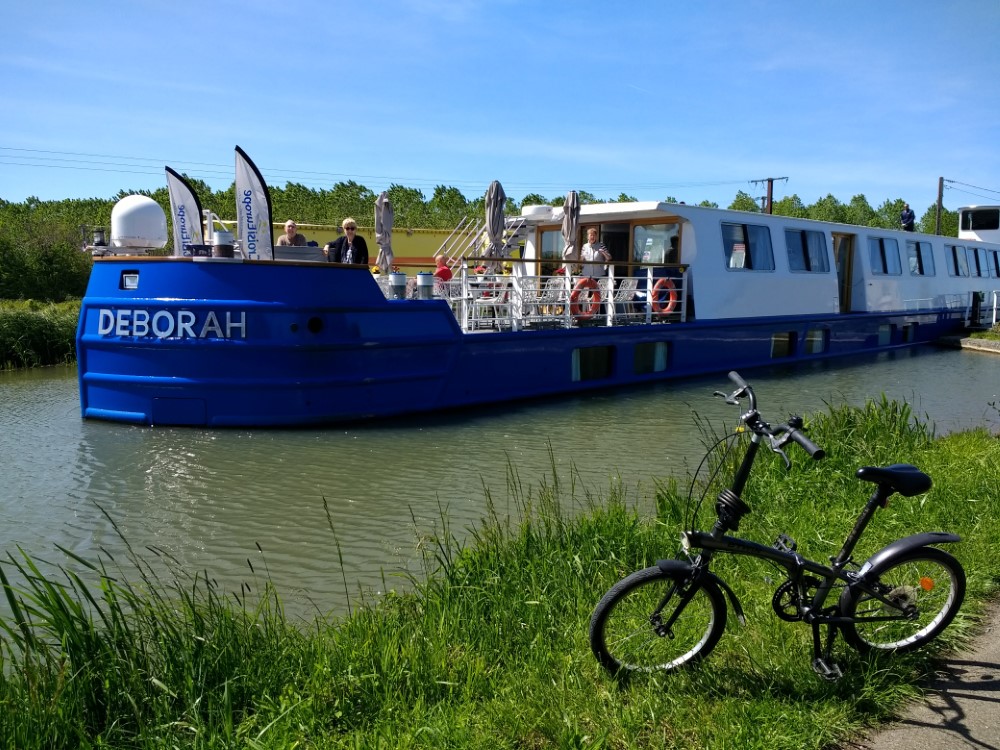 Our last excursion was on our final evening after dinner when Cruise Manager Armelle accompanied us with a local guide for a nighttime tour of the Old Town in Nevers. This was a wonderful way to wrap up our cruise!
FELLOW PASSENGERS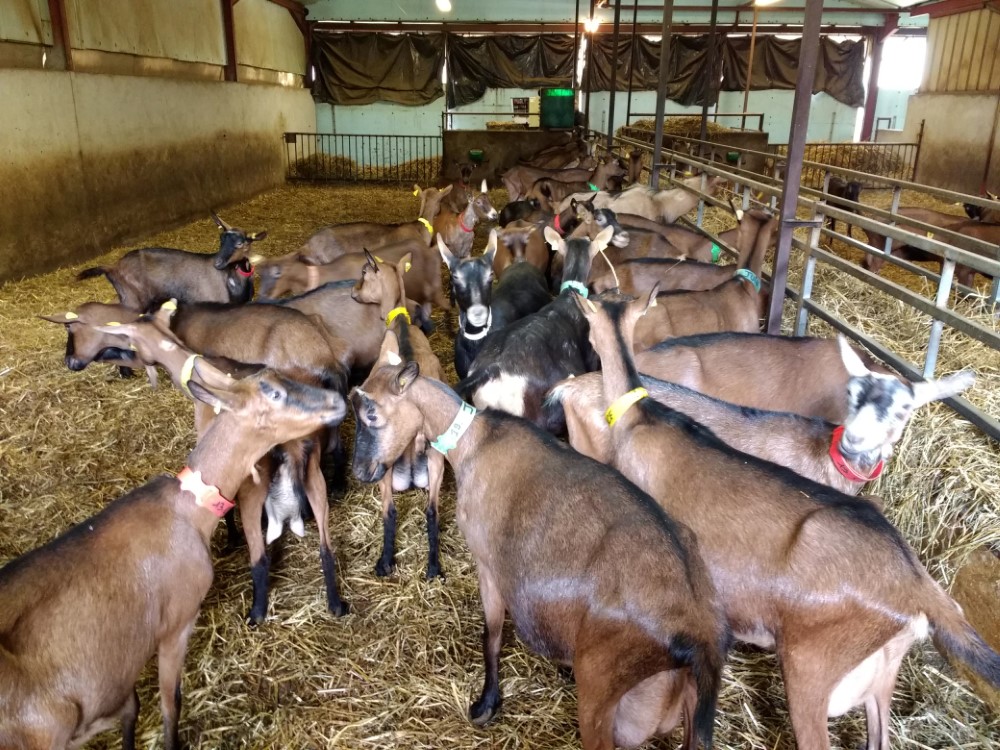 There were 19 passengers in total on our Deborah cruise, hailing from a variety of countries.
1 USA
1 Canada
4 French
4 Swedish
4 UK
5 Australia
The majority of passengers were in couples, with some travelling as a group of friends. During the week there was ample opportunity to get to know each other and form new friendships. Ages ranged from 40s to mid-80s. Most passengers spoke some English, with announcements made in French and English by the crew during this trip.
CREW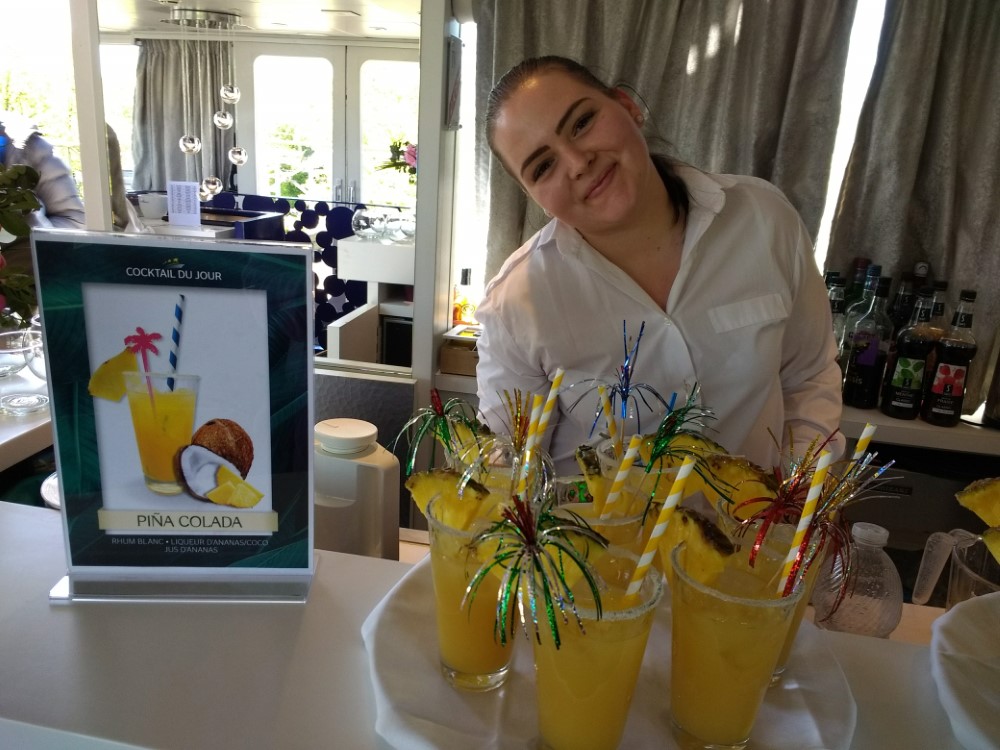 The six crew on Deborah were all French during our cruise, and highly professional and well-trained CroisiEurope employees. Each of them enhanced the cruise experience, and they all worked long hours as a team to ensure passengers had a trip to remember for a lifetime.
We were impressed with the service and enthusiasm by each crew member.
Captain – Rodolphe
Deck Hand – Kevin
Cruise Director – Armelle
Hostess – Anisa
Maitre d – Michelle
Chef – we were amazed daily by his culinary creations
GRATUITIES
Gratuities to the crew were up to the passenger's discretion based on their personal experience and level of satisfaction – and if they hail from a country where tipping is expected or not.
VALUE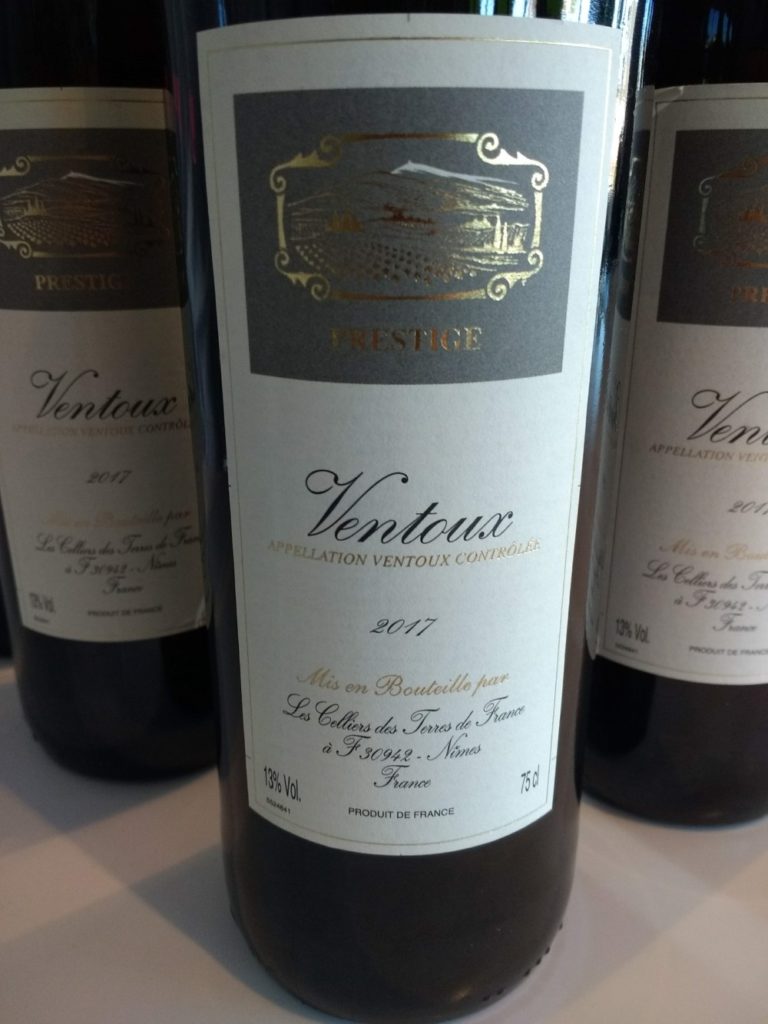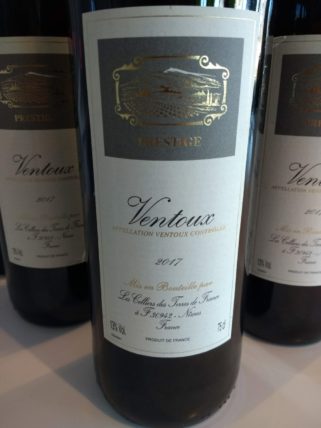 Exceptional value is the norm on a CroisiEurope cruise. This barge cruise was no exception to that rule with so many included aspects already in the cruise fare.
FARE INCLUSIONS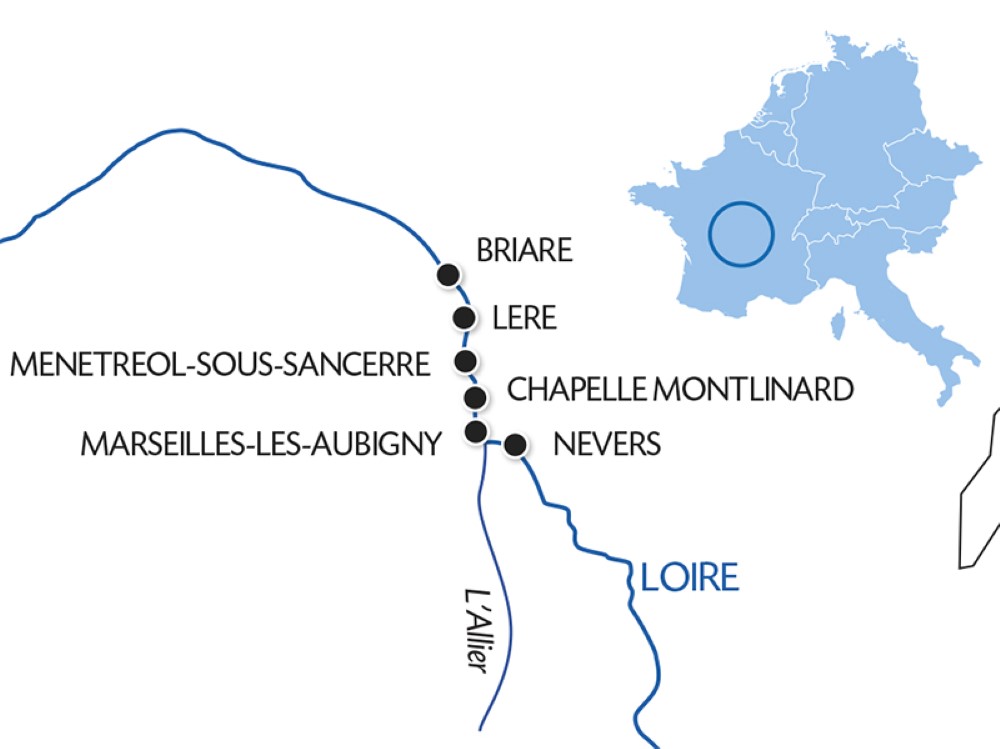 Transfers – roundtrip Paris transfers
Excursions – typically one excursion included each day
Beverages – a variety of alcoholic and non-alcoholic beverages with meals and throughout the day and evening; espresso beverages
Dining – breakfast, lunch, dinner, snacks,
WiFi – included and available for those with their own device
Bikes – Deborah carried bikes that were available for passengers to use in certain stretches of the canal.
WHO WILL ENJOY THIS CRUISE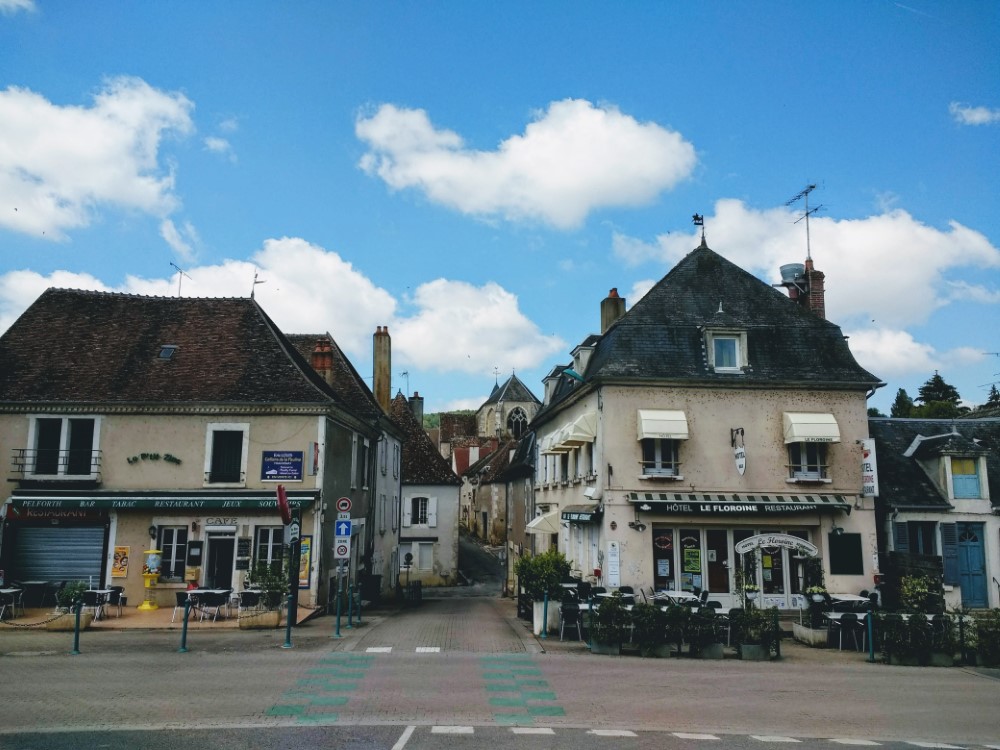 Anyone that likes to experience France at a slow pace and on the road less travelled, meet new people from different countries and cultures, embraces other languages, who wants to dine and wine on authentic French cuisine at family-style tables, will thoroughly enjoy this cruise. The atmosphere is casual, and smart casual is the dress code on the barge.
WHO WON'T ENJOY THIS CRUISE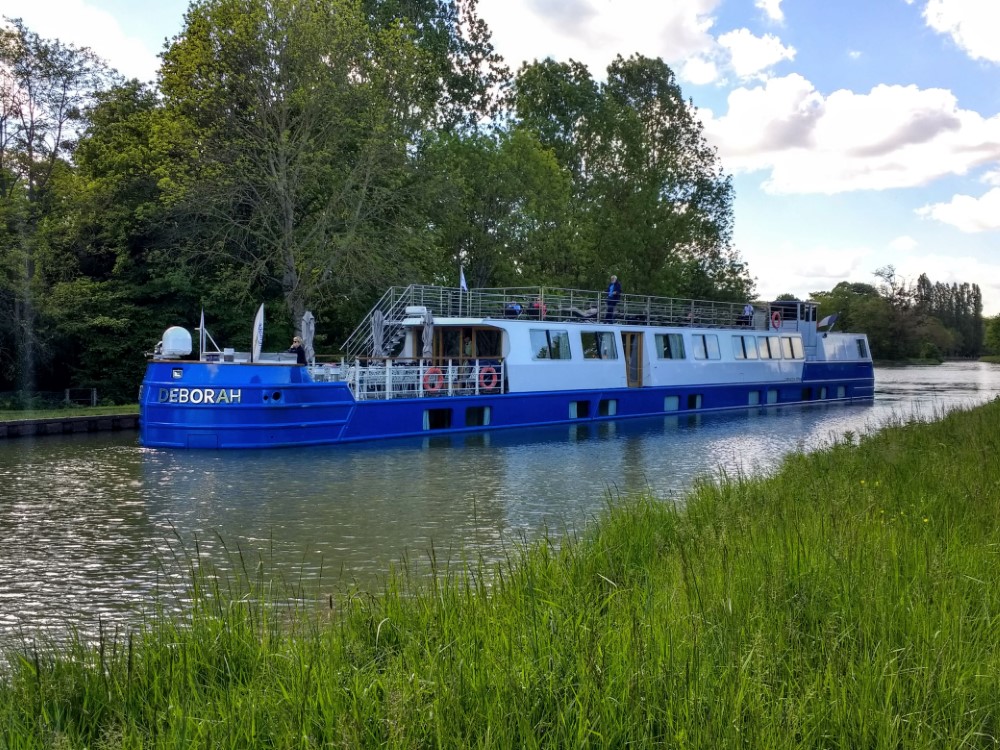 If you need a vessel with large public spaces, English as the main or only language, don't enjoy meeting new people or dining with fellow passengers for all meals, or want a fast-paced itinerary, visiting mainly big cities or lots of onboard entertainment, this trip is not for you.
BOTTOM LINE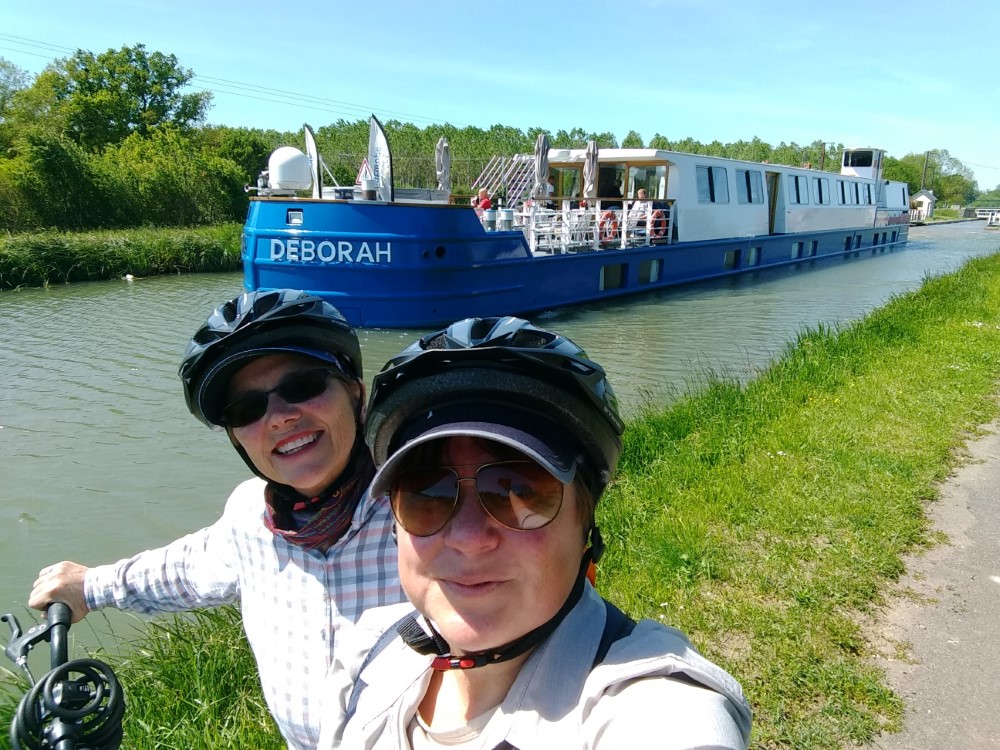 WAVEJourney has taken a few hotel canal barge cruises in Europe over the past decade. Each one has been unique, had different passenger capacities, covered different regions and been a pleasurable mode of travel for exploring at a snail's pace. Our CroisiEurope Deborah hotel barge cruise was a highlight of our 2019 travels and one we'd eagerly do over, and highly recommend.
Learn about WJ's river cruise in Bordeaux, France with CroisiEurope in 2017.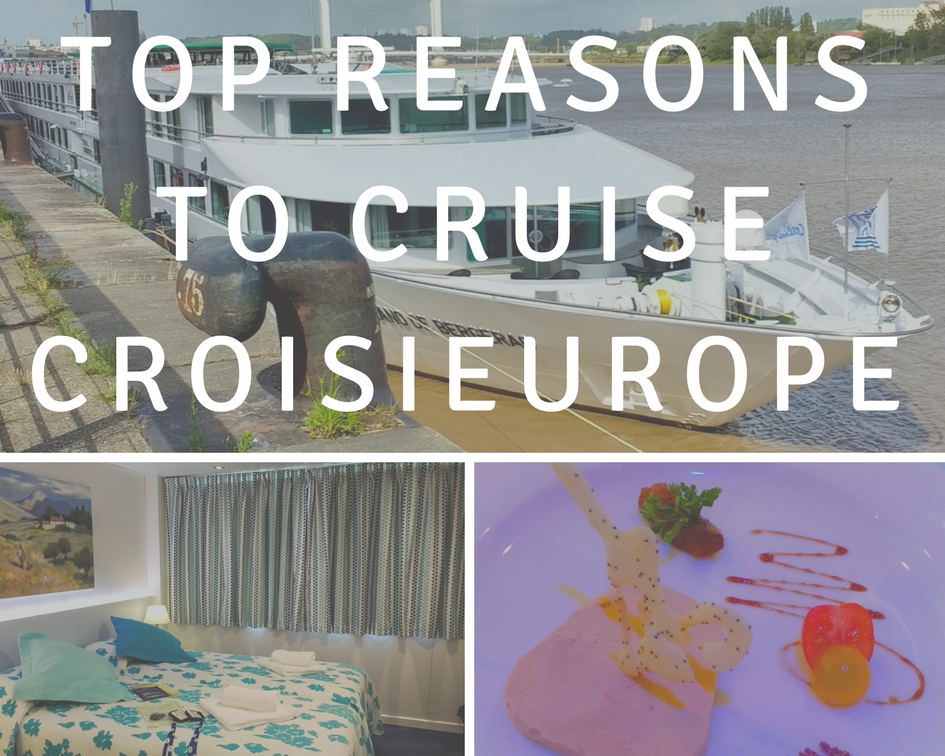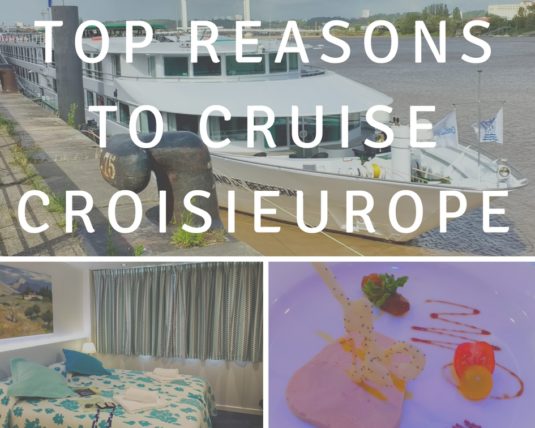 Notes: WAVEJourney travelled on CroisiEurope's Deborah in May 2019 as media guests. Read our full disclosure statement to see our review policy.