Travel Greece: A Glimpse of the Greek Islands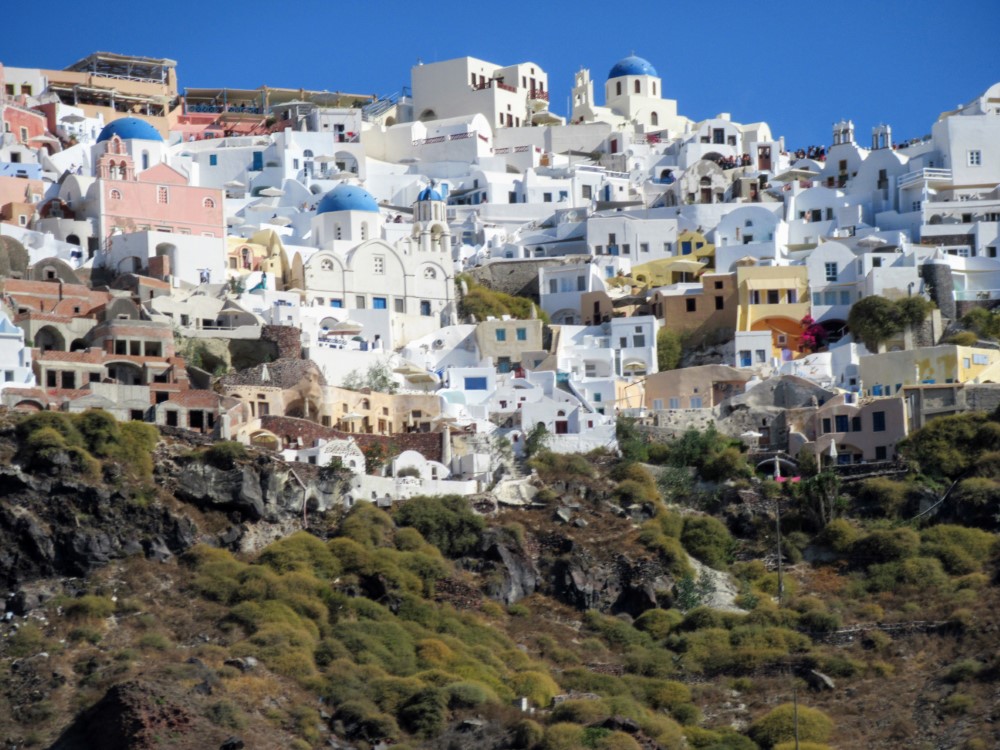 Travel Greece: A Glimpse of the Greek Islands
By Elizabeth von Pier
This is one of the most beautiful places on earth.
Bright blue skies without a cloud anywhere. Whitewashed Cycladic buildings and sidewalks cleaned daily. Tiny family-owned churches with blue domes and white crosses. Lemon groves, vineyards, and olive trees. Donkeys. Leather sandals originally designed for Plato, Aristotle, and Socrates. Handmade gold jewelry. Mouthwatering salads made from sun-ripened tomatoes, cucumbers, green peppers, red onions, feta cheese, and extra virgin olive oil. These are some of the things that come to my mind when I think of the Greek islands.
SANTORINI CARVED FROM A VOLCANO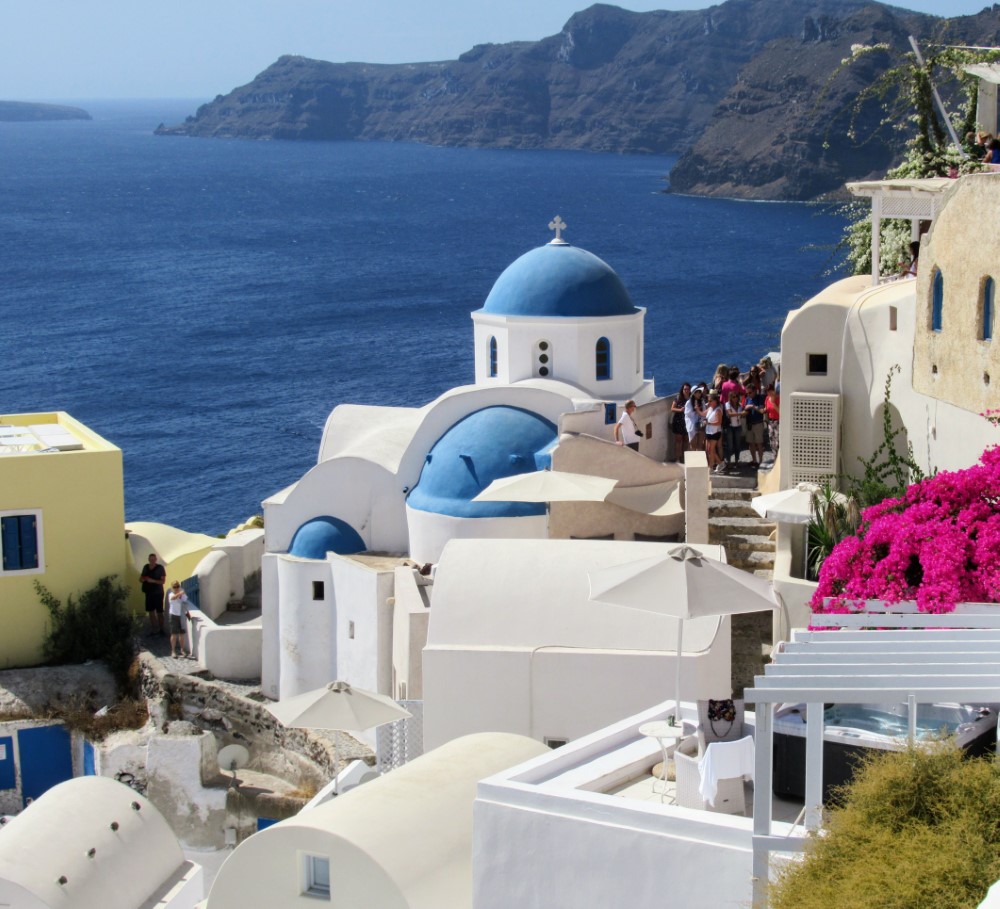 Nearly four thousand years ago—in 1646 BC—Santorini was a volcanic island called Thera. A thriving and advanced civilization lived on the top and people were going about their daily activities. Suddenly the volcano erupted and fire, boulders, and molten ash gushed forth from deep inside. The town on top collapsed into the depths of the sea below, and possibly as many as 20,000 people lost their lives.
It is said that this was the largest volcanic eruption of all time—the equivalent of forty atomic bombs and about one hundred times as powerful as that at Pompeii. It changed Thera's topology forever. What remains is the edge of the sunken crater, a portion of the rim shaped like the sliver of a fingernail.
Two especially charming towns have been built here on the rim and hoards of tourists flood into them every year from April to September. The town of Fira (also called Thera) is in the middle of the caldera and Oia (pronounced Eee'-ya) is on the northern tip. Smaller villages dot the landscape and farther to the east are the black-sand beaches the island is also known for.
It is not easy to get to the major towns at the top. A ferry or tender most likely will drop you off at the base of Fira. From here, there are three ways to reach the town—by climbing up 587 steps, sitting on the back of a donkey and riding up a steep and uneven path, or taking a cable car, probably the best alternative if you can tolerate the wait in line.
There also is an excursion boat you can take to the base of Oia where you will be picked up by bus and taken up a steep incline to the town above. The bus packs them in beyond its capacity and follows a winding road to the depot at the top. A five-minute walk from the depot is Oia's main square with its sparkling white church, the Greek Orthodox Church of Panagia.
Spend time in scenic Oia, population 1,500. Oia is known for its quiet life and spectacular sunsets. Have a fruit smoothie in one of the many juice bars, shop for some handmade gold jewelry or blue pottery, have a spa treatment, pose for photos, and relax with a glass of wine perched on the edge of the caldera.
Then hop a bus to Fira, less than seven miles away along a curving road with hairpin turns and steep drop-offs into the ravine below. Fira is another appealing town built into the cliffs. Explore Fira and, when it is time to leave, the best way to get back to the pier is by cable car, although you can also hop onto a donkey or walk down.
TINY MYKONOS AND ITS MASCOT, PETROS THE PELICAN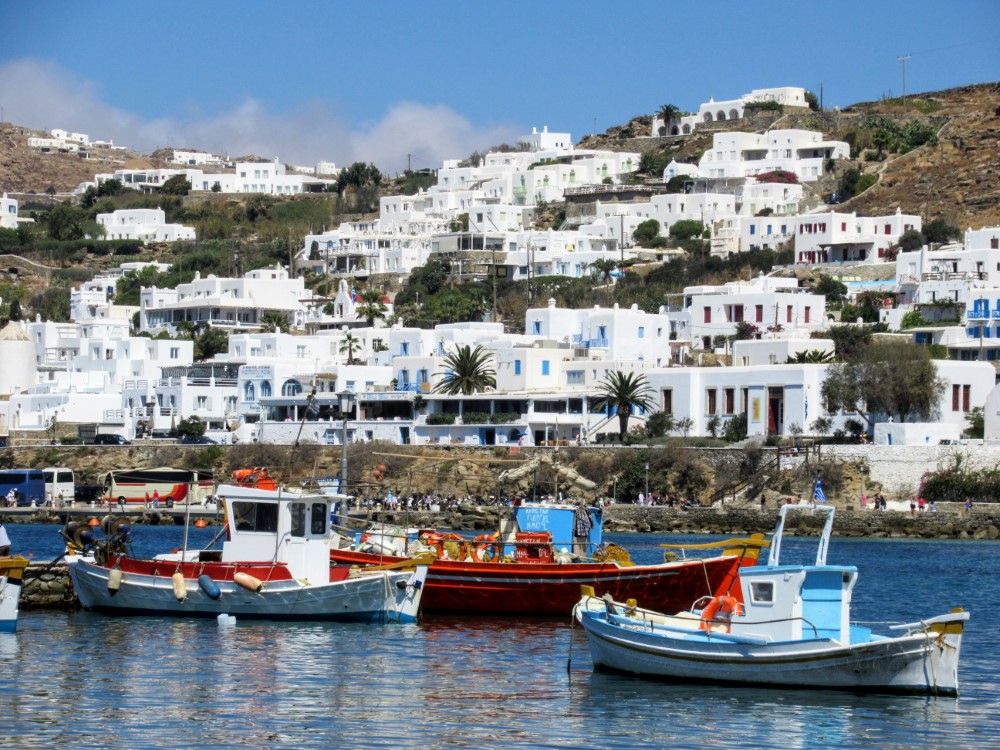 At one time Mykonos was a sleepy island that relied on fishing as its main industry. Fishing still holds an important place in the economy and, even today, you can watch the fishermen displaying their catch and mending their nets on the pier next to the blue-domed Agios Nikolakis (St. Nicholas Church). But word of Mykonos' natural beauty got out and today it is a cosmopolitan island that relies mainly on tourism. Its population is 15,000, of which 4,000 are foreigners, and it grows to 50,000 in the summer. There are only twenty to thirty taxis on the island and buses are "sort of" reliable so it is best to rent a car or stay in town and enjoy the scene.
Mykonos is known for its white-sand beaches, posh resorts, hopping nightlife, and picturesque Cycladic whitewashed houses and churches. There are over five-hundred tiny churches on the island that have been built by individual families. They have blue or red domes and white crosses on top, and most are Greek Orthodox.
If you are short on time, stay in town and wander the charming alleyways. Some of the little churches can also be found here in town and their doors are open so the public can step inside to light a candle and admire the icons.
The 16th century church, Panagia Paraportiani, is just a few short blocks west of the dock and made up of five small white churches built on top of each other. This is one of the most popular sights in Mykonos and it took about 200 years to complete. Its pure white facade is blinding in the sun. Aspiring models pose alluringly for photos, their hair and colorful dresses blowing in the Meltemi winds.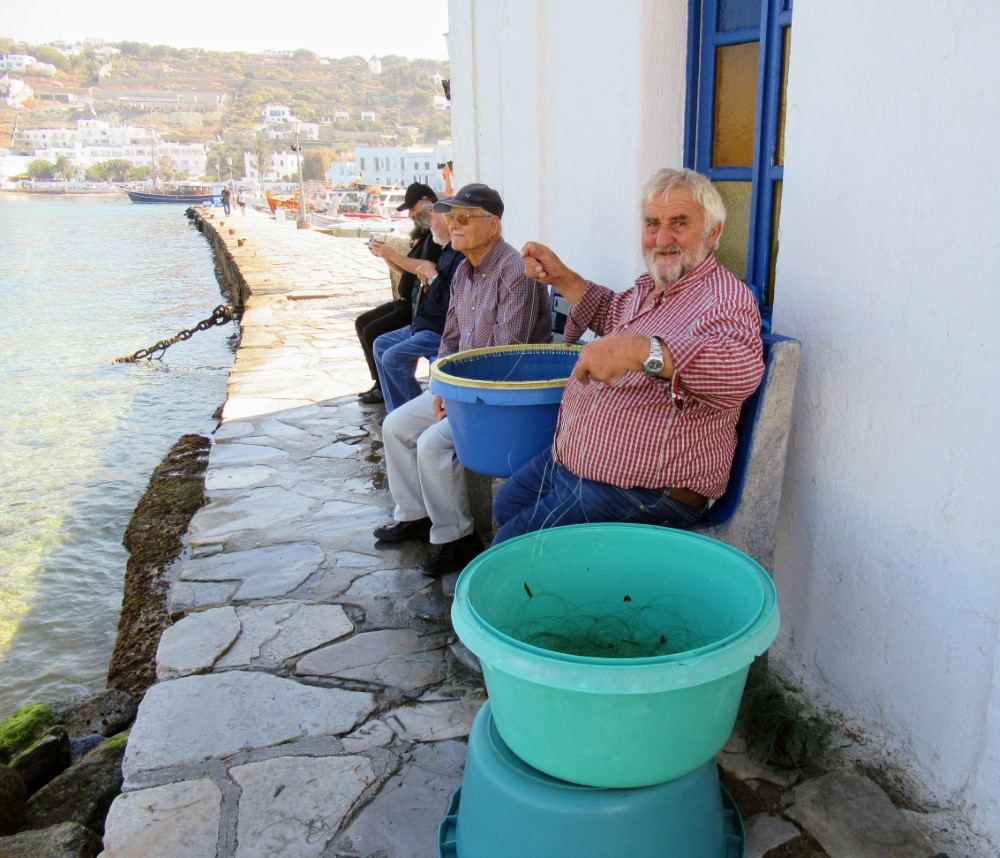 Nearby is Little Venice, a row of colorful houses and their balconies which are suspended over the Aegean Sea. They used to belong to fishermen and are now chic bars and restaurants. They are located just below the seven windmills, a recognized landmark as you sail into the port.
Manto Mavrogenous Square is across the street from the windmills. It is dedicated to the island's heroine who gave her fortune to liberate her fellow Greeks from the Ottomans. Born into nobility in Italy in 1796, she became the heroine of the Greek War of Independence against the Ottoman Turks in the 19th century.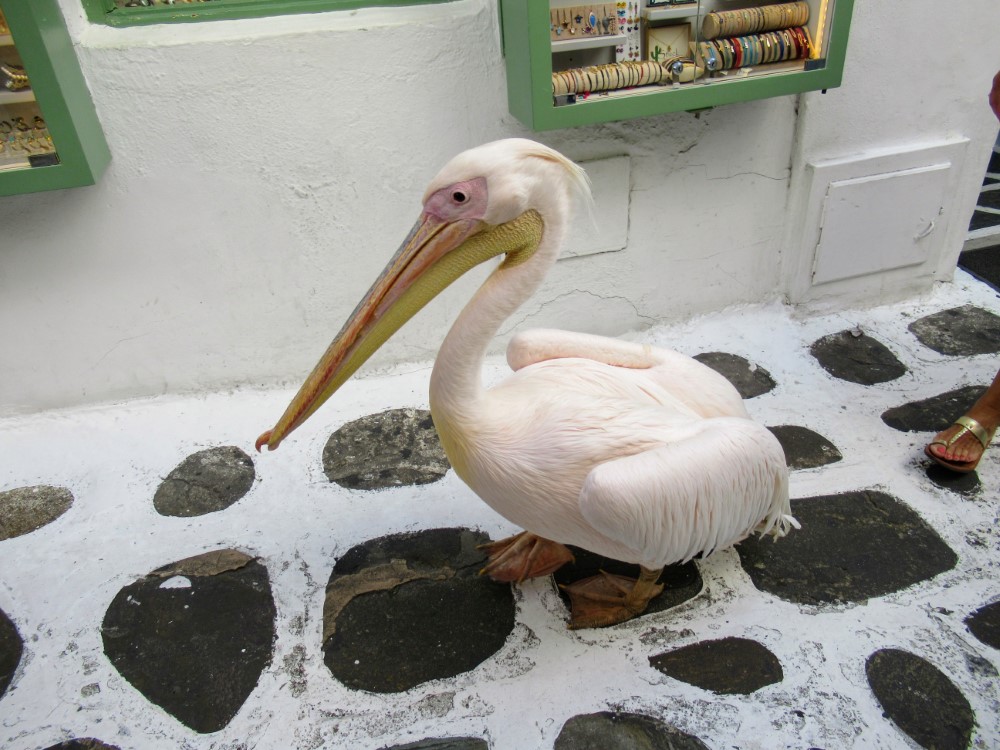 As you stroll through town, you may run into Petros, Mykonos' official mascot, who can often be seen waddling with his caretaker. There have been five generations of these beautiful pelicans, and Petros is the last in the line. He is very well groomed and obviously adored by the locals.
THE WALLED OLD CITY OF RHODES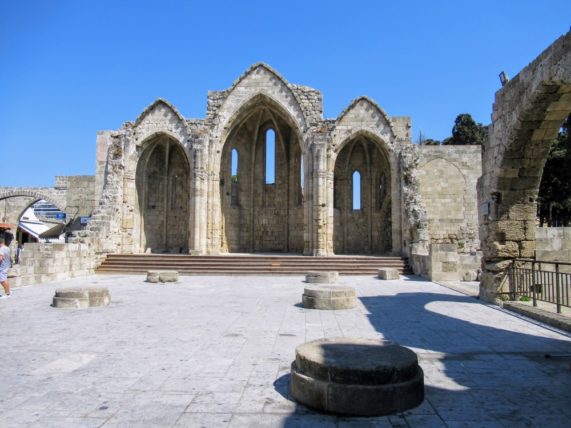 The old city of Rhodes, pronounced "Row'-doesh", is surrounded by walls that were constructed by the Knights of the Order of St. John who occupied the city for 213 years in the 14th and 15th centuries. Inside the old walls is the Ottoman Mosque of Suleyman, built in 1522; the Palace of the Grand Masters, a beautifully restored medieval palace with intricate mosaic floors; Gothic arches, all that remain of the Catholic church of Our Lady of the Burgh; a medieval hospital; and the small archaeological site of Aphroditi's Temple. There also are shops selling tourist trinkets and shady tavernas where you can listen to Greek music while enjoying a fabulous Greek salad and a glass of wine. The remains of the acropolis of Rhodes lie about three kilometers outside the city walls.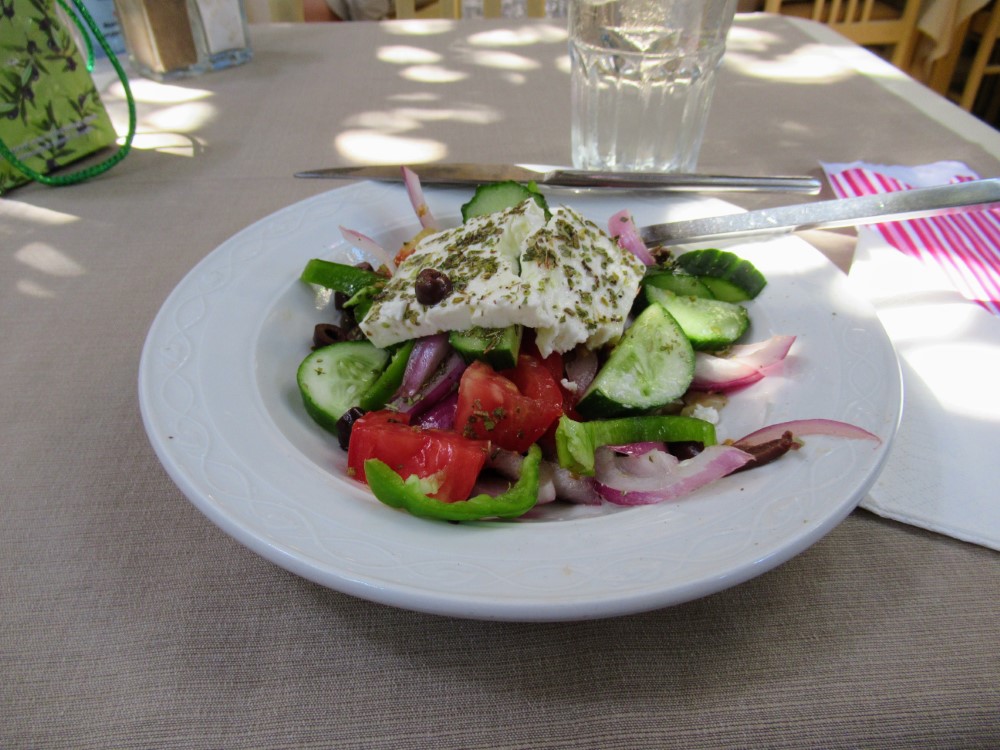 A more complete archaeological site can be found an hour away in Lindos where a magnificent acropolis on an imposing rock looks over the town. The town below is a typical Cycladic town with narrow, winding streets and enticing shops, restaurants, and cafes. Hire a donkey to carry you up to the acropolis, a challenge in itself but much easier than hiking.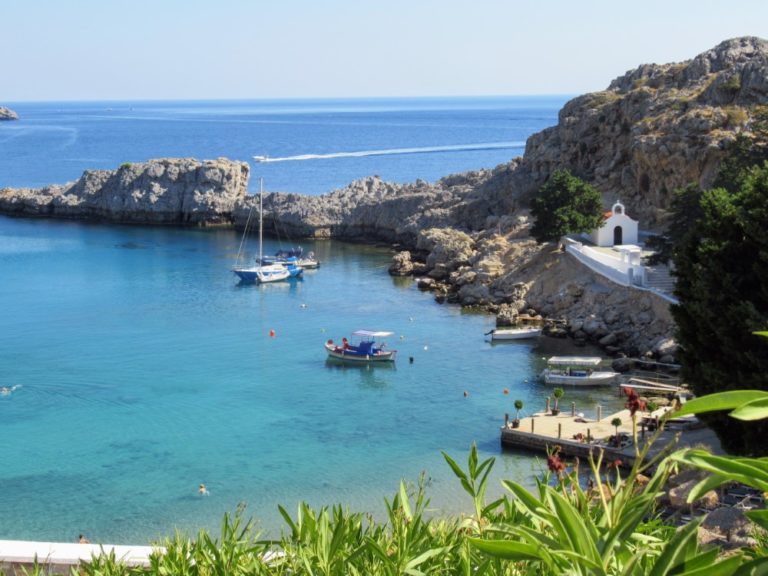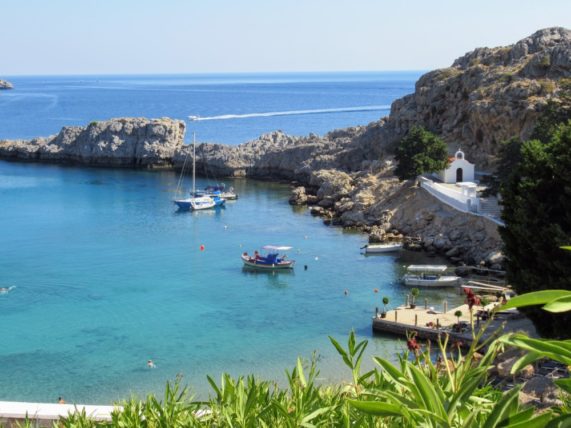 Not far away and within sight of the Lindos acropolis is St. Paul's Bay. This is an idyllic blue water lagoon with secluded beaches and a tiny whitewashed chapel. You can hold your wedding or renew your vows in the picturesque little church.
IF YOU GO
Holland America – "11-Day Ancient Empires", round-trip Civitavecchia (Rome). Ports of call include Kusadasi (Ephesus), Turkey; Katakolon (Olympia), Greece; Piraeus (Athens), Greece; Mykonos, Greece; Rhodes, Greece; Santorini, Greece; and Salerno (Amalfi Coast, Pompeii, Sorrento), Italy.
Aegean Traveller Santorini – operator of the speedboat and bus transfer from Fira port to Oia and the return trip to Fira town by bus.
BIO
Elizabeth von Pier loves to travel. After she retired from her lifetime career in banking, she has been traveling the world, photographing, and writing. She has been published in the Los Angeles Times and many online travel magazines including In the Know Traveler, Go Nomad, Wave Journey, Travelmag—The Independent Spirit, and Travel Thru History. She also recently published her first book, "Where to Find Peace and Quiet in London" and is now working on another volume in this series, "Where to Find Peace and Quiet in Paris" which is expected in 2020. Ms. von Pier lives in Hingham, MA.