Day 38: Sea Day 2 – Sailing to Mauritius with Holland America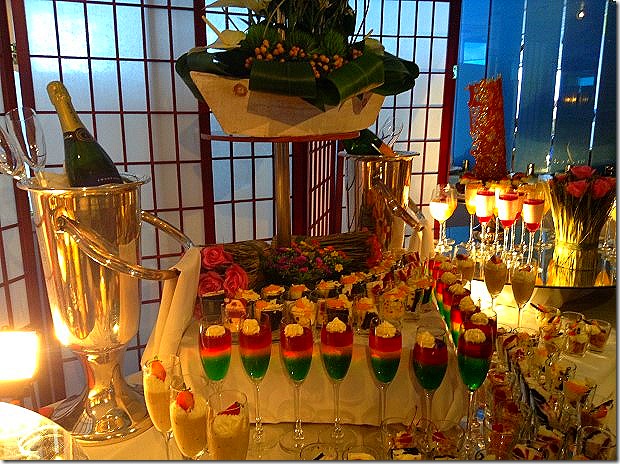 Day 38: Sea Day 2 – Sailing to Mauritius with Holland America
Holland America Africa Explorer Cruise – 49 Days from Rotterdam to Cape Town
Date: Monday November 3, 2014
Weather Forecast: Partly cloudy; 28 C/83 F
At Sea – Sailing the Indian Ocean towards Mauritius
Dress Code: Formal
Location Information:
Holland America Line ms Rotterdam is sailing in the Indian Ocean towards Port Louis in Mauritius.
WJs Day:
Yet another wonderful day at sea and more time to read. Although there are plenty of ship's activities to keep us more than occupied, it's nice to be able to catch up on some of the reading we've been wanting to do for a long time.
At 3:00 PM we did make it to the Showroom at Sea for an informative "Captain's Chat & Book Signing". The Captain, Hans Mateboer, of ms Rotterdam answered questions presented by Cruise Director Michael Langley and then took questions from passengers in the audience. The Captain also has a couple of children's books that he has penned, and signed for those that had purchased them.
Notes from the session:
Captain Mateboer wanted to be a ship's captain since the age of 3 when he saw huge ships on the river near where he lived.
Captain Mateboer first went to sea at age 19, on an old cargo ship. Memories from his early days: 1 ship he was on was attacked by pirates 3 times in 1 week and he spent a week in a Nigerian jail.
Captain Mateboer joined Holland America Line when he was 25, then went to Disney for a few years before moving back to HAL.
Q & A session: (Questions in italics)
How did Captain Mateboer start writing children's books? He was working for Disney and was interviewed by a cruise industry publication that invited him to write for them. He has written 3 books for children – although he has none of his own.
Ships do not use celestial navigation anymore which Captain Mateboer finds a shame as a thousand years of navigation skill is being lost. Ships used to change their clocks dependent on where the sun was.
Not allowed to use paper charts anymore. It is mandatory to use electronic maps for navigation. But, not all places are covered yet by GPS.
Cyclone Diversion: (change of course for ms Rotterdam between Dubai and the Seychelles) The extra distance was approximately 360 nautical miles, used an extra 150 tons of fuel at an additional cost of US$75,000. The ship was diverted due to concerns about passenger and crew safety. Although the ship is completely capable of sailing through such a storm, there is a chance that someone could fall and be seriously injured or killed. There was a flow of ships going around the cyclone like ms Rotterdam did. Many others stayed and waited in the Persian Gulf for it to pass.
Does Captain Mateboer have any ports he dislikes docking at? Bali, Indonesia is too tight. Livorno, Italy and Curacao are also on his list.
The Captain has only docked ms Rotterdam at 2 of the ports we have called at since leaving Rotterdam. His stance is that others in the bridge need to do it so that everyone knows how to and the team works together. "A person may fail but the team must succeed."
Cost of the Suez Canal transit? Almost US$300,000 – depends on size of ship and number of passengers.
Stabilizers – the faster the ship goes, the better they work. Pitching is more a cause of seasickness than rolling. Presently there isn't a system to reduce pitching on ships.
Ms Rotterdam was built too heavy in 1997, but that makes her better in bad weather as she is lower in the water. The downside is she uses more fuel. She was built for speed and is the second fastest cruise ship in the world (the Queen Mary is the fastest). Top speed is 25 knots and speed is the biggest weapon against pirates.
Most memorable voyage? Six or seven years ago there was a man overboard alarm. The ship doesn't stop, but it does turn around. They found 21 people wearing life jackets floating in the Mediterranean Sea – from an illegal immigration trafficking boat that sank. The first port the ship was entering after picking up the refugees was in Turkey – who refused to accept them. This incident ended up changing international law – it is now illegal for a country to accept refugees rescued at sea.
Has Captain Mateboer dealt with terrorist problems? No, he has never dealt with an actual incident. There have been a few questionable ports on this trip, but they were all given the go-ahead by the powers above. Last year ms Rotterdam did outrun pirates as they were coming back from Indonesia.
NATO Flag – It is beneficial to fly a NATO flag as help will arrive within an hour of an incident.
What were the boats that circled us in the Persian Gulf off the shore of Iran? Iranian Navy boats sightseeing as we were the first cruise ship of the season in that area.
We had received an invitation for Formal Night to dine at the table hosted by Kees Kant, ms Rotterdam's Safety, Environmental and Health Officer. This was the second time we had gone to the Formal Night dinner in La Fontaine Dining Room and it was by far our most favorite evening of this voyage so far. Kees was a fantastic host and very interesting to speak with over dinner, as where the other women at our table (only nine ladies were invited to this table and a good variety of nationalities were represented).
Tonight's entertainment in the Showroom at Sea is Viva Voce – a classically trained vocal harmony group.