Day 32: Sea Day 2 – Sailing the Arabian Sea towards Seychelles with Holland America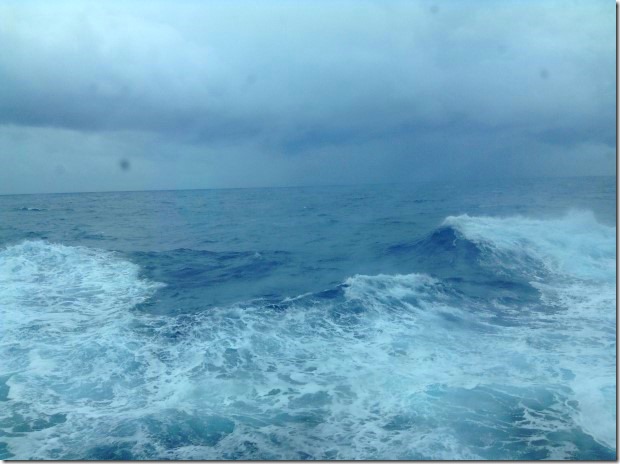 Day 32: Sea Day 2 – Sailing the Arabian Sea towards Seychelles with Holland America
Holland America Africa Explorer Cruise – 49 Days from Rotterdam to Cape Town
Date: Tuesday October 28, 2014
Weather Forecast: Cloudy, stormy, rain; 28 C/82 F
At Sea – Sailing the Arabian Sea towards Victoria, Seychelles
Rough Seas due to Cyclone in Arabian Sea – Route is through the Arabian Sea in the direction of Mumbai, India
Dress Code: Smart Casual
Location Information:
Instead of making directly for the Seychelles after leaving Dubai, UAE, Holland America Line ms Rotterdam is sailing towards Mumbai, India in order to skirt a cyclone in the Arabian Sea.
WJs Day:
Ocean swells where much more intense today (although still not as bad as anticipated – which is a good thing). The Sea Bands and ginger capsules are doing a mighty fine job of keeping us from reacting negatively to the motion of the ocean. It also helps that we're staying on lower decks of the ship – less movement and vibration. The Formal Dinner night that was originally on the itinerary for tonight has been postponed – probably a very good idea as not all passengers are faring as well as we are.
We do miss being able to walk around the outside decks and get our daily exercise and fresh air. But, it has been pretty stormy and severe winds so not a good idea – plus, the decks are wet and slippery.
The Captain promises that by tomorrow afternoon we should be in calmer waters and have better weather.
Today's activities around the ship were kept to a minimum due to the weather. Another great excuse to read and watch more DVDs.
All is well in cabin 1908 and we really love our home away from home.
Tonight's entertainment in the Showroom at Sea was by country to classical musical entertainer Duncan Tuck (also a pretty good comedian).