Day 33: Sea Day 3 – Sailing the Indian Ocean towards Seychelles with Holland America
Day 33: Sea Day 3 – Sailing the Indian Ocean towards Seychelles with Holland America
Holland America Africa Explorer Cruise – 49 Days from Rotterdam to Cape Town
Date: Wednesday October 29, 2014
Weather Forecast: Partly Cloudy; 28 C/82 F
At Sea – Sailing the Indian Ocean towards Victoria, Seychelles
Calmer seas after skirting Cyclone Nilofar in the Arabian Sea and making our way to the Indian Ocean
Dress Code: Formal
Location Information:
Holland America Line ms Rotterdam is sailing the Indian Ocean, south towards Victoria on Mahe in the Seychelles.
From "today On Location" program:
King Neptune Ceremony Notice – On October 31st, 2 day from now, King Neptune will visit the ms Rotterdam. Please note that for that day the deck lounge chairs from the Lido Poolside, 8 midship area, will not be available until 6:00 PM to allow for the set-up and tear down of the King Neptune Ceremony. Also, please note the Lido Pool will be closed from 12:00 noon for the remainder of that day.
WJs Day:
Daily activities were back in full-swing with the calmer seas after a rather rock and rolling night at sea. We started with the 10:00 AM Chatting With. Here Cruise Director Michael Langley introduced the ship's Housekeeping Department and florist for an informal question and answer session.
At 11:00 AM we decided to listen to Frank Buzzard's very interesting lecture in the Showroom at Sea – Explorations Speaker Series: Man's Quest for the Stars: The early years and birth of rocketry.
This afternoon we were excited to be able to venture back out on the Lower Promenade Deck and walk a few miles in better weather and calmer sea conditions – it was exhilarating.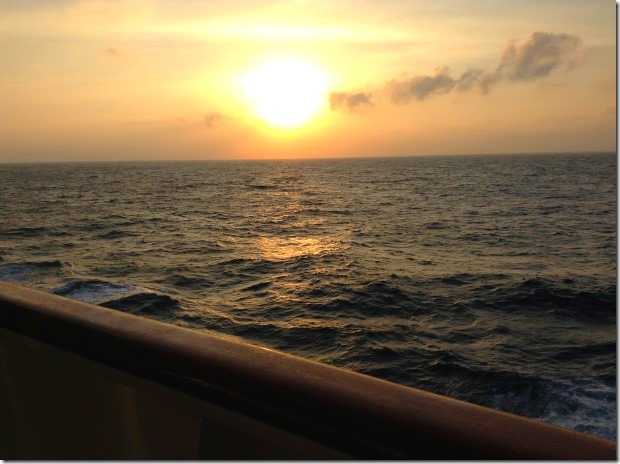 La Fontaine Dining Room was very busy tonight for Formal Night – the first on this stretch of the cruise where about 550 new passengers embarked in Dubai, UAE. We opted to enjoy another nice dinner in the Lido Restaurant with the wonderful crew that we've seen numerous times a day for the last 4+ weeks.
Tonight's entertainment in the Showroom at Sea was by Double Take – two world-class jugglers (we heard from friends that it was worth missing).