Day 4: Sea Day 2 sailing towards Lisbon, Portugal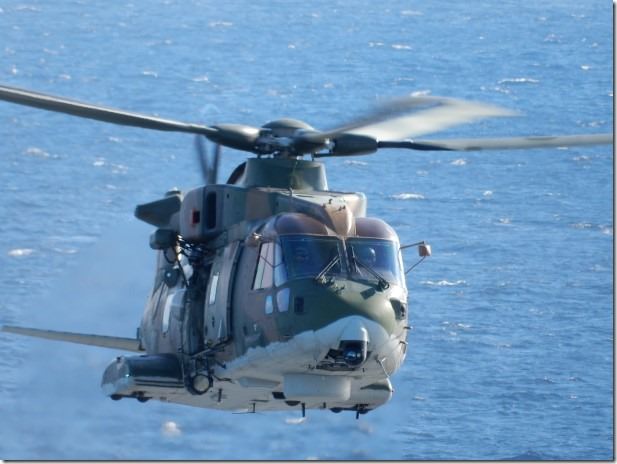 Day 4: Sea Day 2 sailing towards Lisbon, Portugal
Holland America Africa Explorer Cruise – 49 Days from Rotterdam to Cape Town
Date: Tuesday September 30, 2014
Weather Forecast: Partly cloudy; 19 C/66 F
Sea Day 2
Dress Code: Smart Casual
WJs Day:
This morning we started with a light breakfast in ms Rotterdam's Lido Buffet Restaurant. For breakfast we much prefer to help ourselves to what menu items appeal to us as we see them, and can drink as much coffee as we want without waiting.
At 10:00 AM we joined Location Guide KK and the Shore Excursions Team in the Showroom at Sea for more excursion options for the African Highlights and Ports of Call.
This morning at 11:00 AM Viv attended a cooking show in the Culinary Arts Center with Host Lauren and Tournant Chef Brett. The recipes featured today were Classic Spanish Paella and Green Gazpacho with Shrimp. At the same time, Jill went to the "Explorations Speaker Series: Great Explorers" to listen to Michael Tyropolis discuss Ibn Batthutah.
Following lunch in the Lido (the Asian section is always very good) it was time for Location Guide KK's presentation on Lisbon, Gibraltar and Malaga in the Showroom at Sea. One of the things we really like about Holland America Line is their Location Guides – they are very good at providing helpful port information for independent exploring of a destination.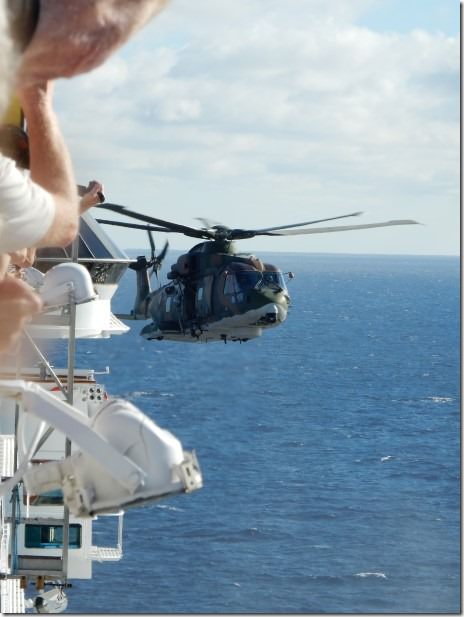 While we were sunning ourselves by the Lido pool, Cruise Director Michael Langley made an announcement regarding an emergency evacuation of a passenger. A number of areas at the front of ms Rotterdam would be closed while a Portuguese military helicopter made a landing on the bow to take a passenger to hospital in Porto. We witnessed the amazing skill the pilots exhibited bringing the helicopter in sideways while the ship maintained speed.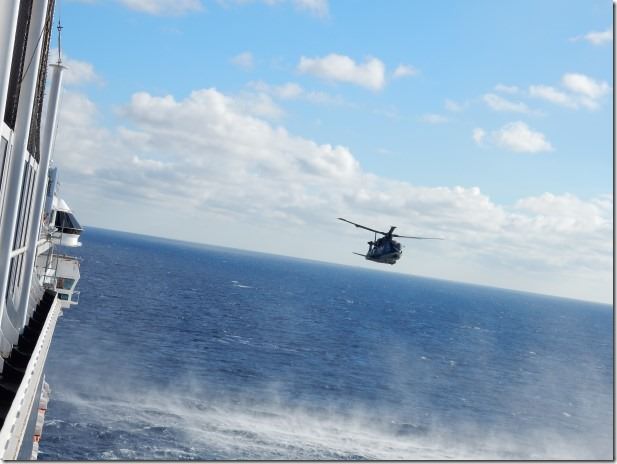 Then it was time to walk laps around the Promenade on Deck 3 before Jill's Texas Hold'em Poker Tournament in the Casino.
Again, there were more activities happening around the ship than we had time for – we have really enjoyed having lots of time to relax and unwind.
Entertainment at 8:00 PM and 10:00 PM in the Showroom at Sea this evening was by Olympic Gymnast Lance Ringnald.
Next – Lisbon, Portugal