Day 36: Victoria on Mahe, Seychelles with Holland America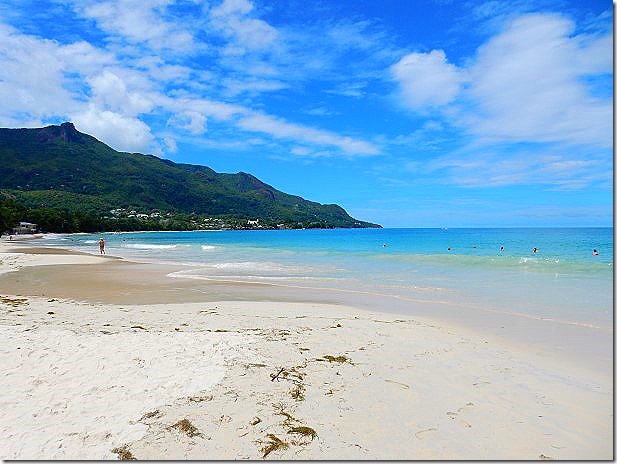 Day 36: Victoria on Mahe, Seychelles with Holland America
Holland America Africa Explorer Cruise – 49 Days from Rotterdam to Cape Town
Date: Saturday November 1, 2014
Weather Forecast: Mostly cloudy; 30 C/88 F
In Port: 8:00 AM to 6:00 PM
All Aboard: 5:30 PM
Dress Code: Smart Casual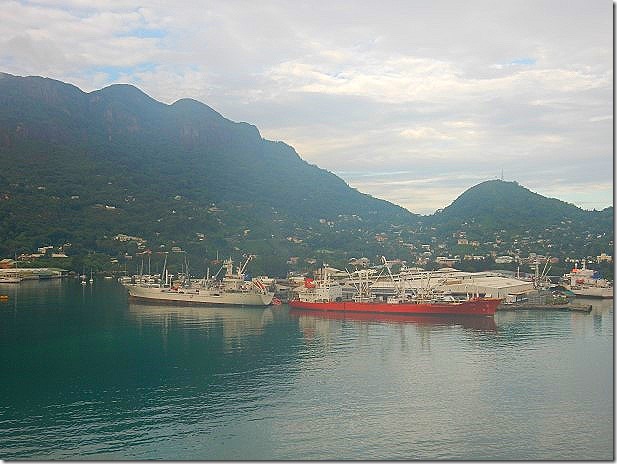 Location Information:
Located at the equator, Mahe is the main island in the Seychelles – also the largest – and has more than 68 beaches. The Seychelles is located approximately 1600 km off the coast of Africa and is 4 degrees south of the equator. Praslin is the second largest island and the Vallee de Mai, a UNESCO World Heritage Site is there. The town of Victoria is the largest in the Seychelles, and the nearby Botanical Gardens are where visitors can view giant land tortoise, fruit bats and native flora. The local language is Creole, but French and English are also common. Beau Vallon is 5 km from Victoria, on the other side of the island, and is wonderful for swimming/snorkeling/diving.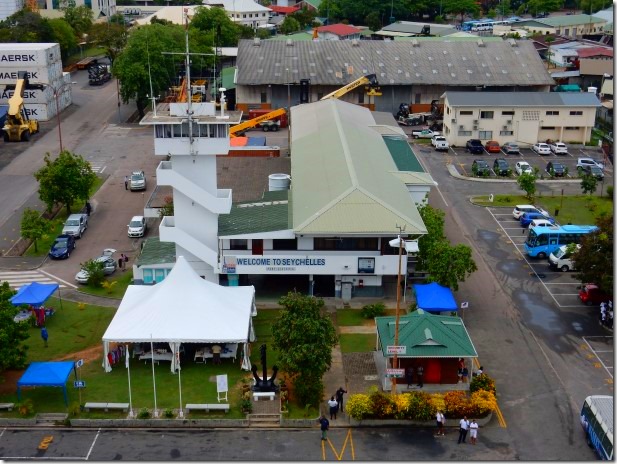 Travel Tips for Victoria and Mahe:
There were a few small tour operators in the port waiting for cruise passengers to disembark for the day and provide guided tours to various parts of Mahe.
No shuttle into town from port during our stop
20 minute (1 mile walk) from the port into the center of Victoria – the clock tower marks the center of town
Taxi tours for 4 hours were being negotiated to euro 80 or about US$120 (could take 4 passengers)
Taxi tour to Beau Vallon Beach for 1 hour cost US$50
Taxis outside the port gate (5 minute walk from ship) costing about euro 15 one way to Beau Vallon Beach
Public bus from Victoria bus station to Beau Vallon Beach cost 5 Seychelles Rupees or about US 0.36 cents each way – Great Deal and fun to be with the locals!
Currency Exchange office across street from bus station in Victoria – open on a holiday when all others were closed. Exchange rate: US$1 = 14 Seychelles Rupees
Public buses only take local currency and tickets are bought on the bus.
Every bus trip is 5 rupees per segment (ride one stop or to end of line for same price)
Taxis and tour operators will take euros and US$ – negotiate a price first for where you want to go and what you want to see
Most locals speak English and are very friendly
The island is beautiful and lush, but very laidback and quiet – no high-rises or strings of hotels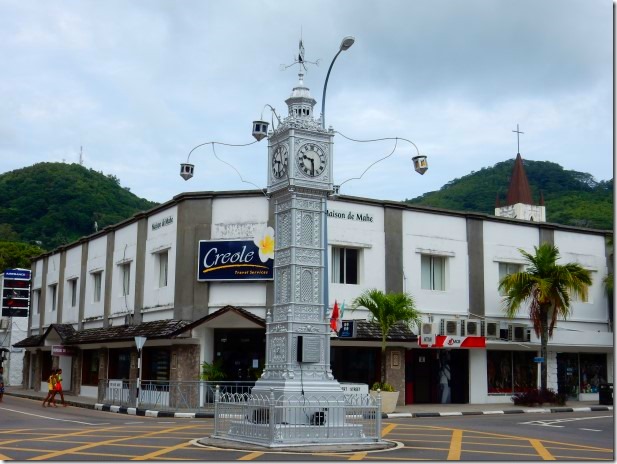 WJs Day:
After five days at sea and a couple of them being rather rough while Holland America Line ms Rotterdam skirted around Cyclone Nilofar, we were happy to be back on land and explore Victoria on Mahe, Seychelles. Unfortunately, we arrived on a holiday (All Saint's Day) and most shops on the island were closed but, we still wandered through the streets of Victoria. The walk from the tiny port into the town took about 20 minutes (taxis were available for those in need) and was quite pleasant.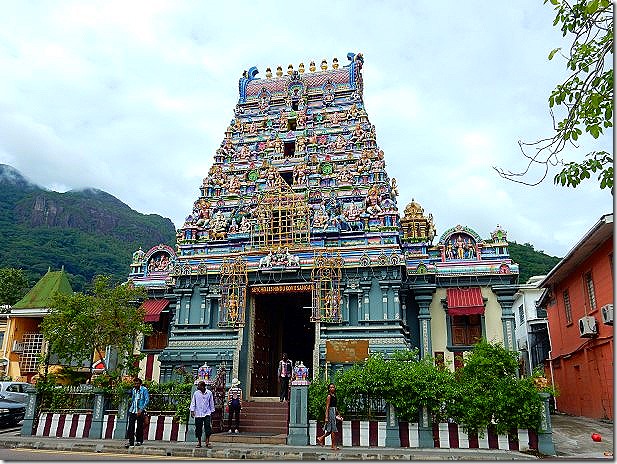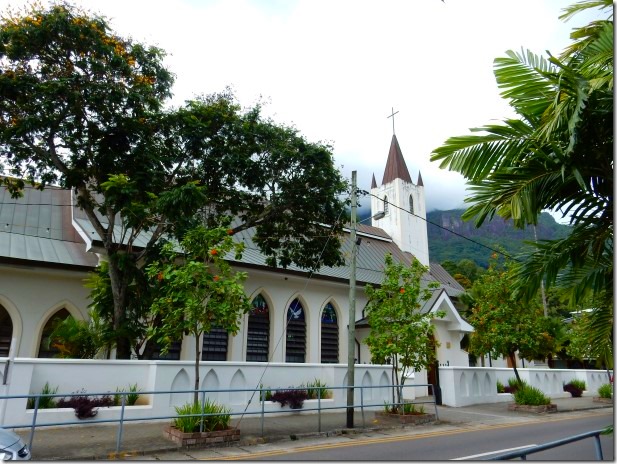 We decided to take a public bus to Beau Vallon Beach (5 km away) so found where the bus station was located on the far side of town (another 10-minute walk). Public buses only take local currency (Seychelles Rupees) and we hadn't been able to find a currency exchange that was open, luckily other passengers pointed us in the right direction and there was one open across from the station. We changed US$3 and got 41 rupees. The bus cost was 5 rupees each segment so we needed 20 rupees for the two of us to go to Beau Vallon and back – dirt cheap! Buses run every 30 minutes and take about 20 minutes to reach the beach, then it was a few minutes walk to the gorgeous white sand beach and sparkling turquoise water that was almost as warm as a bathtub.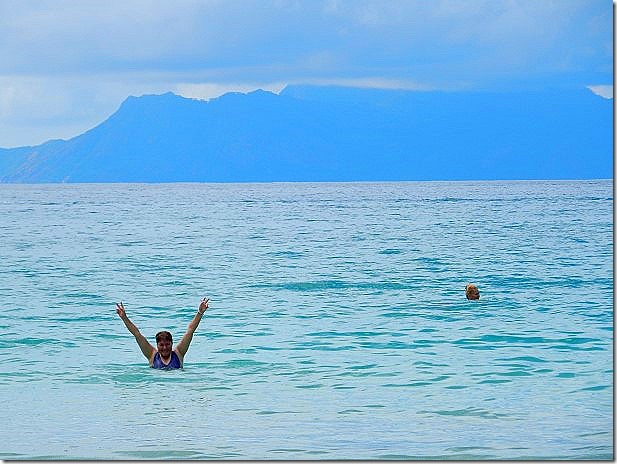 Our afternoon was spent between sitting under a huge tree on the beach and taking it in turns swimming in the ocean. Stupid us… we totally spaced out how strong the sun is at the equator and burned ourselves to a crisp. Even being under the tree (where we thought we'd be protected) didn't help with the sun bouncing off the sand.
The bus ride back to Victoria bus station was easy and on time, and then we once again wandered through the town back to the port. Once again, we hadn't been able to find an internet connection that would work, so still no contact with the rest of the world.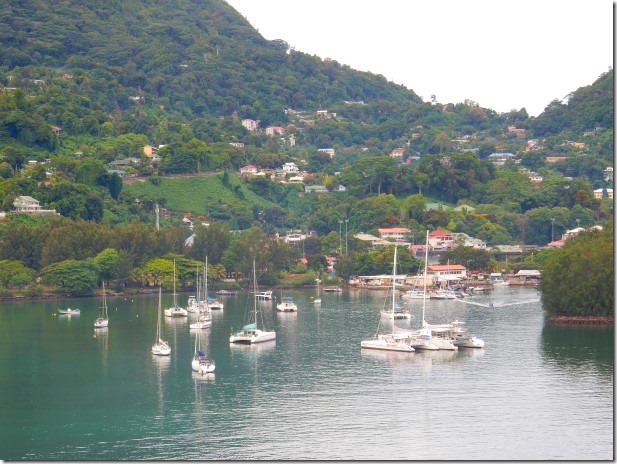 Sail away from the Seychelles was around 6:00 PM, just as the sun was setting, which gave the island an even more beautiful glow.
Tonight in the Showroom at Sea – first at 9:30 PM was "Call My Bluff Game Show" and then Filipino Crew Show at 11:00 PM.