Day 29: Abu Dhabi, UAE with Holland America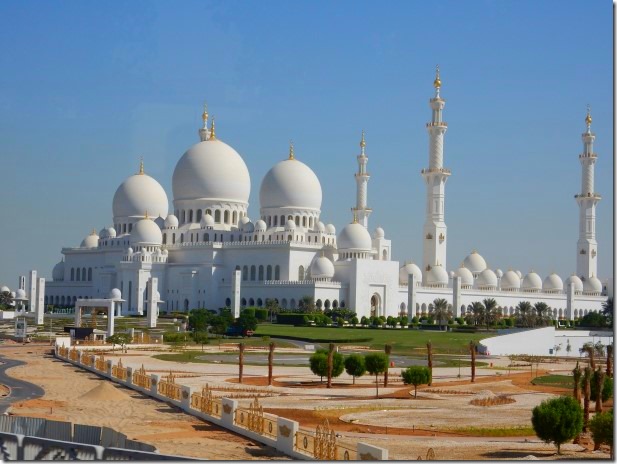 Day 29: Abu Dhabi, UAE with Holland America
Holland America Africa Explorer Cruise – 49 Days from Rotterdam to Cape Town
Date: Saturday October 25, 2014
Weather Forecast: Sunny; 35 C/96 F
In Port: 8:00 AM to 11:00 PM
All Aboard: 10:30 PM
Dress Code: Smart Casual
Location Information:
The United Arab Emirates (UAE) is situated on the Arabian Peninsula with Oman at the southern border, and Saudi Arabia on the eastern border. The UAE is made up of seven federations (emirates) formed in 1971, with Abu Dhabi being the largest. Each emirate has their own sheik. Oil was found in Abu Dhabi in 1958 by the British and Americans – they started searching for it in the 1930s. Abu Dhabi means Father of the Deer – Abu means father; Dhabi means deer or gazelle. The traditional sport of the UAE is falconry (falcons were brought to the UAE by the British). Drinking and potable water in Abu Dhabi comes from the Arabic Gulf and is desalinated; plus bottled water from other countries is brought in.
Language: Arabic
Currency: Dirham (US$1 = 3.67 Dirham at time of posting)
Holland America ms Rotterdam docked at Zayed Port in Abu Dhabi, UAE. This port was built in 1967 and named after the first president of the country (also considered to be the father of the country).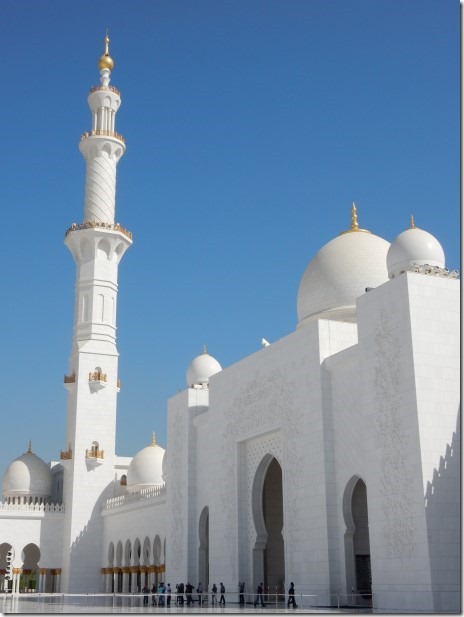 From "today On Location" program:
Due to the Islamic New Year Holiday, there is a restriction to serve alcohol across UAE on October 24th until Sunset October 25th. Therefore, today in Abu Dhabi, during day time, alcohol won't be available.
Port Shuttle Service:
A shuttle service was provided by the port of Abu Dhabi from Zayed Port (built in 1967 and named after the first president of the country) to Marina Mall. This service began at 8:30 AM and ran continuously throughout the day. Travel time was approximately 15 minutes and the cost was US$24 per person round trip (charged to onboard account).
WJs Day:
– Abu Dhabi Highlights. 4 hours. US$59.95. (35 passengers on our bus)
Excursion Description: Start with a photo stop at the Sheikh Zayed Grand Mosque. At the Heritage Village see the culture and traditions of the Emirates reflected in recreated village scenes. Stroll along the breakwater for breathtaking views of Abu Dhabi's skyline. Visit Manarat Al Saadiyat, a visitor center designed to bring the extraordinary vision of the island alive through scale models.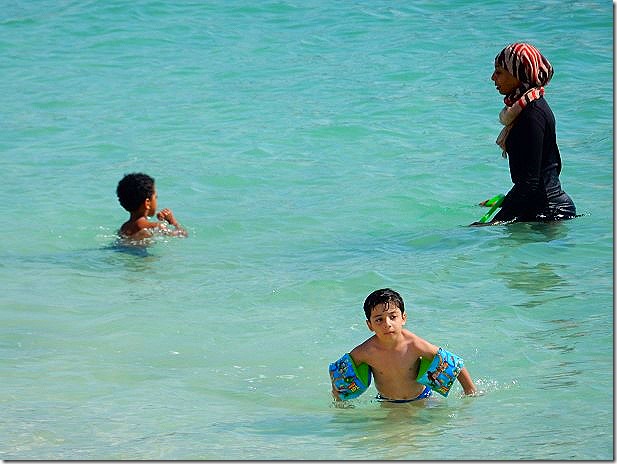 Note: Very strict dress code while visiting or even for photo stops in front of Sheikh Zayed Mosque. When visiting the Sheikh Zayed Grand Mosque, loose fitting clothing that covers the shoulders and has long sleeves reaching the wrists, as well as long trousers or skirts reaching the ankles are a must. Visitors with tight or transparent clothing are not permitted entry. Ladies must carry a headscarf. Shoes must be removed before entering the Mosque.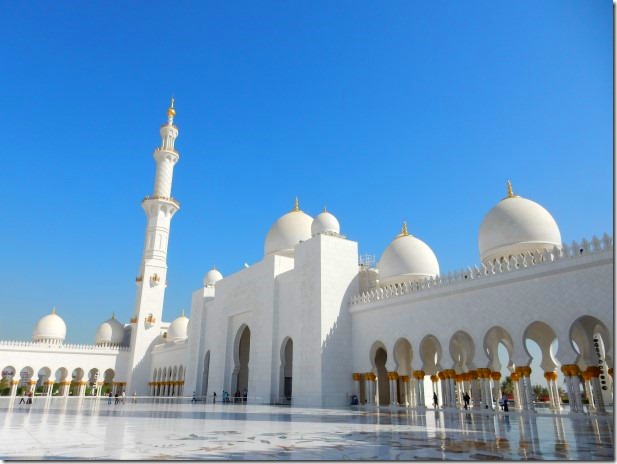 The Holland America Line shore excursion tour bus we were on departed from the Cruise Terminal at Zayed Port on time at 9:00 AM with local guide Fatiha (originally from France but living in UAE for 4 years). Our drive to the Sheikh Zayed Grand Mosque (first stop for a photo) took about 25 minutes (traffic was very light with it being a holiday in the city), and then our group had 30 minutes outside. We decided that we wanted to see the inside of the mosque and with plenty of time to do so we left our group and took off on our own. We were very glad that we did as the mosque is impressive both inside and out – some of the most impressive chandeliers we've seen. The mosque took more than 3,000 workers over 11 years to build, and is made with white marble from China, Italy and Macedonia. Clocks are from London, England, and it houses the biggest carpet in the world which was made in Iran from wool and cotton (5,100 sq. m/50,000 sq. ft.).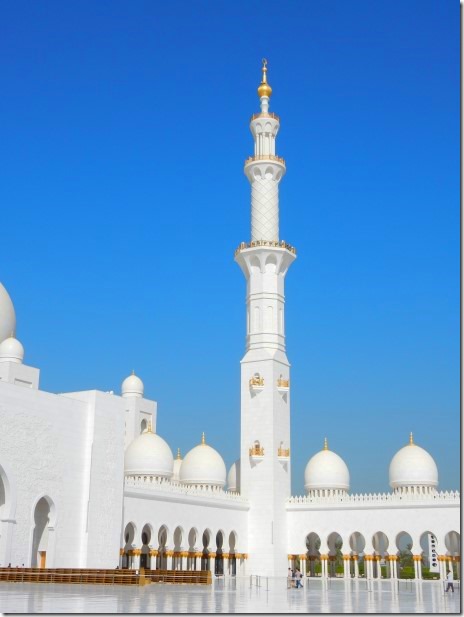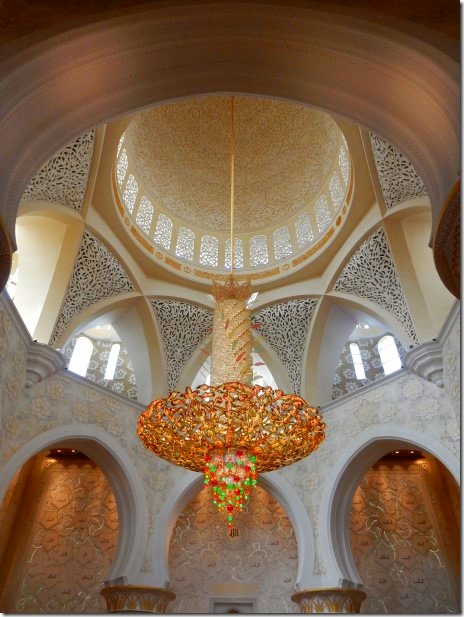 After the photo stop, our tour bus continued on its sightseeing route – driving towards the Emirate Palace Hotel which opened in 2005, and Sheik Khalifa's Palace. We continued driving past these sights and along Al Bateen and Khalifa Al Mubarak Streets, with their elaborate mansions.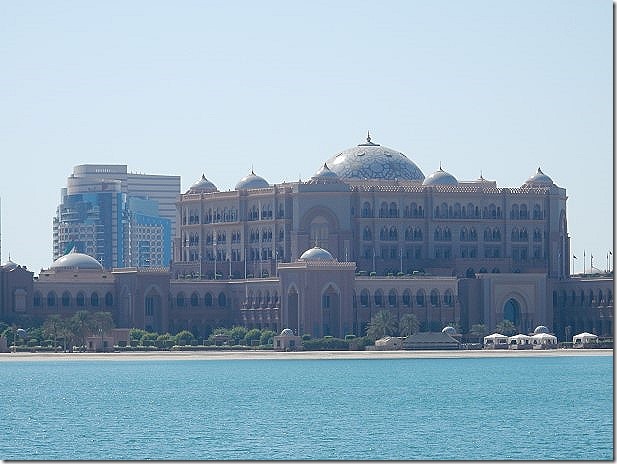 Our next photo stop was to see the skyline of Abu Dhabi, the Emirates Palace Hotel (with its 1km long sand beach that was brought in from Algeria), and Sheik Khalifa's massive new palace (that will be ready in 2015).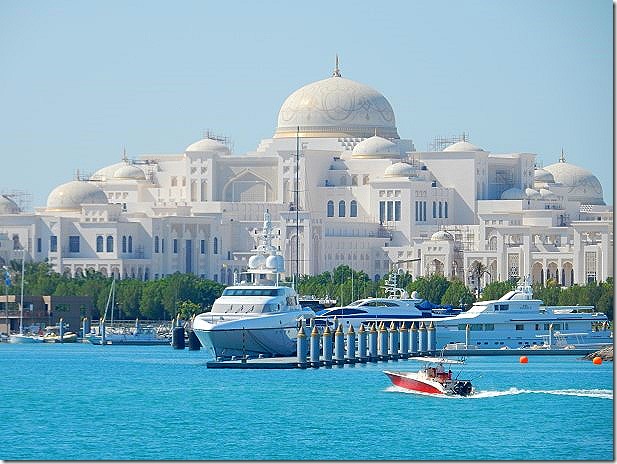 Continuing the sightseeing driving tour took us past the Abu Dhabi Sailing & Yacht Club before we stopped for another photo stop next to a public beach where mainly tourists were swimming in the turquoise water.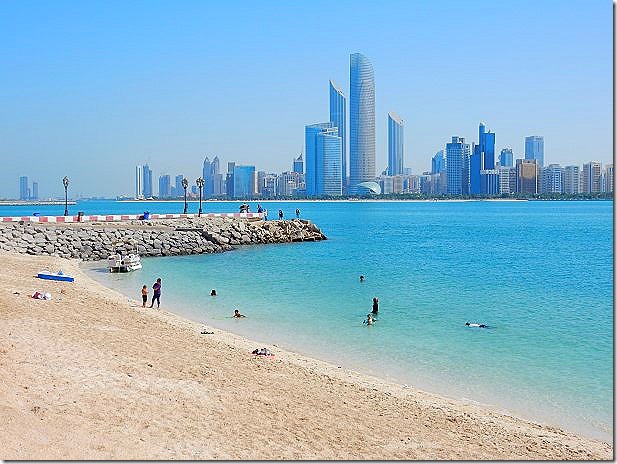 A museum visit was included, which we very much enjoyed. The tour was supposed to take us to the Heritage Village (closed due to the holiday), but was substituted with Qasr al Hosn Exhibition. Our guide Fatiha gave us a tour inside for 50 minutes and showed us the amazing transformation of Abu Dhabi from a tiny desert village to the expansive city it is today.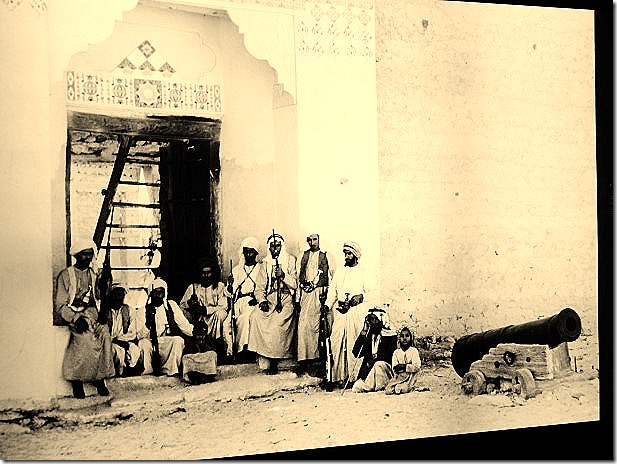 The last stop on our tour was at Saadiyat Island – still under construction and not scheduled to be completed for at least a decade. Here we visited an exhibition (a very good sales pitch for what the island will be transformed into) that showcased development projects – next year a Louvre, Guggenheim and other museums will open; plus massive resort facilities in the works to cater to the very rich – before arriving back at ms Rotterdam at 1:00 PM. This was an excellent tour and well-worth the time and cost.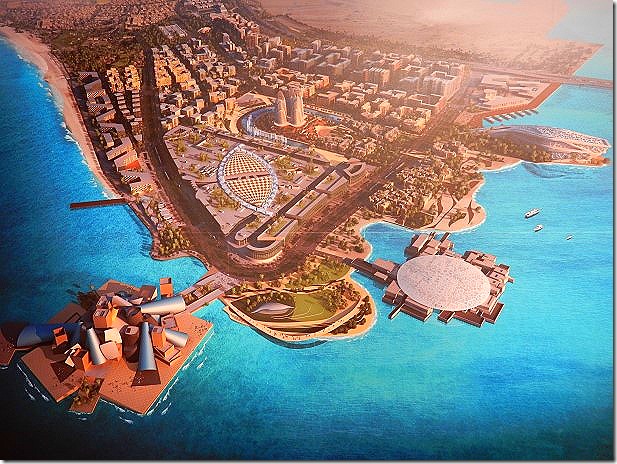 The remainder of our day was spent trying to use the free WiFi in the Abu Dhabi Cruise Terminal – too slow and too many people using the system. We found all of our email servers, social media sites and many websites were blocked – censorship is alive and well in this part of the world!