Day 30: Dubai, UAE with Holland America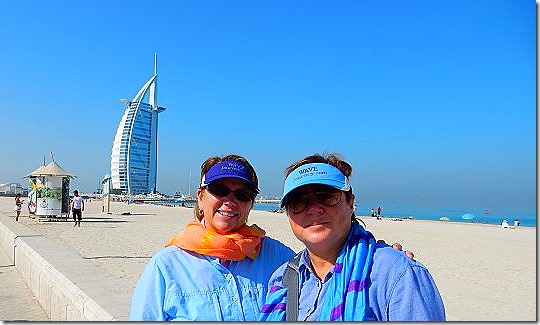 Day 30: Dubai, UAE with Holland America
Holland America Africa Explorer Cruise – 49 Days from Rotterdam to Cape Town
Date: Sunday October 26, 2014
Weather Forecast: Sunny; 33 C/92 F
In Port: 8:00 AM to 9:00 PM
All Aboard: 8:00 PM
Dress Code: Smart Casual
Disembarkation port for some Rotterdam and Southampton passengers. Embarkation port for new passengers sailing to either Cape Town or all the way back up to Southampton and Rotterdam.
Location Information:
In 1979 Dubai was just desert, today it is the second largest emirate in the United Arab Emirates (UAE), behind Abu Dhabi – which is 162 km south. Although Dubai has no oil and gas, it does have the second largest economy (again, after Abu Dhabi); and makes revenue from other sectors – tourism ($4 billion) and trade with other countries being the major sectors. 700,000+ passengers are expected to visit as cruise passengers from October 2014 to April 2015. The population of Dubai is 168,000 locals (Emiratis) living in the city with 2.5+ million foreigners. It has only been mandatory for girls to go to school since 1971 – it was only boys that were sent to school before then.
Religion: Islam
Language: Arabic (although everyone speaks English)
Currency: Dirham (US$1 = 3.67 Dirham)
From "today On Location" program:
Ship's ID (room key card) and Landing Card must be kept in your possession at all times when going ashore today. Landing cards duly stamped by Port Security on arrival will be handed to each guest at the gangway. These cards have to be presented going ashore at the Port security and Terminal exit/entrance and at the Port Main gate. Failure to present this card will result in being detained until the ship is contacted and cleared. Only one card per person will be issued, and kept with you from arrival until you come back to the ship. Duplicate cards cannot be obtained.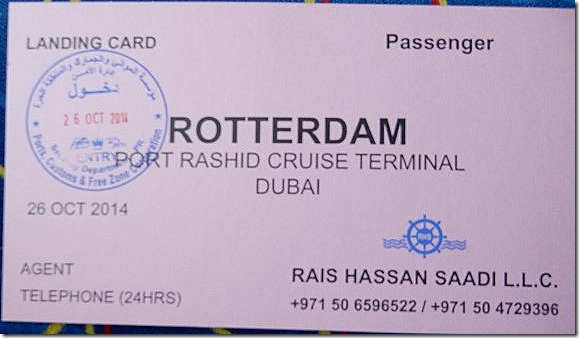 Port Shuttle Services:
Shuttle services were provided by a few shopping malls to take passengers to/from the ship. The free services began at 8:30 AM and ran continuously throughout the day. Travel time was approximately 30+ minutes.
Holland America Line Shore Excursion: Dubai Highlights. 4.5 hours. US$59.95. (35 passengers on our bus)
Excursion Description: See the Burj Al Arab, the world's tallest water-based all-suite hotel from the outside. The tour continues to Jumeirah, the picturesque palace and residential area of Dubai, also home to the famous Jumeirah Mosque for a photo stop. Next is the old part of Dubai with winding alleys and old merchants' houses cooled with wind towers. Visit the museum located in Al Fahidi Fort. Take the water taxi to the spice market and shop in the gold souk.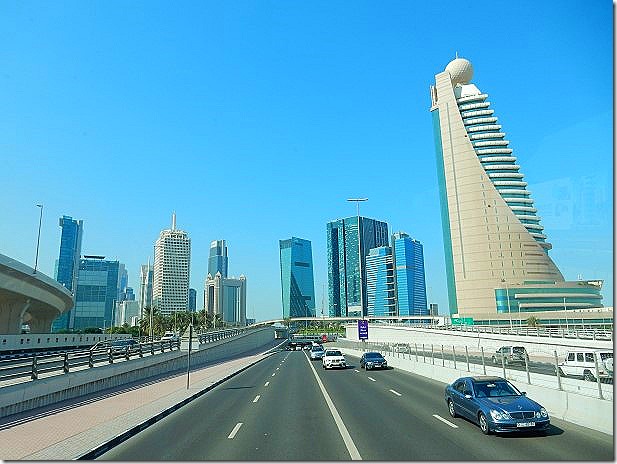 WJs Day:
Today we were sad to see so many new cruise friends leave Holland America Line ms Rotterdam in Dubai, but hope to keep in touch and see them again someday. Of course there were also a few passengers that we were glad to see the last of (bound to happen on any trip), and now we have about 500 new people that joined us for either the leg to Cape Town, or continuing all the way back up the west coast of Africa to Southampton or Rotterdam.
Our Dubai Highlights Tour departed the Dubai Cruise Terminal (orange bus 2) at 8:50 AM with a local guide, Ammar, who is originally from Tunisia, and driver who is originally from India (apparently most taxi and bus drivers are either Indian or Pakistani).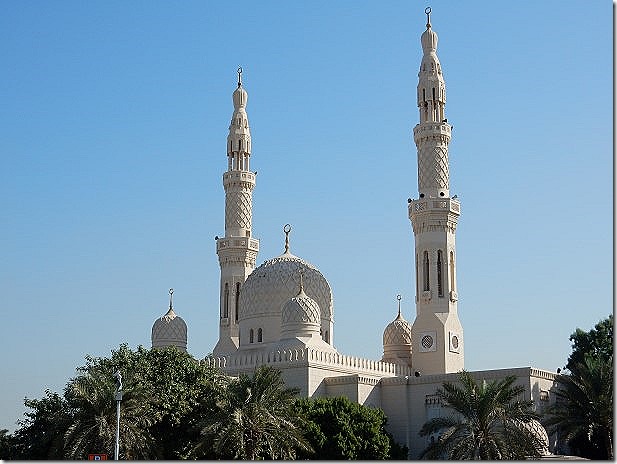 The first photo stop was at Jumeirah Mosque for 10 minutes – not enough time for us to sneak off and take a look inside.
Continuing on we went past the Dubai Zoo (which opened in 1967), the Mercato Shopping Center and along Jumeira Road. We noticed that everywhere was very clean and lots of new construction. It was especially interesting to see the air-conditioned bus stops along the roads (much needed in 40 to 50 C temperatures). We were quite surprised to see the endless private medical and dental clinics (most of them were touting plastic or cosmetic surgery) lining both sides of the streets on the way to the Burj Al Arab Hotel for a photo stop.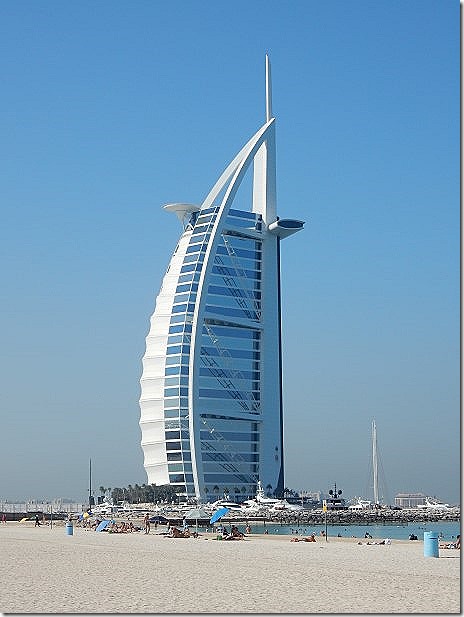 Although we saw lots of public beaches, private beaches, resort beaches and Royal family beaches during our drive, our guide explained that local people don't go to the beach – that's for tourists and foreigners. The local Emirati people go to swimming pools where the men and women are in separate areas.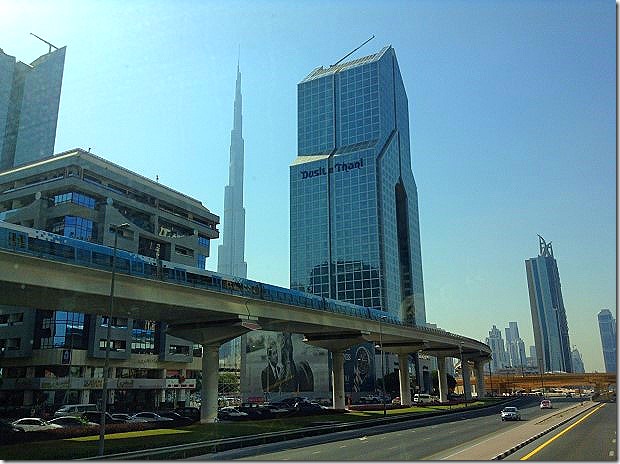 Making our way back to the other side of Dubai, for a visit to the Dubai Museum, we saw the Twin Towers, Emirates Tower, Burj Khalifa (world's tallest building), endless swank hotels, various embassies, and the Trade Center. Our 50-minute visit at the Dubai Museum was quite good, but very crowded with many tour buses (not just from our ship) there at the same time.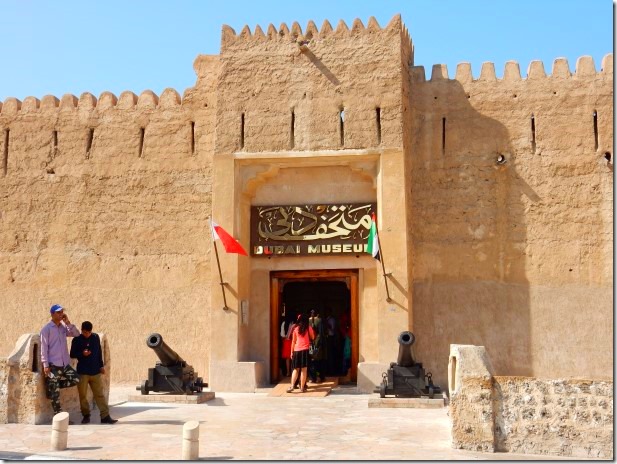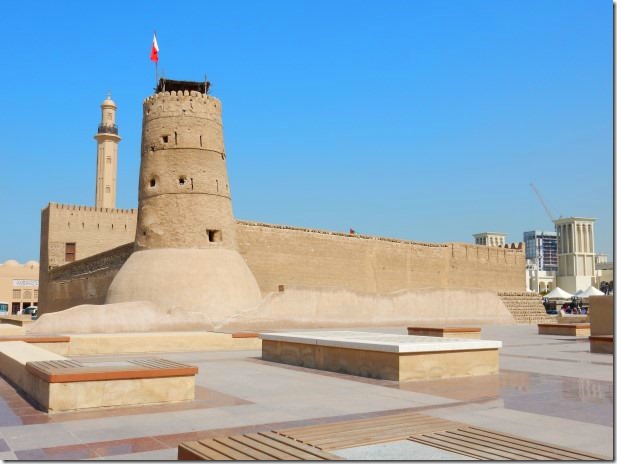 Following the museum we had a short drive to Dubai Creek to take a water taxi across to the Spice Market. The few minutes (5) we spent on the water taxi were our favorite of the entire tour and we wish that part had been much longer – the view of the city from the creek was stunning.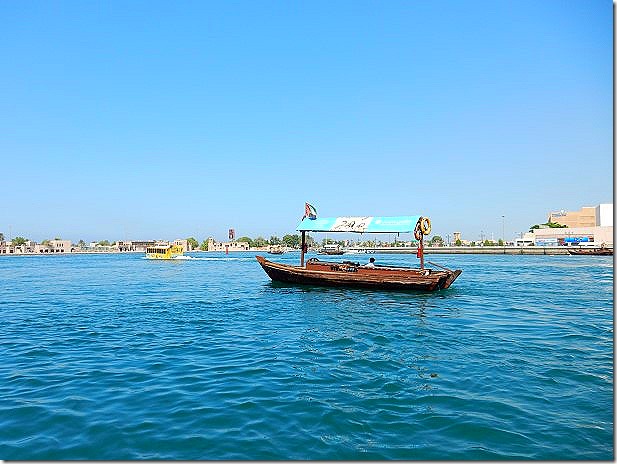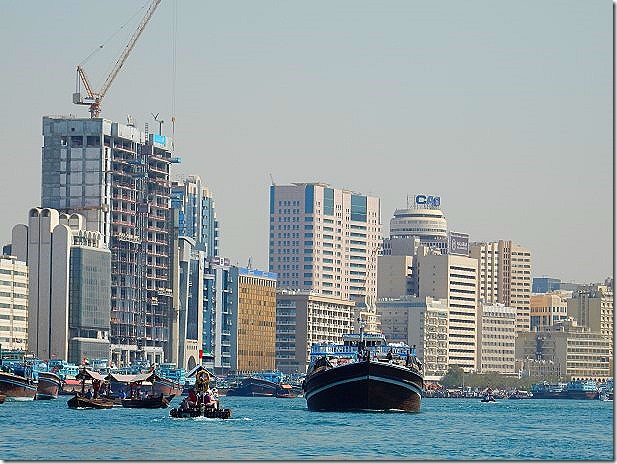 We had 20 minutes to wander the Spice Market on our own – which had lots of frankincense and spices (similar to what we had seen in Salalah, Oman), before strolling to the Gold Souk – where we had far too long (almost an hour) for shopping.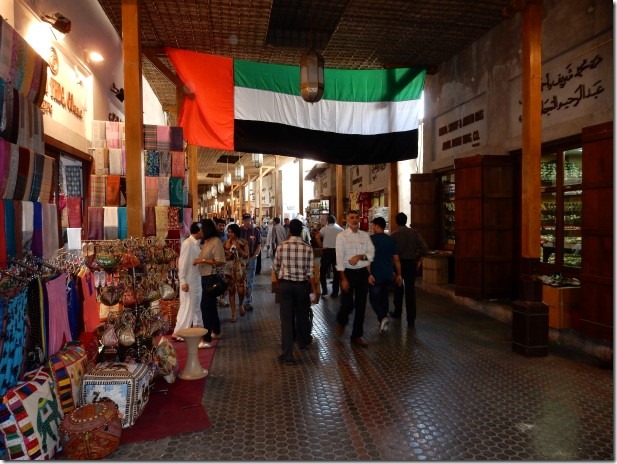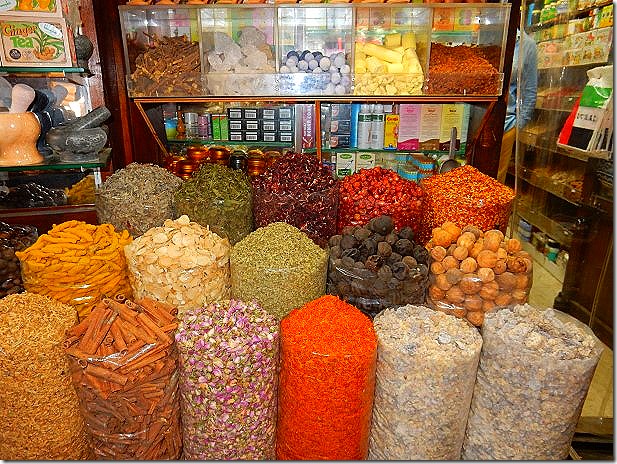 The Gold Souk was interesting for about 10 minutes, and then everyone in our group was waiting for the guide to return as nobody was interested in making purchases.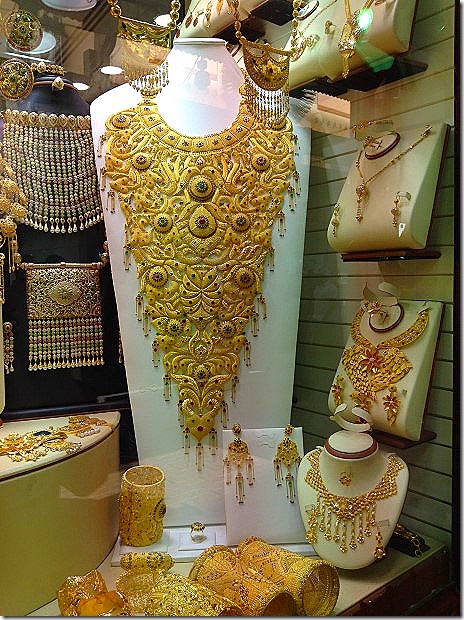 By 1:00 PM we were back aboard ms Rotterdam, and had a quick lunch before venturing back into the city on a free shuttle (with our laptop) to search for WiFi that worked. Although the Dubai Cruise Terminal had free WiFi, it was either too slow or wouldn't connect (again too many people using it). Thankfully, we were able to get on the internet (and have a great cappuccino at Second Cup) and take care of some business before heading back to the ship. We feel like we've been in a technology time-warp for the last few weeks (last time we had decent WiFi and able to get into our email accounts on shore was in Greece) – it has been a real challenge with so many blocked sites.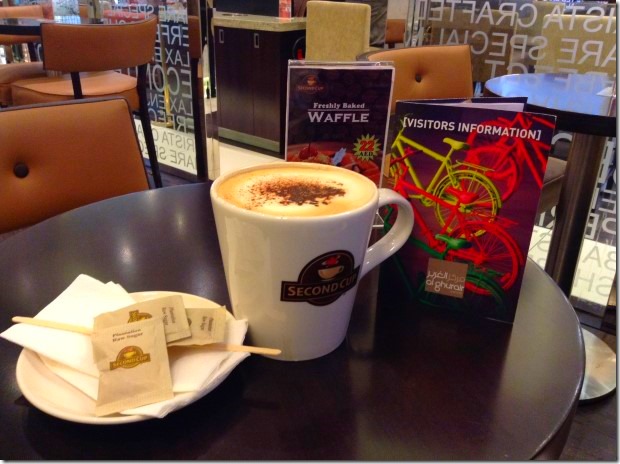 Our time in Dubai had been shortened (originally supposed to be in port until 11:00 PM) for all aboard at 8:00 PM and sail away at 9:00 PM due to trying to avoid Cyclone Nilofar, and a mandatory muster station drill for all passengers at 7:30 PM. So, that changed our plans to be in the city in the early evening to see the fountains at Burj Khalifa and take a taxi around the city at night.