Travel Tips, Tales, Deals and Steals March Newsletter
March 2013
Travel Tips, Tales, Deals and Steals March Newsletter
Greetings,
This month's Travel Tips, Tales, Deals and Steals March Newsletter brings you travel tips for a variety of destinations and activities.
Have you booked your trips for this year? If not, you may find travel inspiration in the below articles about the foodie scene in Montreal, Canada, cheese in France, travel tips for flying business class, travel tales from Mexico and India, plus a Southern Caribbean cruise review.
If you need recommendations for a specific destination or style of travel (cruises, group tours, etc) be sure to peruse the archives to get your travel juices flowing. And, don't be shy to email Viv and Jill with your questions.
Take a peek at the travel deals, news and contests listed below. (You just might find yourself travelling sooner than later with all the terrific featured destinations)
Now it's time to settle in for some armchair travelling…
Happy Travels,
Viv and Jill
AKA: WJ
WAVEJOURNEY RECOMMENDED – DISCOVERING MONTREAL'S FOODIE DELIGHTS WITH RONALD POIRE
WJ Tested by Viv and Jill
Montreal is known for being Canada's foodie capital, and those of you that follow WAVEJourney on a regular basis know that we (Viv and Jill) love to eat great food on our travels around the world. So when we were invited to visit the cosmopolitan city of Montreal in the province of Quebec (shame on us for not visiting before) we jumped all over the idea for a number of reasons – 5 of the food-related being…
READ MORE
TRAVEL TIP: INTERNATIONAL BUSINESS AND BUSINESS CLASS TRAVEL
Advantages and Suggestions for Flying Business Class – Benefits Beyond a Better Seat, Meal and Wine Selection
By Jeannette & Dan Dudek
Flying Business Class provides benefits beyond a better seat, meals and wine selection. Typically you get priority check-in, priority baggage handling, increased no-charge check baggage limits and priority security screening. When you go from the ticket counter to the express security check-in and to the Business Class Lounge to wait for your flight, you realize the difference from flying Coach – and you appreciate the difference! This article provides insights on traveling Business Class and suggestions to reduce your cost of traveling internationally when on Business assignments.
READ MORE
TRAVEL TALES: FOODIE FINDS IN FRANCE: THE WONDERFUL WORLD OF ALPINE CHEESE DISHES
By Leyla Giray
If you've ever spent a day skiing in the Alps of France or Switzerland, you've probably sat with friends around a piping hot dish of fondue, a velvety mixture of melted cheeses with a bit of alcohol thrown in.
Rumor has it that fondue originated in Switzerland although the debate rages on. There's more agreement on the origins of the fondue's recipe: it first appeared in 1825 in Frenchman Brillat-Savarin's Physiology of Taste, the gastronomic book classic.
Don't be fooled by simplicity though, because fondue can be so much more than cheese.
READ MORE
TRAVEL TALES: BEWARE THE BLOWHOLE! A FUN DAY AT LA BUFADORA, ENSENADA, MEXICO
By Patti Morrow
"Ole!" giggled a flock of small children as they were once again pelted by the spray from the world's second largest natural blowhole.
La Bufadora, from the Spanish word "bufar" which means "snort," is a must for any Ensenada itinerary. You can easily spend hours here enjoying a variety of activities.
About 20 miles south of Ensenada, the third largest city in Mexico's Baja California, lies the famed natural site at the end of the Punta Banda peninsula. The drive itself is enough to attract visitors, a paved, winding road revealing panoramic cliff-top vistas of Ensenada Bay and Todos Santos Island.
READ MORE
TRAVEL TALES: CRUISING THE SOUTHERN CARIBBEAN ON CELEBRITY SUMMIT
By Jeannette & Dan Dudek
Even if you're not one of the rich & famous, you will still be treated as a celebrity with Celebrity Cruises!
Years ago, the saying "only the newly wed and almost dead" took cruises, may have been valid. However, today, cruising has been discovered by many generations as an ideal vacation. Multi-generations can even enjoy the same cruise.
On the luxurious cruise ships of today, numerous activities go on simultaneously, something for everyone regardless of age. Just choose what interests you. Or you can just lie on the sundeck enjoying the fresh sea air and the pleasant sounds of the on-board singers and musicians. No matter what you do, even if nothing at all, you can be assured you will be treated as a celebrity. From your cabin steward, waiters, bar and pool and spa attendants to the cruise director, staff and officers, you are treated like royalty. "Your wish is my command" comes to mind. The staff and crew please you in every way possible.
READ MORE
TRAVEL TALES: A LOVE TRIANGLE – INDIA'S GOLDEN TRIANGLE IN 7 DAYS
By Cherie Thiessen, Photos by David Dossor
When you visit India, whether for a day or a year, the first thing you have to do is shake the moths out of the way you think. Everything needs to be re-defined, and isn't that actually a good thing? Sort of like cleaning out the basement? So when our small bus is rolling down the freeway from Delhi to Agra, on the first leg of what's commonly called "The Golden Triangle", we quickly re-define 'freeway'. Freeway: a road where you can travel freely in any direction and fit into any space that's free in that particular second.
The shriek goes up from the bus's 22 passengers, definitely louder in the front half where occupants have a clearer view of the much, much larger bus that is about to hit us.
READ MORE
TRAVEL CONTESTS
TRAVEL DEALS
FROM THE ARCHIVES: EXPLORE NORWAY'S FJORD REGION
Fancy a fjord? There is no better place to start exploring than in Bergen, Norway. Dubbed "The Gateway to the Fjords of Norway", Bergen is the perfect jumping off spot for a Western Norway adventure.
READ MORE
VISIT OUR SPONSORS
Welcome to your One Stop Writing Shop!
Need help turning your ideas into words and your words into winners? Linden Gross is a bestselling writer and acclaimed writing coach. From books to web content to blogs, Linden and her team of specialists will write, publish and market whatever you need or help you do it.
Let a bestselling writer enhance your project as a writer, editor, writing coach, blog coach
Contact Linden Gross for more details.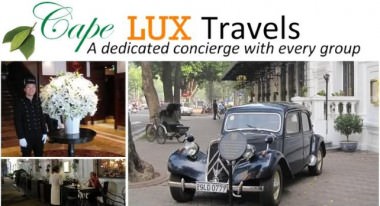 Cape Lux Travels
For more information about Cape Lux Travels trips to Vietnam contact Jean Wethmar –  [email protected]

Arizona Real Estate Expert, Peggy Young