Travel Tips, Tales, Deals and Steals June Newsletter
June 2013
Travel Tips, Tales, Deals and Steals June Newsletter
Greetings,
Are you up for a sailing trip on the Schooner Zodiac in July? If you want to sample some of the Northwest's newest distilleries, eat fresh seafood and sail aboard a historic wooden schooner, this trip is one you should take. Even better… WAVEJourney.com friends get a 20% discount! Only a few spaces are left, so book now and have fun sailing in the San Juan's off the Washington coast.
Want to know what we really thought of our recent Insight Vacations Italian Escapade tour? Check out our article "Living La Dolca Vita" for all the details.
We are often asked for our recommendation for an agent for booking hotel barge and river cruises, our go-to specialist is Beth Hanson of CanalBargeCruises.com. In fact, Beth and her husband, Jack, are celebrating 25 years of specializing in barge cruises and France. So if you have any questions about barge or river cruises in Europe, do what we do and contact Beth – don't forget to tell her you're a friend of WAVEJourney!
Keep reading to find out what this month's Travel Tips, Tales, Deals and Steals June Newsletter brings you. Be sure to continue following us on Facebook and Twitter for our daily updates, photos and ongoing adventures!
If you need recommendations for a specific destination or style of travel (cruises, group tours, etc) be sure to peruse the archives to get your travel juices flowing. And, don't be shy to email Viv and Jill with your questions.
Happy Travels,
Viv and Jill
AKA: WJ
WAVEJOURNEY REVIEW – YOTEL AMSTERDAM SCHIPHOL
When you need a comfortable, convenient, cozy and clean place to spend either just a few hours or an entire night at Amsterdam Schiphol airport, Yotel comes to the rescue!
TRAVEL TALE – FINE DINING IN NEW ORLEANS
Local Gourmet Cuisine at Ralph's on the Park Restaurant in New Orleans
By Jeannette and Dan Dudek
While planning our getaway to New Orleans we decided to find an upscale restaurant that specialized in serving local gourmet cuisine, one outside the touristy French Quarter. After some basic investigation we quickly had a short list of about a dozen fine restaurants. Our criteria for selecting the one for our special dining experience specified that the restaurant had to have consistent rave reviews, serve unique dishes based on local cuisine, be housed in a historic building and be within a 10-minute drive of the French Quarter. Ralph's on the Park clearly stood out as the restaurant we had been seeking.
TRAVEL DEAL – PILATES IN VIETNAM
Cape Lux Travels is thrilled to introduce the fully escorted Pilates Tour to Vietnam with Pilates Instructor, Elsabé de Wet. This tour is aimed at developing your inner strength, while discovering some of the timeless Charms of Vietnam. "In ten sessions, you will feel the difference, in twenty you will see the difference, and in thirty you will have a whole new body" – Joseph H. Pilates. We will be visiting some of Vietnam's favorite cities – Saigon, (HCMC) to the very picturesque, coastal city of Nha Trang. Then onto the splendor of ancient UNESCO town Hoi An, and finishing in Hanoi.
TRAVEL DEAL – 20% DISCOUNT FOR WAVEJOURNEY.COM FRIENDS – ISLAND SPIRITS AND SEAFOOD CRUISE
Four days of summer sailing into the archipelago of Washington State's San Juan Islands. Visit some of the family-run operations and sample their products. Our onboard cook Ian Relay, will offer up northwest cuisine that complements such concoctions as "Red Sky at Night" and "Madrona Bark Brandy".
TRAVEL EVENT – LAKE TAHOE SUMMERFEST
SummerFest is a classical music series bringing instrumentalists from around the nation together under the majestic pines of Lake Tahoe, and takes place Fridays and Sundays between Aug. 2-18 at Sierra Nevada College in Incline Village, Nev. Musicians of the Lake Tahoe SummerFest Orchestra are drawn from the New York Metropolitan Opera Orchestra, San Francisco Symphony, Los Angeles Philharmonic, Seattle Symphony and other exceptional orchestras throughout the world.
TRAVEL FUN – SISTERS RODEO
Do you love going to the rodeo? Well apparently we do! WAVEJourney was thrilled to attend the 73rd Annual Sisters Rodeo and here are a few photos and a couple of short videos to prove it.
READ MORE.
VISIT OUR SPONSORS
Welcome to your One Stop Writing Shop!
Need help turning your ideas into words and your words into winners? Linden Gross is a bestselling writer and acclaimed writing coach. From books to web content to blogs, Linden and her team of specialists will write, publish and market whatever you need or help you do it.
Let a bestselling writer enhance your project as a writer, editor, writing coach, blog coach
Contact Linden Gross for more details.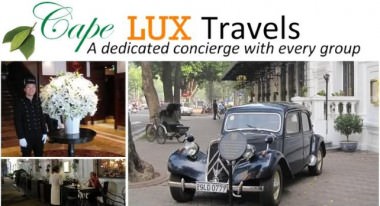 Cape Lux Travels
For more information about Cape Lux Travels trips to Vietnam contact Jean Wethmar – [email protected]

Arizona Real Estate Expert, Peggy Young