Travel Tips, Tales, Deals and Steals July Newsletter
July 2013
Travel Tips, Tales, Deals and Steals July Newsletter
Greetings!
We just returned from our second sailing trip (Nauti-Girls cruise was our first) in the San Juan Islands aboard the historic Schooner Zodiac, based out of Fairhaven, Washington. This adventure is definitely bucket list material for anyone (all ages and from complete sailing novices upwards) that seeks unique experiences, loves being out in nature and wants to sail the San Juan Islands. The Zodiac has a variety of themed cruises, so there's always something scheduled to interest all would-be passengers.
Next we are off to Salt Lake City and the Outdoor Retailer Show (the largest summer outdoor show of its kind – it's HUGE!), where we will meet with a gazillion product companies to learn about the greatest, latest and newest in outdoor gear, gadgets, clothing and technology. Stay tuned for our reports – there's bound to be some really fun and exciting gear to add to your wish list! (P.S. WAVEJourney newsletter subscribers will automatically be entered to win some fun swag from OR)
Be sure to continue following us on Facebook and Twitter for our daily updates, photos and ongoing adventures! And if you need recommendations for a specific destination or style of travel (cruises, group tours, etc) be sure to peruse the archives to get your travel juices flowing.
Happy Travels,
Viv and Jill
AKA: WJ
WJ RECOMMENDED: SCHOONER ZODIAC SAN JUAN SAILING
Viv and Jill spent 4 days on a Spirits and Seafood cruise in the San Juan Islands aboard Schooner Zodiac. Included in the itinerary were visits to James Island, Lopez Island and Roche Harbor on San Juan Island.
Sometimes the second time around is even more exciting than the first! Well, that's just how we felt as we joined Schooner Zodiac for the 4-day Spirits and Seafood Cruise, our second trip aboard this historic wooden tall ship.
TRAVEL TALE: TIPS FOR RECREATION IN OREGON'S ROGUE VALLEY
By Patti Schulz Maghamfar
The Rogue Valley offers mountain hiking, biking, white water rafting, fishing, golfing, wine, cheese and chocolate tasting, boutique shopping and antiquing.
Founded in 1937, Ashland, Oregon is an eclectic community with an abundance of small town charm and the cultural sophistication of a metropolitan city; a year-round playground that attracts 250,000+ visitors each year. And while many of those visitors are enticed by the world-renowned Oregon Shakespeare Festival, once here – visitors discover there is so much more to Ashland, and the surrounding Rogue Valley, than what they expected.
TRAVEL TALE: ROCK FISHING IN CHESAPEAKE BAY
By Dan Dudek
If you fish, you should consider rock fishing in the Chesapeake Bay!
When someone asks if you want to go fishing for "rocks", how do you respond? A second cousin who I only see on rare occasions asked me this question. I never was much on fishing. Even for the four or five years my wife and I owned a fish and ski boat we went fishing only three or four times. I do remember catching at least two fish while we had the boat. The fish were largemouth bass… and they were huge! (almost a foot long)…
WJ TESTED: PACSAFE VENTURESAFE 25L ADVENTURE DAYPACK REVIEW
Description from Pacsafe:
Lightweight, durable and secure are just a few of the words that sum up the new Venturesafe™ 25L anti-theft travel pack. Large enough for a 15" Macbook, this backpack is great for long hikes, adventures abroad and as a handy carry-on.
WJ TESTED: EAGLE CREEK RFID BLOCKER NECK WALLET REVIEW
Eagle Creek Description:
RFID blocking technology helps keep personal information, personal. Keep documents and personal identification items out of sight in this simple hide-away neck pouch. With a mesh divider in the main pocket for even more organization and adjustable strap with strap keeper, this neck wallet is great for international travel. Organization and enhanced travel protection? Yes, please.
FROM THE ARCHIVES: HOTEL REVIEW – AUBERGE PLACE D'ARMES IN QUEBEC CITY, CANADA
For a stay at a quaint and charming 21-room, 4-star, boutique hotel in Quebec City's upper old city, Auberge Place d'Armes is WAVEJourney's recommendation. Each guestroom is uniquely decorated and the included breakfast is sublime. The location is ideal for exploring both the upper and lower towns of Quebec City on foot.
VISIT FRIENDS OF WAVEJOURNEY.COM
Welcome to your One Stop Writing Shop!
Need help turning your ideas into words and your words into winners? Linden Gross is a bestselling writer and acclaimed writing coach. From books to web content to blogs, Linden and her team of specialists will write, publish and market whatever you need or help you do it.
Let a bestselling writer enhance your project as a writer, editor, writing coach, blog coach – Contact Linden Gross for more details.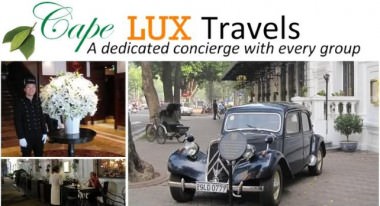 For more information about Cape Lux Travels trips to Vietnam contact Jean Wethmar – [email protected]

Arizona Real Estate Expert, Peggy Young