Travel Tips, Tales, Deals and Steals May Newsletter
May 2013
Travel Tips, Tales, Deals and Steals May Newsletter
Greetings,
Our recent adventures in Europe went by far too quickly and now we are reliving the wonderful memories we created through our photo albums on Flickr – stay tuned for ongoing articles and travel tips from this trip to be published on WAVEJourney.com over the next couple of months.
After spending time in the Netherlands (a tulip cruise on the 12-passenger hotel barge, Savoir Faire) we flew to Rome and joined Insight Vacations on their 12-night Italian Escapade tour – this entire trip turned out to be the highlight of our adventure.
Be sure to continue following us on Facebook and Twitter for our daily updates, photos and ongoing adventures!
FYI – If you have any questions about barge cruises in Europe contact our favorite barge cruise specialist, Beth Hanson – we think she's absolutely fabulous!
This month's Travel Tips, Tales, Deals and Steals May Newsletter brings you loads of travel contests and tales for destinations around the world. Take a look at our XCom Global International MiFi Hotspot Device review – it's how we stayed connected in Europe when others in our groups couldn't. Also, find travel inspiration in articles about the highlights of Bora Bora, why you should start planning a trip to Canada's Yukon to see the aurora borealis and how much fun a family can have on holiday in Benidorm, Spain. Plus, if you have an 18-35 year old that wants to travel solo or with friends find out why Contiki is a great option for keeping them safe as they travel.
If you need recommendations for a specific destination or style of travel (cruises, group tours, etc) be sure to peruse the archives to get your travel juices flowing. And, don't be shy to email Viv and Jill with your questions.
We're also bringing you some amazing travel deals – take a peek before they expire. And, be sure to enter the travel contests listed below – we promise not to make you take us with you if you're a winner.
Now it's time to settle in for some armchair travelling…
Happy Travels,
Viv and Jill
AKA: WJ
WAVEJOURNEY RECOMMENDED – XCOM GLOBAL INTERNATIONAL MIFI HOTSPOT DEVICE
WAVEJourney just returned from a fantastic 33-day adventure in the Netherlands and Italy. A trip where we stayed securely connected to the internet thanks to an XCom Global MiFi Hotspot device that fits in the palm of a hand.
TRAVEL TALES – BORA BORA: BUNGALOWS, BEACHES, BAGUETTES AND BLACK PEARLS
By Patti Morrow
Declared "the most beautiful island in the world" by author James Mitchener, Bora Bora has long been considered a destination for starry-eyed honeymooners who rarely venture beyond their luxury resort.
But that is changing. As more and more women are choosing to travel alone or with friends, they are discovering that Bora Bora has so much more to offer to those who are seeking adventure and experiences in the exotic South Seas.
One of the French Polynesian islands in the South Pacific and a short commuter flight from Tahiti, Bora Bora's brilliant aqua water begins mesmerizing upon descent into the runway.
By Patti Morrow
TRAVEL TALES – AURORA BOREALIS – A YELLOWKNIFE ADVENTURE
By Jill Philipchuk
I am outside and I am wearing my husband's huge, puffy down jacket to stay warm as I scan the sky for the Northern Lights (aurora borealis). He is inside sawing logs. My camera is set up and I refuse to give up and go inside. Earlier in the evening we had viewed the film, "Yukon's Northern Lights" at the Watson Lake Northern Lights Space and Science Centre and I was hoping that my dream of seeing the aurora was finally going to come true. Well, that night, I got a glimpse, but just enough to whet my appetite. I knew that I had only seen a preview – that there was a much bigger show to be seen.
TRAVEL TIPS – A FAMILY-FRIENDLY WEEK IN BENIDORM, SPAIN
I must admit that I was a little worried at the thought of taking the children away for the first time, my youngest Mia isn't yet one, while Charlie is approaching five and into absolutely everything. It would certainly be a test for all of us, but daily life had well and truly caught up with me and I thought that it was high time we enjoyed a holiday.
FROM THE ARCHIVES – CONTIKI EUROPEAN DISCOVERY TOUR REVIEW – FOR 18-35 YEAR OLDS
By Lex Foster
Thinking of traveling Europe but not sure where to go or what to see? Try out the European Discovery tour with Contiki. This fast-paced tour takes you through 9 countries in 12 days to see all the big cities and sights. With their informative Tour Managers it is easy to navigate the cities, and Contiki tours are also a great way to meet some awesome people from all over the world.
CONTESTS – UPDATE: CLOSED

– Win a Trip to Greenland with Quark Expeditions
– Win a 7-Day Dancing With The Stars Holland America Line Cruise
– Win a Tailor-Made Journey Giveaway from Abercrombie & Kent
– Win a 10-Day Oceania Cruise
– Win a Trip to the French Open
– Win a 6-day Yellowstone and Grand Teton Explorer Trip
TRAVEL NEWS
– Red Carnation Hotel Collection Acquires Ireland's Ashford Castle
– Viking River Cruises to Launch Viking Star in 2015
TRAVEL DEALS
– Insight Vacations Winter Savings on Escorted Tours
– Free Companion Air Fare to Italy with Uniworld River Cruises
VISIT OUR SPONSORS
Welcome to your One Stop Writing Shop!
Need help turning your ideas into words and your words into winners? Linden Gross is a bestselling writer and acclaimed writing coach. From books to web content to blogs, Linden and her team of specialists will write, publish and market whatever you need or help you do it.
Let a bestselling writer enhance your project as a writer, editor, writing coach, blog coach
Contact Linden Gross for more details.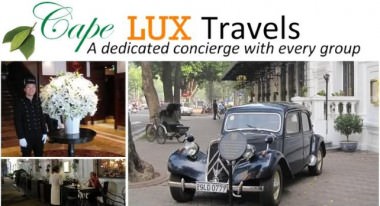 Cape Lux Travels
For more information about Cape Lux Travels trips to Vietnam contact Jean Wethmar – [email protected]

Arizona Real Estate Expert, Peggy Young