Travel Tips, Tales, Deals and Steals April Newsletter
April 2013
Travel Tips, Tales, Deals and Steals April Newsletter
Greetings,
Currently we are on assignment in the Netherlands and enjoying a fabulous tulip cruise on the deluxe 12-passenger hotel barge, Savoir Faire. Be sure to follow us on Facebook and Twitter for our daily updates and photos, and if you have any questions about barge cruises in Europe contact our favorite barge cruise specialist, Beth Hanson.
This month's Travel Tips, Tales, Deals and Steals April Newsletter brings you loads of travel deals, tales and tips for destinations around the world. Find travel inspiration in articles about the Dine Out Vancouver foodie event, why taking a cooking class when you travel is such fun, Jasper National Park in Canada, a getaway to New Orleans, Louisiana, the best value hotel in Vancouver, BC (in our opinion), and why you need to visit Helsingborg in Sweden.
If you need recommendations for a specific destination or style of travel (cruises, group tours, etc) be sure to peruse the archives to get your travel juices flowing. And, don't be shy to email Viv and Jill with your questions.
We're also bringing you some amazing travel deals – take a peek before they expire. And, be sure to enter the travel contests listed below – we promise not to make you take us with you if you're a winner.
Now it's time to settle in for some armchair travelling…
Happy Travels,
Viv and Jill
AKA: WJ
WAVEJOURNEY RECOMMENDED – DINE OUT VANCOUVER FESTIVAL
Dine Out Vancouver is Canada's largest restaurant festival which has been held annually since 2002 in Vancouver, British Columbia.
During the DOV festival attendees can experience a variety of restaurants, events and workshops around Vancouver. More than 200 restaurants, endless foodie activities, a full schedule of epicurean events, street food trucks…
READ MORE
TRAVEL TIPS – GETAWAY TO NEW ORLEANS: FRENCH QUARTER, RIVERWALK, BOURBON STREET
By Jeannette and Dan Dudek
The Big Easy is a blend of history and hedonism in a city you just have to explore to appreciate. If you cannot have fun in New Orleans you probably cannot have fun anywhere!
When in the hub of the vibrant city of New Orleans something magically transports you to a different dimension and you readily accept the transition – one in which time and space do not matter. You find yourself floating down Bourbon Street absorbing the jazz, inhaling the aromas and…
READ MORE
TRAVEL TIPS – ITALIAN COOKING CLASS WITH JUDY WITTS-FRANCINI AT GINGER'S KITCHENWARE IN BEND, OREGON
By Viv Chapleo
Visitors to Bend, Oregon are wowed by the great outdoors and recreational opportunities. But skiing, biking, hiking, canoeing and kayaking aren't the only things visitors to this vibrant Central Oregon town can busy themselves with. Bend has so much more to offer, including a fabulous foodie scene… and that's where Ginger's Kitchenware steps in!
READ MORE
TRAVEL TALE – JASPER NATIONAL PARK
By Habeeb Salloum
For two days we gloried in the fantastic world of Banff National Park, enjoying its many natural and man-made attributes. We explored some of its castellated mountain peaks, dense forests, sweeping green meadows, turquoise lakes, sparkling rivers, roaring waterfalls as well as its dazzling white snowfields. Now, we were leaving this scenic panorama for the adjoining Jasper National Park – another majestic world of nature with very few equals in the world.
READ MORE
TRAVEL TIP – THE BURRARD HOTEL IN VANCOUVER, BC
By WAVEJourney
Have you had enough of hotels that nickle and dime you to death over incidental charges? We had, until we discovered The Burrard Hotel in downtown Vancouver, British Columbia, Canada.
Although The Burrard Hotel is rated as just a 3-star, it receives much higher praise than that in our opinion. Sure, we understand that the star system is based on criteria that includes what amenities the hotel offers for guests (i.e. room service, shoe shine, laundry, valet parking, etc.), and maybe the hotel doesn't have all the amenities that 4 and 5-star properties do (which all guests are paying for and most never use), but it does offer incredible value that is hard to match.
READ MORE
FROM THE ARCHIVES:
WAVEJOURNEY EXPLORES HELSINGBORG, SWEDEN – FUN AND FLAVORFUL!
Our first impressions of Helsingborg, with a population of close to 100,000 ranking it the second largest city in Skåne, were good ones. After arriving by train from Gothenburg, and as we made our way to our hotel, we were captivated by the small-town feel. Not only did we love the coastal location situated across the Öresund Sound from Denmark, but we found an abundance of ambiance in the old town with its multitude of boutiques, stores, cafes, restaurants and charming architecture.
READ MORE
VISIT OUR SPONSORS
Welcome to your One Stop Writing Shop!
Need help turning your ideas into words and your words into winners? Linden Gross is a bestselling writer and acclaimed writing coach. From books to web content to blogs, Linden and her team of specialists will write, publish and market whatever you need or help you do it.
Let a bestselling writer enhance your project as a writer, editor, writing coach, blog coach
Contact Linden Gross for more details.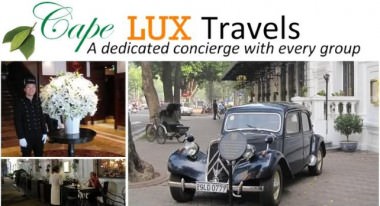 Cape Lux Travels
For more information about Cape Lux Travels trips to Vietnam contact Jean Wethmar – [email protected]