Blount Small Ship Adventures – Grande Mariner Ship
Blount Small Ship Adventures – Grande Mariner Ship
WJ Tested: Blount Small Ship Adventures Bahamian Out Island Cruise – Grande Mariner Facts
WAVEJourney joined Blount Small Ship Adventures for their 12-night Bahamian Out Islands cruise on Grande Mariner in March 10-22, 2016. The ship was commissioned and built by Blount Boats in 1998 in Warren, Rhode Island, USA, and is ideal for cruising waters more suited to private yachts. Due to the shallow draft of Grande Mariner's hull we were able to visit remote, uninhabited and secluded locations – making for a very unique cruise experience.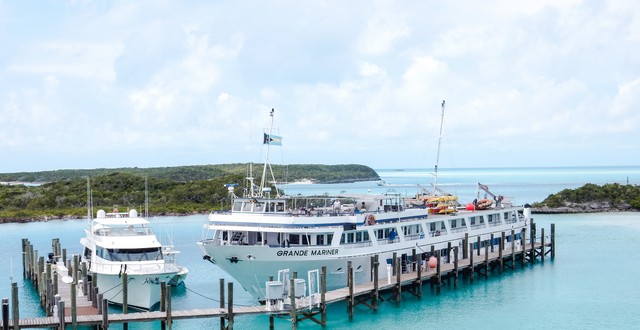 Grande Mariner primarily cruises a variety of itineraries in the United States; New England and the Great Lakes.
GRANDE MARINER FACTS:
Built and commissioned in 1998 by Blount Boats, Warren, Rhode Island
Refurbished in 2010
Registered in the USA
Length = 184′
Beam = 40′
Draft = 6'6"
Gross tonnage = 97 GT
Service speed = 10 knots
Retractable pilot house to pass under low bridges
Bow ramp for beach landings
Air-conditioning throughout the ship
Electricity = 110 volt
Public decks = 4
Guest cabins = 44
Guest capacity = 88 (46 during our cruise)
Crew = 17
ADDITIONAL FEATURES:
Chair lifts on stairs between dining room/lounge and lounge/sun deck levels.
A skiff, kayaks, a glass bottom boat and a BBQ were carried on the sun deck of the Bahamian itinerary
Bow ramp for beach landings – passengers walk down the ramp, directly down into the water and onto the beach.
GRANDE MARINER PASSENGER FACILITIES:
Lounge – Passengers used this space for demonstrations and lectures, entertainment, games, reading, puzzles, movies, BYOB cocktail happy hour.
Dining Room – Meals are served at set times in one seating, although tables are not assigned (so passengers can decide which table they sit at for each meal). A coffee/tea/soft drink station is open 24-hours. Cookies are available in the dining room all day long. Wine and beer are included and available at lunch and dinner. Passengers are encouraged to bring their own alcohol on the ship (ice and mixers are provided free of charge) to consume where and when they wish.
Sun Deck – A large section of the sun deck has an awning that provided relief from the hot Bahamian sun. Loungers and tables with chairs are available for passengers to use as they wish.
Aft Sun Deck – A small open area at the stern of the ship had a couple of tables with chairs. Plus it was utilized for storing the snorkeling equipment, and there was a stationary bike, eliptical and yoga mats for passengers to use. This was also the area where passengers hung up to dry any clothes they had hand-washed.
GRANDE MARINER CABINS:
There are 4 cabin categories.
Cabin sizes range from 72-96 square feet.
Cabins have private bathrooms (the shower stall and toilet/sink area are separate).
Bottled water is provided in the cabins, but water from the taps in the cabin bathroom is safe to drink.
There is very limited counter space in the toilet/sink stall (so our hanging bathroom bag was ideal to use when hung on the hook inside the door).
Each cabin has an air conditioning/heating unit (bring ear plugs as the units are extremely noisy).
Storage is very limited in most cabins, but adequate for the relaxed and casual dress code.
Closets have a dozen wooden hangers.
Life jackets are located in each cabin.
Most, but not all cabins, have windows.
Solo cabins are available.
The cabin doors can be locked from the inside, but there are no keys to lock them from the outside.
There are no safes in the cabins, so we locked our valuables inside our suitcases.
A Do Not Disturb magnet is used on the outside of the cabin door for privacy.
Bring your own music and/or earbuds/speakers to use in your cabin.
There isn't an alarm clock or TV/DVD players in the cabins.
Robes are not available.
BATHROOM AMENITIES INCLUDE:
Small bottles of shampoo, conditioner, and body wash.
Liquid hand soap.
Washcloths, hand towels and bath towels.
Hairdryer.
Tissues.
Body lotion is not provided, so be sure to bring your own.
WAVEJourney was in cabin 50A – a category 4 with fixed twin-beds. A sliding window opened for fresh air out to the promenade deck, and the cabin door opened into the ship's interior corridor. The cabin was amply spacious and comfortable for our voyage in the Bahamas.
READ MORE:
Discovering the Bahamas with Blount Small Ship Adventures
Notes: WAVEJourney were media guests of Blount Small Ship Adventures from March 10-22, 2016. Read our full disclosure statement to see our review policy.