WJ Tested – Hotel Cambon Review: Boutique Hotel in Paris, France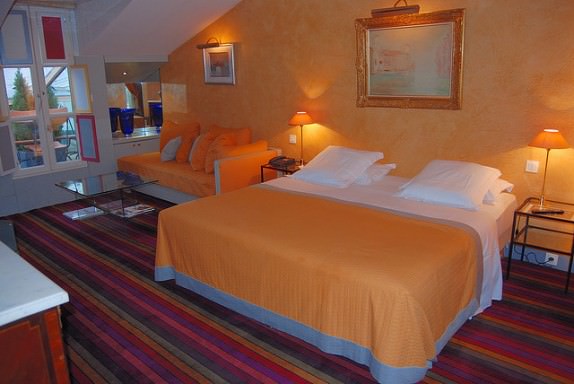 Hotel Cambon in Paris, France.
WJ Tested – Hotel Cambon Review: Boutique Hotel in Paris, France
By WAVEJourney
4-Star Boutique Hotel Cambon ~
WJ's Review – Chic, Stylish & Secure in the Heart of Paris
WJ's home-away from home while in Paris is the 4-star luxury boutique Hotel Cambon. Although featuring a swank address (rue Cambon), Hotel Cambon is situated down a quiet side-street in an upscale part (between Concorde, Louvre and Jardin des Tuileries) of this magnificent city.  Museums, famous fashion boutiques, antique shops and an array of restaurants and cafes are all within steps of this prestigious address, making it the perfect location for anyone wanting to be in the heart of the best that Paris has to offer. As they say; "Location, location, location" – well, this is the location!
ARRIVAL
Arriving at the hotel was quick and simple. Upon exiting the metro at Concorde, we walked approximately 20 meters to the hotel entrance and were pleasantly and courteously greeted in French, and then English (once we replied in our "best French"), by the bellman and front desk attendant.
Our first impression was one of pleasant surprise by the tasteful yet eclectic style of antique and modern art and furnishings. The atmosphere of the hotel is one of charm, warmth and welcome.
Within a matter of minutes we were checked-in, provided with a city map, asked if we required any restaurant reservations or recommendations and were escorted to our suite by the friendly bellman.
The elevator was a tight fit (as is often the case in Europe), so we were shown to our room first and then the bellman returned a few minutes later with our luggage.
GUEST ROOM
Our colorful and nicely decorated top-floor suite (Room 171), with beautiful original artwork, featured a small terrace that was complete with bistro table and two chairs, and not only offered up views of Paris' rooftops, but also glimpses of the Sacre Coeur and Jardin des Tuileries.
This spacious suite was perfect for us as it included a work desk, mini-bar, sitting area with sofa (that works as an extra bed) and coffee table, flat-screen TV, in-room personal safe.
The large marble bathroom with tub, shower and bidet, also provided guests the use of robes, slippers, make-up mirror and hairdryer. Bathroom amenities were body gel, shampoo and moisturizer (all with Cambon's own label), shower cap, cotton buds, shoe shine mitt and manicure set.
We were impressed by the cleanliness throughout the room and of the quality of bed linens and bathroom towels.
AMENITIES & SERVICES
The hotel is perfectly situated for business or pleasure while in Paris. Whether you require a taxi outside the front door, need quick access to public transport, or just want to explore the city streets under your own speed, Hotel Cambon is the ideal address from which to do so.
Although this is a four-star hotel, it is a boutique hotel, which means that you're not going to find a business center, spa, gym, restaurant or gift shop. But, all of these services can be arranged by the attentive and professional front desk staff for those guests that require these additional services.
The hotel does feature an inviting and cozy sitting area where guests can read and enjoy a drink from the bar.
There is also a breakfast room for guests that wish to enjoy a typical French continental breakfast at the hotel. This continental breakfast consists of coffee, tea, juice, breads, pastries, croissants and preserves, sliced deli meats, cheeses. Additionally, hot breakfast menu items are available upon request for an extra fee.
Hotel staff is extremely friendly, knowledgeable and able to make recommendations and perform bookings for tours, restaurants, theater, etc.
There is a "business corner" in the lobby, which has a computer and printer, with Internet access available for a fee.
RECOMMENDED STAY
The Hotel Cambon is unique in many ways, including:
Stylish, modern and comfortable design that features original artwork personally chosen by Proprietor Madame Simeon
Superb staff expertly guided by Manager Isabelle Frouin
A prestigious and central location
Excellent value for money
This woman-owned, women-friendly boutique hotel in the heart of Paris provides a safe enclave with the comforts of home, perfect for the solo-woman visitor (for peace of mind, Hotel Cambon provides a most safe refuge).
For business or pleasure, this is WJ's hotel of choice for any length of stay in Paris and we recommend it to all our fellow-women travellers. We can't wait to stay at Hotel Cambon again.
NOTES
In-room Internet access available for an extra fee
WJ had the opportunity to view many of the hotel rooms, noting that each of them was different from the other.
Although some of the rooms are quite small (in North American Super-Size terms) and ideal for a single guest, the majority are mid-range in size and adequate for two guests.
Suites are spacious and best suited if there are three guests.
Be sure to inquire with the front desk about which room would best suit your particular needs.
Hotel Cambon Contact Information
Address: 3, rue Cambon, Paris – 75001 France
Reservations: [email protected]
Ph: 33 (0) 1 44 58 93 93
Fax: 33 (0) 1 42 60 30 59
Email: [email protected]
HOTEL CAMBON WEBSITE
View More WJ Hotel Cambon Photos