Travel Ontario: Master Chef Culinary Competition
Travel Ontario: Master Chef Culinary Competition
A Culinary Competition of Local Ingredients in Peterborough and the Kawarthas
By Muna Salloum
It all started when Peterborough and the Kawarthas Tourism invited a group of travel and food writers, food designers, and photographers to participate in a Master Chef challenge. Promoted as a culinary competition, it would involve rooting around the region for fresh ingredients and coming up with even fresher culinary ideas. All friends and colleagues, this group of mixed personalities and talents, some with endearing egos, were divided by our host into two teams. Added to this medley of food specialists were the two local expert chefs, Brad Watt, owner Peterborough's Rare Grill House and Kevin McKenna of Stoney Lake's Viamede Resort.
Our mentor was to be Chef Brad, who met with us describing the farm to fork development in the region and how he had confidence in our team to develop a winning menu. We were keen to please and made it clear that we were confident cooks and designers who would revolutionize the culinary traditions of Peterborough and the Kawarthas and crumble the egos of our opponents.
As we threw out ideas at Chef Brad, the beacon of calmness and listening ability, he cautioned us not to jump the gun, as we needed to search the local area for ingredients. Nodding our heads in agreement and with due respect to the Chef, we acknowledged his advice while our need to win gnawed at our minds.
Early next morning, we began our venture in foraging arriving at Circle Organics. We met Andrew, owner of the farm, a passionate budding biologist whose focus in life is to extend the growing season for vegetables as a 12 month enterprise. Undaunted by Ontario's cold weather and fluctuating temperatures, he explained his future goals for producing vegetables and herbs that would be available during all seasons.
From vegetables, we moved on to Traynor Farms where we toured an immaculate farm specializing in beef. During the summer, cattle remain outside feeding on grass and corn, and during the winter, cattle are in pens nourished on hay and corn. Owner Greg explained that by feeding the cattle corn year-round results in a consistently tender, flavorful beef. This we experienced while having lunch in the barn, but being surrounded by mooing cows somewhat took the enjoyment away from our rib-eye steaks.
We then moved on to the family owned and run McLean Berry Farm, where we were warmly welcomed by Erin, daughter of the owners and now managing this bountiful enterprise. With a focus on farm fresh produce of the highest quality including strawberries, raspberries, and blueberries and vegetables, they sell the freshest and highest quality products directly from their farm while aiming to provide an 'enjoyable farm experience' for anyone who visits their farm.
A few hours later, the two competing groups were on the road to have dinner at the wonderful Lantern Restaurant & Grill in Lakefield, located along Stoney Lake where we were to indulge in an evening of splendid dishes all based upon local ingredients. Here the two groups acted as one, enjoying each other's company, although keeping ourselves in check as two distinct competitors.
As we boarded the boat that would take us across the lake to the restaurant, Michel, a member of our group and by profession a food photographer, jumped on board and quickly assembled our team together. Agitated and upset, he whispered: "The other team already has its menu set!" Shocked by this revelation, he continued, "They know what they'll be doing and we've got nothing!" Perplexed and perturbed, the only way that our team could respond was with laughter, a normal reaction to disbelief. This was the Monday before the Wednesday competition and no wonder Michel was upset. Our team had planned nothing, had discussed nothing, and had not even considered items for our menu, instead enjoying our travels through the beautiful cottage country of the Kawarthas. And Chef Brad, our mentor, was nowhere to be found.
Anxious, distraught and frustrated, Michel called for a tete en tete with our team members on board the boat. By the time he got us huddled together, we had reached our destination. Mumbling something about the other team having the advantage over us, our unprepared group followed Michel as we climbed the stairs to the restaurant. As soon as we entered and sat out on the Lantern's patio, we forgot about the competition as we viewed the beauty of Stoney Lake glowing in the sunset.
After the first sip of the Lantern's specialty, the Stoney Mule drink, we entered a world of fine dining thanks to the great creative talents of the restaurant's co-chefs Geoff and Lesley. A mélange of cured and roasted local ingredients served tapas-style called the Chef's Special, followed by a creamy mushroom soup served with grilled artichokes, then a tender baked perch filet sitting on a bed of spiced potato cubes and grilled asparagus, ending with a light flaky butter tart paired with ice cream and a strawberry-rhubarb compote, and, of course, another vodka-based Stoney Mule turned us all into the best of friends for the evening. Moreover, the unbelievable creations of the two chefs using only local products to create these menu sensations gave our team the impetus to win this competition hands down.
However, early next morning, the tide had shifted and both teams sat across from each other at breakfast, one confident and the other in stress. Still our team had no plan.
At noon, we stopped off at the Farmers Market in Lakefield where both teams were told to pick up the ingredients for their 3-course secret recipes. Our contenders rushed inside and targeted the shelves quickly stashing their baskets, while our team stared at each other in confusion wondering why the other side was taking the competition so seriously. Then it happened: Michel had a sudden prise de conscience and hurriedly approached his teammate Habeeb, "You're the author of 10 cookbooks! What should we do?" Habeeb quickly responded, "I suggest the Syrian Muhammara for the appetizer, and a Moroccan meatball tajine for the entrée served with wild rice. You, Michel, as the professional designer and photographer, need to create a dessert." As if the pieces to the puzzle had fallen into place, our group now had a menu.
While the opposing side tried to sneak some peeks at our baskets, our team members went about their buying spree. Walnuts and red peppers for the appetizer, beef, onions, garlic, peas, and wild rice for the entrée, all local ingredients from the surrounding farms. Michel chose a beautiful basket of plump strawberries, almonds, and lemons for his planned meringue based dessert.
We returned to our van in great spirits, thanking Habeeb for his quick decisions on what to make and Michel, for taking the initiative to get things done. Our team was glowing with absolute pride. As we patted each other on the back, Michel blurted out, "We don't need Chef Brad! We can do this ourselves!"
We stopped off at a café to discuss our individual tasks for next day's event. The only problem was when one of our team members, David, announced, "Wait! I thought that this tour was a cooking class. I joined because I don't know how to cook." Michel, unfazed by David's statement, turned to the two remaining team mates and whispered, "It's ok. We don't need him!" So now there were three.
Pumped up with ambition and self-confidence we accepted the invitation of our elusive Chef Brad to have dinner at his Rare Grill House in downtown Peterborough. A cozy yet elegant restaurant, its reputation as a steakhouse does not do it justice. It is much more than that. By using simple and fresh ingredients, the menu offers the best of fine dining dishes all made with local products supplied by the nearby farms. Brad placed a tray of roasted bone marrow on the table paired with pointed toast and parsley salad seasoned with sea salt that we all devoured within a couple of minutes. Entrees were next. Michel raved about his Local Panned Trout finished with a citrus butter sauce and crumbled bacon, David couldn't stop talking about his House Burger crowned with an aged cheddar, green onion aioli and fresh arugula, while Habeeb and I left not even a crumb on our plates after reveling in the Grilled Pork Chop topped with a rich beef reduction. Dessert was our introduction to the perils of decadence, Coconut Cream Pie Trifle made with a 3-2-1 crust, Chef Brad's unbelievable creation. An absolutely unforgettable dinner thanks to the talents of a great chef, we left feeling blessed that Brad was our leader.
Early next morning, the two teams arrived at the Rare, each group taking the opposite ends of the kitchen. From once a chatty group of colleagues, now no one spoke. Chef Brad approached his team and asked, "So, what are we making?" While the rest of us held Michel back, Habeeb calmly explained the dishes planned. Our Chef was very impressed, especially at the fact that we had chosen international dishes prepared with local ingredients. Another facet of Canadian multiculturalism!
We set to work and soon had our dishes ready. Chef Brad tasted our creations and was duly impressed with the flavors and medley of ingredients adding a few more local greens for taste and decoration. Habeeb came up with the idea of adding sumac to the wild rice creating a new fusion of an ancient Syrian herb to an Indigenous Peoples' staple. This finishing touch was the seal of perfection to our team's dishes. Brad called them 'winners'. David contributed his talent by taking scores of pictures of our beautifully plated dishes. Chef Brad and the four members of our team beamed with pride as we presented our culinary gems to the judges.
Alas, our dreams were soon dashed as the opposing team ended up winning by only two points. Not bad for a group that had never competed in a Master Chef competition. We didn't really end up losing. Rather, we looked upon ourselves as equal competitors with no professional training but excellent creative cooks. And the judges approached our team at the end of all this, asking for our appetizer and entrée recipes. Even some members of the opposing team requested the same. We thus were indeed champions.
The proof, of course, is trying our team's menu. Here are the judges' favorites…
RED PEPPER DELIGHT – MUHAMMARA
A specialty of Aleppo, Syria, this is a delicious dip made with walnuts and roasted red peppers. This ancient city is a noted capital of gastronomy throughout the entire Arab world and this dip is one of the city's dishes that depicts the best of Aleppo's flavours.
1 1/2 cups ground walnuts
4 large red bell peppers
1 tablespoon pomegranate syrup (dibs rumman), dissolved in 1 tablespoon water
2 tablespoons lemon juice
3/4 teaspoon salt
1/2 teaspoon ground coriander seeds
1/2 teaspoon cumin
1/4 teaspoon cayenne
2 tablespoons toasted pine nuts
2 tablespoons olive oil
Preheat oven to 350°F.
Place walnuts in a mixing bowl and set aside.
Place peppers in oven, then bake for about an hour, turning them over a number of times until they blister on all sides. Remove from oven and allow to cool, then skin and remove seeds.
Chop very finely or process in a food processor for a minute, then transfer to mixing bowl and combine with walnuts and remaining ingredients, except pine nuts and olive oil.
Spread on a platter, then chill for about 2 hours.
Just before serving, decorate with pine nuts and sprinkle with olive oil, then serve with crackers or Arab bread (pita).
MOROCCAN MEATBALLS WITH PEAS TAJINE
Serves 6-8
Morocco's tajines are one of the country's most beloved dishes. Named after the 'pot' in which they are cooked (tajine), the secret to their flavor is the slow-cooking process that allows the spices to soak into the meat, vegetables, fruit or a combination of all. Tajines are best served with rice or even with plain couscous.
1 pound ground beef or lamb
1 egg, beaten
1 teaspoon salt
1 teaspoon black pepper
1 teaspoon ground coriander seed
1 teaspoon cumin
1 teaspoon ras al-hanout
1/8 teaspoon cayenne
4 tablespoons olive oil
1 large onion, finely chopped
5 garlic cloves, crushed
2 cups fresh or frozen peas
4 large tomatoes, finely chopped
2 tablespoons finely chopped fresh coriander leaves (cilantro)
1 lemon, thinly sliced
To make the meatballs, in a bowl, mix together the meat, egg, 1/2 teaspoon of the salt, 1/2 teaspoon of the pepper, 1/2 teaspoon of the coriander, 1/2 teaspoon cumin, 1/2 teaspoon of the ras al-hanout, and half of the cayenne. Form into balls about 3/4-inch in diameter and set aside.
Heat oil in saucepan and fry onion over medium heat for 6 minutes.
Add meatballs and garlic and fry for 5 minutes gently turning over once. Add remaining spices, peas and tomatoes and cover with water 1/2-inch over saucepan contents and bring to boil.
Cover and cook over medium-low heat for 1 hour or until meat and peas are well cooked.
Spoon into serving bowl and serve immediately.
BIO: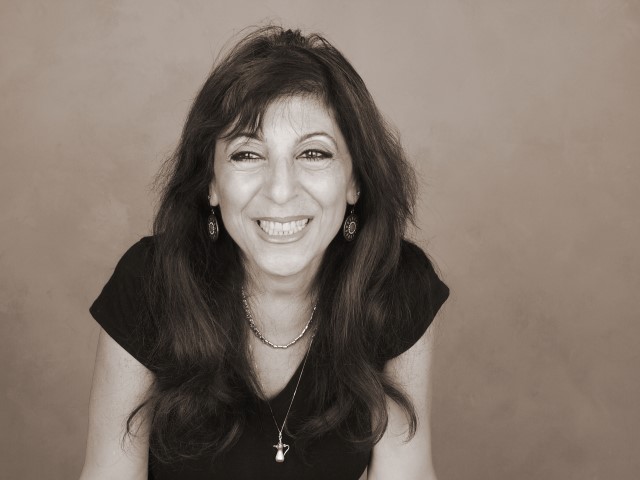 Muna Salloum is a freelance author and writer residing in Toronto, Ontario, Canada.  She holds a Master's Degree in Middle East and Islamic Studies from the University of Toronto, specializing in socio-economic history of the Arabs in Spain.  She has had articles concerning stereotyping issues and topical subjects about the Middle East published in various Canadian newspapers, magazines and chapters in books. Currently she writes articles about international and Canadian cuisine and travel. She is co-author of The Sweets of Araby (W.W. Norton, 2011), and co-author of two books: Sheherazade's Feasts: Medieval Arab Cookery (University of Pennsylvania Press, 2013) and Sweet Delights from a Thousand and One Nights (I.B. Tauris, 2013). Currently she is working on a 15-year research study with Habeeb Salloum on Spanish words of Arabic origin which is near completion, a cookbook on North African and eastern Arab cuisine, and a book on medieval Arab regal foods.